COVid19-measures Winter 2021/22
With a good feeling. Safe and fit in healthy mountain air!
FOR YOUR SAFETY
my moment - my nassfeld
The opening of winter tourism for the season 2021/22 is in full swing. For vaccinated and recovered and in compliance with all hygiene and safety measures, especially to protect the people in our country , but also to prevent a further lockdown, we fully support all measures.

Together we would like to enable our guests, in strict compliance with the valid measures regulation by the Austrian Federal Government, a carefree skiing on our snow-safe slopes.
IMPORTANT INFORMATION FOR THE 2021/22 SKI SEASON
We have carefully researched the currently available information (as of 18.11.2021) about skiing and ski holidays with regard to Covid19. You can find details of the current legal provisions in connection with Covid19 in an extensive FAQ on the website of the Ministry of Health or on this official EU page.

All detailed information can be found here.
The COVID19 measures ordinance issued by the federal government stipulates that the operator of ropeways may only transport persons who can provide valid proof of a low epidemiological risk (G proof according to the valid step regulation) in accordance with the respective ordinance. The responsibility to provide the proof required at the time of use lies exclusively with the passenger.
2G Check-in online or unlocking your ski pass
Visitors must always carry the valid proof and show it during random checks.
If the epidemiological measures are not observed by visitors, the cable car companies will be released from their obligation to transport.
Pregnant women and persons who cannot be vaccinated without risk to life or health are also exempt from the obligation to present a 2-G certificate. Such persons may only be transported by cable car upon presentation of a medical certificate and a valid negative PCR test.
Each ski pass must be linked and activated with your 2G proof before entering the ski area for the first time. Normally, the control and linking already takes place when purchasing the ski pass. However, a link can also be made later in the web portal, at the ticket machine or directly at the ticket office in the ski area. Attention: Only electronically readable proofs (QR code) can be linked in the web portal and at the ticket vending machine.
VERY GOOD REASONS FOR A SKIING HOLIDAY AT NASSFELD
Guaranteed snow and sunshine as well as an extensive ski resort are the best choice in this special winter

110 km of pistes and 40 wide downhill runs guarantee enough space for winter sports enthusiasts

The pleasantly fresh, healthy mountain air as well as the unique panorama are not only good for your organism, but are a prerequisite for a healthy, relaxed winter holiday

"Ski in - Ski out" - your skiing day starts without queuing: Numerous hotels, guesthouses and apartments are located directly at the pistes

5 access points to the ski resort and 30 lifts allow you to enjoy relaxed lift rides all day long
Avoid queuing, save time and buy or reserve SKI TICKETS / SKI RENTAL / SKI SCHOOL time-independent ONLINE.

Avoid queues, save time and buy your SKI PASS / SKI RENTAL / SKI SCHOOL ONLINE and get your tickets from the ticket machines

In many areas of the ski resort, you do not need a car on your holiday
25 ski huts and piste restaurants, well distributed throughout the ski resort, offer you even more regional delights
Nassfeld has never been a typical "Après Ski" area. We do without bigger events and focus on a lounge & chill atmosphere at ski huts and on the numerous sun terraces – with social distancing, of course. Musical accompaniment is provided as background music.
Nassfeld Buddys
We look out for you
It's us, the companions on your holiday in the Nassfeld-Pressegger See region. We've come to help when your ski boots or winter boots are a bit tight or your sense of direction isn't the best. We also keep an eye on Covid19 safety and hygiene measures and make sure you get home safely. In short, we Buddys are there to make your holiday the best holiday of your life.
Lift Buddy
Shop Buddy
Restaurant Buddy
Ski School Buddy
PERSONAL RESPONSIBILITY
YOUR COOPERATION IS IMPORTANT!
The 18,056 inhabitants of the district of Hermagor (area approx. 808 km2) take their own responsibility for self-protection, for the protection of staff and guests literally and fully support and implement the prescribed measures. As guests, please be part of this and take personal responsibility. In being careful, you protect yourselves, other guests and us. Thank you for your cooperation!
Always based on the currently applicable legal Covid19 regulations. You can find them here. All information subject to change.
All information is constantly updated. Last status: 21/01/2022
The current legal COVID19 regulations always apply as a basis. You can find them here. All information is subject to change.
Below are our measures and recommendations regarding the individual areas:
What should I do if I feel ill?
This applies in any case: Should you, fellow travellers or children feel ill, please stay in your room, do not go skiing, do not visit catering establishments or attend snow sports lessons. Please inform your accommodation provider immediately about the symptoms.
If fellow travellers or children suffer from corona symptoms (fever, dry cough, aching limbs, sore throat, shortness of breath or loss of sense of taste or smell), please call the Health Hotline 1450 for further clarification of the symptoms.
Location and how to find us
The Nassfeld-Pressegger See holiday region lies in the Austrian province of Carinthia, directly next to the Italian border.
Plan your journey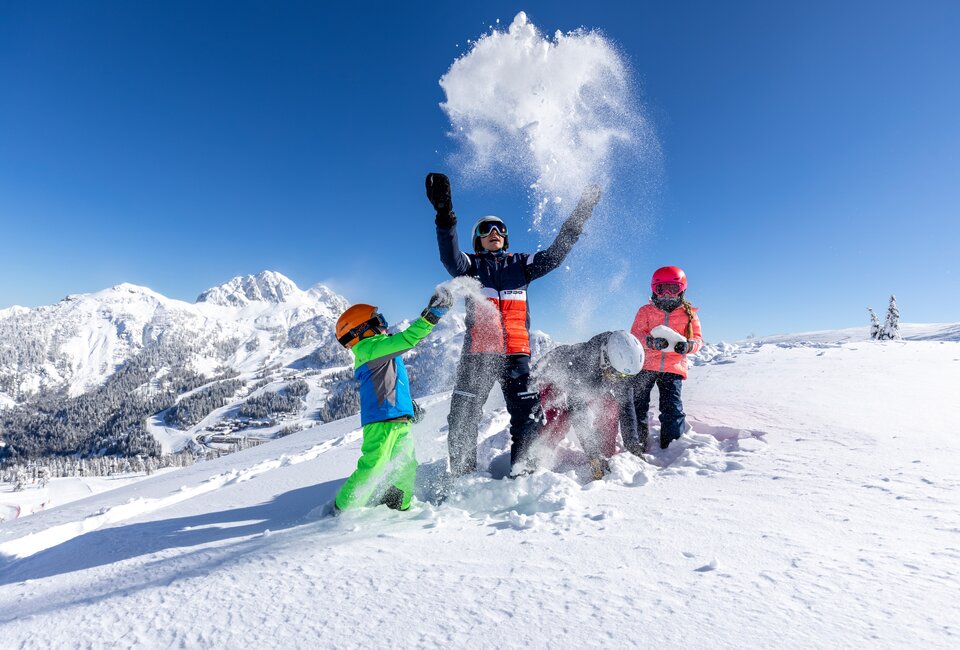 What do you want to discover?