COVid19-measures
FEEL GOOD. SAFE AND FIT ON MOUNTAIN AND LAKE!
SAFE AND SOUND IN THE NASSFELD-PRESSEGGER SEE REGION - A GOOD FEELING
This is what safe lake and mountain holidays in the "World of Mountains & Lakes" means
The swimming lakes, the vastness of the Carnic and Gailtal Valley Alps and the open spaces in Europe's largest alpine pasture area, away from crowded promenades, are considered the safe leisure oases of the Nassfeld-Pressegger See region. With strict adherence to the legal Covid19 safety and hygiene measures, we would like to offer you a varied and diverse programme as well as a carefree and safe holiday this summer.
WHAT IS THE CURRENT SITUATION IN THE DISTRICT OF HERMAGOR?
Updated daily, the "AGES Dashboard" of the Austrian Ministry of Health provides an overview of the current epidemiological situation in the individual districts in Austria. It is advisable to check the "absolute figures" in particular, since in districts with a large area (Hermagor: 808 km2) and a comparatively small number of inhabitants (Hermagor: 18,056) the incidence figures do not really say much about the actual frequency of infections.
Maximal planning security for our guests is very important to us in the Nassfeld-Pressegger See region. Many businesses have therefore already relaxed their cancellation terms and are thus reacting to the current situation, which naturally brings with it an increased need for flexibility.
However, in cases of individual travel (unlike package tours), there is no explicit right of cancellation regulated by law, e.g. in the event of a travel warning. Please enquire directly with the accommodation of your choice about the specific cancellation terms before booking.
Austria has been running the "Safe Hospitality" testing programme, in which employees of hotels and restaurants can be tested voluntarily, since last year.
Tourism businesses can make their participation in the weekly Covid19 tests visible to their guests with the official "Safe Hospitality" badge. You are also welcome to find out about the weekly testing of all employees directly at the establishment of your choice.
The holiday region of Carinthia has already made excellent preparations for the coming summer season. In order to reduce the number of new infections, the Austrian Federal Government has decided to impose restrictions on public life. The measures and restrictions are temporary and also affect our tourism industry. The aim is to welcome guests back as soon as possible for a safe and relaxed holiday in our accommodations, catering establishments and leisure facilities. The most frequently asked questions with regard to tourism are answered here.
(respectively based on the applicable COVID-19 regulations)
Excerpt from COVID19 Safety and hygiene measures
The "Nassfeld Buddys" - your contact persons in the region answer questions and provide tips.
Keep a minimum distance of 2 metres from all persons who do not live in the same household as you or do not belong to your group of guests.
Obligation to wear mouth/nose protection (FFP2 protective mask) in queuing/waiting areas of the summer mountain railways, in cabins and chairlifts (in bubbles).
Obligation to wear mouth/nose protection (FFP2 protective mask) when using public transport, when entering catering establishments or indoor leisure facilities.
Continuous disinfection / ventilation in buildings & sanitary facilities
Guidance system to direct visitors at leisure facilities / avoidance of crowding
No queuing at the cash desk: direct access with the +CARD holiday (available directly when checking in at the accommodation)
Restaurants / mountain huts: currently only take-away, later table reservation online ("book a table") or by phone
Contactless payment wherever possible
Regular tests for employees in the establishments
Very good reasons for a summer holiday in our Nassfeld-Pressegger See region
2 lakes (Pressegger See / Weissensee) with clean drinking water and pleasantly warm water for swimming in the middle of the Gailtal Valley and Carnic Alps

Europe's largest alpine pasture area with 1,000 km of marked trails as well as 800 km of cycling and mountain bike trails - sufficient distance guaranteed of course.

The pleasantly fresh, healthy mountain air as well as the unique mountain panorama have a positive influence on the organism and are the basis for a healthy, relaxed summer holiday.

Recently awarded as "Austria's most sustainable tourism region" by Klimafonds (Climate Fund)

The world's first "Slow Food Travel Region"

Numerous outdoor activities on the mountain or lake spread across several natural areas

Predominantly rural, small-scale accommodation establishments like apartments, bed and breakfasts, family-run hotels or farm holidays
The "+CARD holiday" - many benefits included, such as summer mountain railway, admission to swimming facilities, exclusive hiking, biking and children's adventure programmes, etc.
4 summer mountain railways (Nassfeld / Weissensee) as comfortable and safe "ascent support" for hikers, leisure connoisseurs and bikers.
46 serviced alpine pastures, well distributed throughout the entire alpine pasture area, offer you even more culinary, regional delights. Highlight: The Carnic Milky Way
Nassfeld Buddys
We look out for you
It's us, the companions on your holiday in the Nassfeld-Pressegger See region. We are here to help when your hiking or biking boots pinch, or when your sense of direction isn't the best. We also keep an eye on Covid19 safety and hygiene measures and make sure you get home safe and sound. In short: We Buddys are there to make your holiday in the Nassfeld-Pressegger See region the best of your life.
Helping to reduce the number of infected people in the district is considered as a matter of course!
ACTING RESPONSIBLY IS IMPORTANT!
Acting responsibly when it comes to self-protection, the protection of staff and guests is taken very seriously by the 18,056 inhabitants of the district of Hermagor (area approx. 808 km2), who also fully support and implement the prescribed measures. Please act responsibly and be part of this as guests.
All information is constantly updated. Last status: 26/03/2021
The current legal COVID19 regulations always apply as a basis. You can find them here. All information is subject to change.
What should I do if I feel ill?
This applies in any case: Should you, fellow travellers or children feel ill, please stay in your room, do not go skiing, do not visit catering establishments or attend snow sports lessons. Please inform your accommodation provider immediately about the symptoms.
If fellow travellers or children suffer from corona symptoms (fever, dry cough, aching limbs, sore throat, shortness of breath or loss of sense of taste or smell), please call the Health Hotline 1450 for further clarification of the symptoms.
Location and how to find us
The Nassfeld-Pressegger See holiday region lies in the Austrian province of Carinthia, directly next to the Italian border.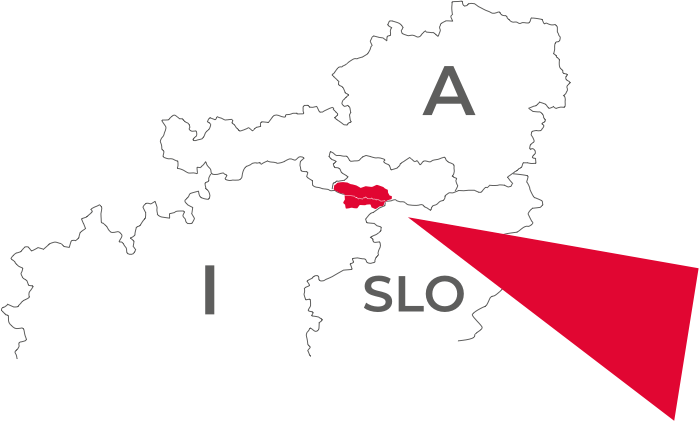 Plan your journey
What do you want to discover?