Looking over the shoulders of Slow Food chefs
Give the product time! This is essentially the philosophy that unites the Slow Food producers of the region. Taking time to produce, refine and enjoy. Taking care of nature and its resources. This is what the food artisans, who shape the taste of this destination, stand for. Crimping Carinthian pasta pockets is a skill that must be learned - in addition, you will enjoy the unmistakable strong aroma of Gailtal Valley bacon and the taste of Slow Fish at Lake Weissensee. Your Slow Food experience week will be complemented by celebrating culinary delights at the fine food store.
These journeys to the origins of good taste open new perspectives and guarantee the finest taste experiences!
Even away from the culinary experience locations, the true hero is nature. The landscape of the Carnic and Gailtal Valley Alps is one of the most pristine Alpine regions.
Itinerary
Day 1
Individual arrival at the chosen accommodation.
Day 2
Crimping pasta pockets made easy - A new interpretation of Carinthian home cooking with the master chefs of Gasthof Grünwald inn

Start: 10am | Duration: 3 hours | Maximum: 10 participants
Location: Ingeborg Daberer – Gasthof Grünwald inn, St.Daniel
Day 3
Start the day in a relaxed manner and simply enjoy, for example, an excursion or a hiking tour in stunning nature
Day 4
The wonderful taste of Castellovino, root bacon and hay bacon – curing, smoking and preserving a piece of the Alps' cultural heritage with the lord of the castle and Gailtal Valley Bacon Master.

Start: 4pm | Duration: 2 hours | Maximum: 10 participants
Location: Hotel & Restaurant Schloss Lerchenhof in Hermagor, Untermöschach Nr. 8
Day 5
Slow Fish at Lake Weissensee – catching wild fish, including nose-to-tail preparation for hobby chefs under the guidance of Toque chef Hannes Müller.

Start: 1pm | Duration: 2 hours | Maximum: 10 participants
Location: Hannes Müller, Techendorf 80, 9762 Weissensee
Day 6
Celebrated Alpine-Adriatic Slow Food delights – Visit to Herwig Ertl's fine food store

Start: 1pm | Duration: 2 hours | Maximum: 10 participants
Location: Edelgreißler Herwig Ertl, Kötschach 19, 9640 Kötschach-Mauthen
Day 7
Individual departure
Nassfeld-Pressegger See region
Enjoy your holiday
We're looking forward to your enquiry.
Enquire now!
Location and how to find us
The Nassfeld-Pressegger See holiday region lies in the Austrian province of Carinthia, directly next to the Italian border.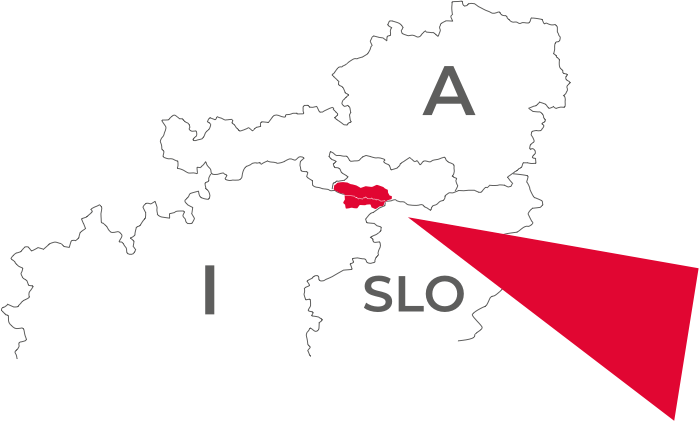 Plan your journey
What do you want to discover?