Hiking through the wintry mountains
Snowshoeing in the Nassfeld-Pressegger See region
When the snow softly crunches underneath your feet, the warm rays of sunlight gently caress your face, and you'll slowly get the feeling of being completely immersed in a winter wonderland: That's when you'll know you're out on a snowshoe hike in the Nassfeld-Pressegger See region. Every step of the way with snowshoes strapped to your feet equals pure winter joy that comes with a feeling of freedom. In the Nassfeld region and around the Carnic and Gailtal Alps, local guides are waiting to take you on a tour of the beautiful snowy landscape.
The extensive route network in the Carnic and Gailtal Alps has winter sports enthusiasts in awe. Far away from all the noise, traffic and crowds of people, they can take a breather and enjoy the silence of nature.
More, please? Of course! Choose from a wide selection of snowshoeing routes in the Nassfeld region and the Carnic Alps – and embark on your adventure out in the snow!
Secret tip: Listen up, romantics! In Lesachtal Valley, Europe's most pristine valley, snowshoe hikers have a total of twelve different routes available to them.
Tips for routes:
guided snowshoe hikes in the Nassfeld-Pressegger See region
They'll keep you from sinking into the deep powder snow, allow you to explore remote locations, and let you leave your everyday worries behind: Hiking through the snow with snowshoes on your feet is definitely well-worth giving it a try. Together with local guides, you can discover the region's secret treasures – always with a view of the Gailtal and Carnic Alps.
At night, equipped with a headtorch or during the day – Carinthia's mountain pros are happy to take you on a hike filled with picturesque winter impressions.
Warming up along the route
Your nose is a little red, your cheeks are all rosy, and you're getting more and more thirsty? Then it's about time you took a little break at one of the many rustic huts and mountain restaurants in the Nassfeld region. A hot cup of tea and a snack … and you'll be well refuelled for the next stage of your hike.
What you need to know about snowshoeing in the Nassfeld-Pressegger See region
Which route? What outfit? What equipment? How do you prepare? Questions upon questions that you'll need an answer to for your upcoming snowshoe tour. Find out what you need to know for a wintry hike in deep snow surrounded by the beautiful mountains of the Nassfeld region:
Tip 1: It all hinges on having appropriate equipment:
Just as when you go skiing or snowboarding, having good equipment is essential for snowshoeing. A helpful tip: Make sure your poles are the right length – it varies based on how tall you are. Additionally, it also depends on whether you plan on hiking uphill or downhill. If you decide on a guided snowshoe tour in the Nassfeld region, your guide will be happy to provide some valuable tips.
Tip 2: Learn how to handle your snowshoes:
No matter the sport, it always boils down to learning the right technique – then it'll be a breeze! Make sure you make use of the prongs when you walk uphill! When going downhill, you should shift your weight backwards onto your heels. This helps you keep your balance, and you're less likely to take a tumble in the snow.
Tip 3: First-rate cardio training:
Hiking through deep powder snow on your "bear paws" is great exercise for your cardio-vascular system. On steep terrain or step by step on flat passages – this outdoor sport is effective and great for your health. Surrounded by a stunning mountain scenery, it's immensely enjoyable as well.
Tip 4: Must-haves for your snowshoe tour:
Based on the motto "I pack my bag and in it I put …", it's good to think of the following items for your winter hike:
Enough to drink: Whether it's a thermos flask with tea or a bottle of water – if you sweat, you need to replenish lost fluids!
Snacks: Homemade energy balls, a sandwich or a granola bar – bring something that gives you energy during your hike!
A look at the webcams and weather forecast: You should always keep an eye on the weather while you're out on a tour. Better yet: Be sure to check the webcams and weather forecast before you head out, so you won't be surprised by a bad weather front!
Pack a few dry clothes: An extra set of clothes is a hot tip for every snowshoe hike. Especially on your way back, a sweaty and damp shirt quickly gets uncomfortable, and you're much more likely to catch a cold.
snowshoe hiking tours
You feel well prepared now, and you can hardly wait to go snowshoeing in the Nassfeld-Pressegger See region? Then take your pick from the various routes, and you'll be well on your way to snowshoeing joy!
The basics: snowshoe hike equipment
To ensure your tour in pristine powder snow becomes a resounding success, you need to make sure you have the right equipment. From snowshoe equipment and breathable clothing, you should have everything on hand. Those who are new to snowshoe hiking might want to find out about the "must-haves" from their mountain guide. Or even easier: Just rent all the equipment you need at the local sports shops!
By the way: After the cable cars and lifts close, a descent on the slopes becomes incredibly dangerous, and using them is prohibited. Generally speaking, snowshoe hiking is for free. However, if you use the slopes (uphill or downhill) you need to be able to present a valid ski pass.
Location and how to find us
The Nassfeld-Pressegger See holiday region lies in the Austrian province of Carinthia, directly next to the Italian border.
Plan your journey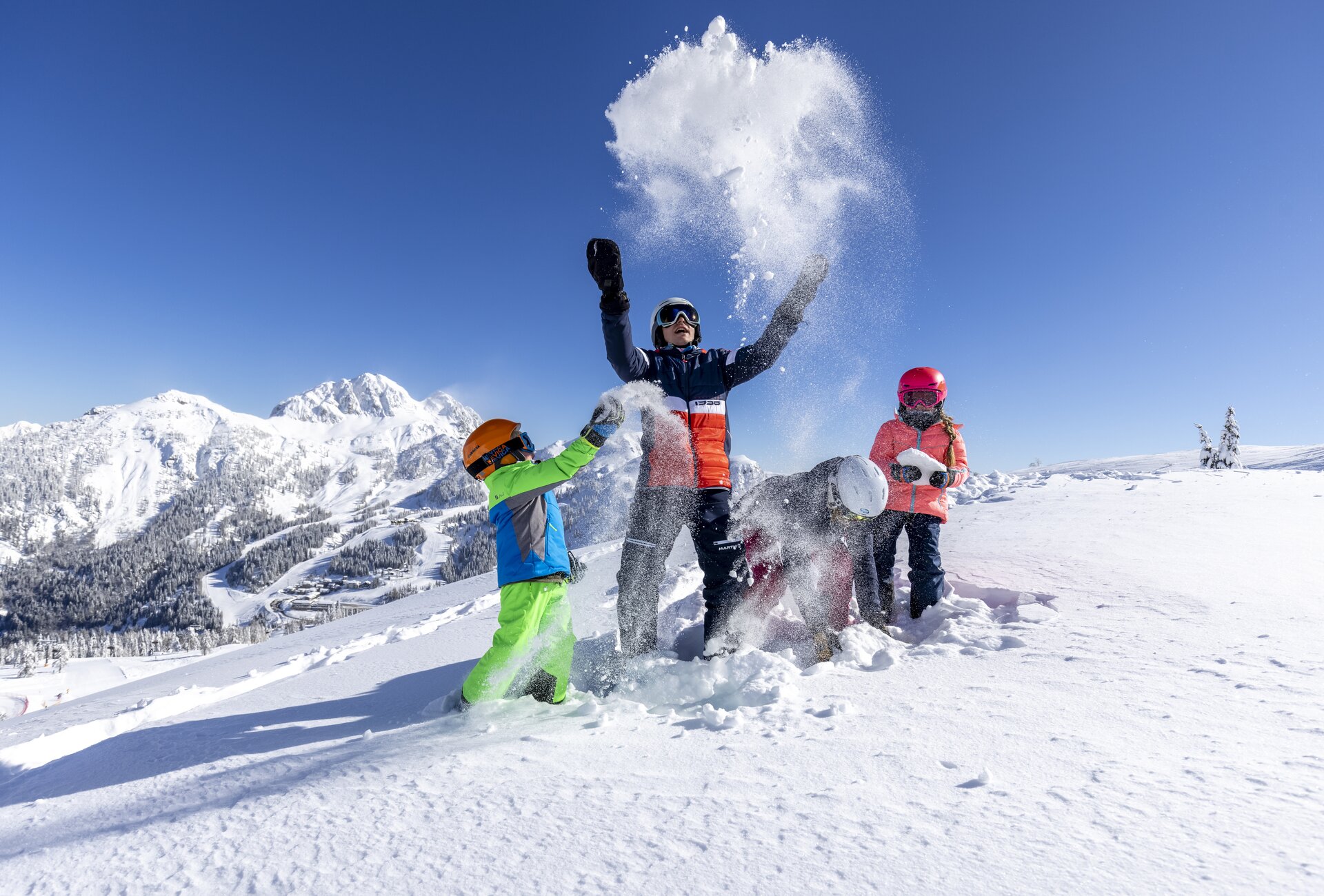 What do you want to discover?