Feistritz an der Gail
A meeting place of cultures
Alpine as well as Mediterranean. Laid-back as well as lively. Traditional as well as open-minded. Feistritz an der Gail is a perfect mixture of many different things. And that's because the charming community with about 600 inhabitants is situated at the intersection of three cultures. Thanks to its proximity to Italy as well as Slovenia, Feistritz boasts a unique combination of Austrian cosiness, Italian dolce vita and Slovenian joviality.
This one-of-a-kind mixture makes the region an open-minded and inviting community. The area is known for the world-famous Noriker horses that have been bred there for many decades.
Until today, the small town at the foot of Oisternig mountain has been shaped by cultural openness and traditional craftsmanship.
What to see around Feistritz
The best sights
Whether you're an outdoor enthusiast, animal lover or fan of arts and culture: There's something for everyone in Feistritz. A leisurely stroll around Feistritz quickly turns into an adventure – and into a hunt for the hidden treasures of the region!
Don't miss the following sights around Feistritz:
Austria's first bat house
Hello there, Batman! On a total surface of 140 m2, you can see bats from up close – a highlight for the whole family!
St. Martin parish church
The late Gothic church offers an impressive interior as well as splendid views.
Maria Schnee chapel
On every "Almkirchtag" on the Sunday following 5 August, the Holy Mass is celebrated at this small chapel at Feistritzer Alm.
Ulli's herbal wilderness
This herbal hill is awash with fragrant herbs ranging from elecampane to lemon verbena – a feast for the senses!
Die Feistritzer Alm/Sella Bistrica in 1722 Metern Seehöhe gehört zu den ganz besonderen, für die Karnischen Alpen auf Gailtaler Seite typischen Almdörfern. Die Feistritzer Alm ist ein idealer Ausgangspunkt für einen kleinen Spaziergang zur Kapelle "Maria Schnee" und den sie umgebenden Bunkeranlagen oder für eine knapp einstündige Wanderung auf den Oisternig (2.056 m Seehöhe). Erreichbar ist die Alm von Feistritz an der Gail aus zu Fuß oder mit dem PKW über einen 9 Kilometer langen Güterweg.
Pfarrkirche St. Martin
Die spätgotische Kirche bietet neben einem beeindruckenden Inneren auch einen wunderschönen Ausblick.

Ullis Kräuterwildnis
Von A wie Alant bis Z wie Zitronenverbene grünt und blüht es in der Kräuterwildnis am Hügel – zum Bestaunen, Anfassen und Riechen …
Adventures that won't leave you cold
Feistritz in winter
In Feistritz an der Gail, you can still experience picture-book winters with snow-covered forests, glistening meadows and plenty of fresh, clean mountain air. With such an enchanting winter wonderland right on your doorstep, it would be a waste to stay inside. So put on your woolly hat and gloves and hit the snow! If you're looking for relaxed skiing away from the crowds, you will love the Hrast lift in Feistritz. The small T-bar lift is perfect for families and beginners.
Incidentally, even the snowboard manufacturers of Capita have fallen in love with the charming winter sports Mecca of Feistritz, setting up camp there.
However, you don't necessarily need skis or a snowboard to explore the winter wonderland surrounding Feistritz. For instance, how about some cross-country skiing or winter hiking instead?
Our winter tip: a romantic hike through the snow to St. Martin parish church.
Looking for a bit of winter action? The Sun Ski World offers plenty of opportunities to make the most of a splendid winter's day.
Where outdoor lovers' hearts beat faster
Feistritz in summer
During summer, Feistritz turns into one big adventure playground for active holidaymakers. Hike up Oisternig mountain, cycle along Gailtal Radweg R3 cycle route or simply enjoy the amazing views at Feistritzer Alm. In this beautiful corner of Carinthia, your batteries are recharged with every step and every new discovery.
Another summer highlight in the World of Mountains & Lakes is swimming in the crystal-clear lakes or at one of the region's public swimming pools. The region surrounding Feistritz offers plenty of options to take a dip, splash about and soak up the sun.
Summer fun without limits: Bordering on both Italy and Slovenia, Feistritz is a perfect starting point for "transnational" excursions. For instance, the narrow lanes of Venice are only a few hours drive away, as are the famous Postojna caves.
Experience Feistritz with all senses
Cuisine & culture
In terms of culinary delights, Feistritz an der Gail is a meeting point of cultures as well. Whether you prefer traditional Carinthian "Kasnudeln" or original Italian pasta – the treats of the border triangle are varied and irresistible.
In addition to culinary specialties, the region is also known for its old customs and traditions, including the area's most famous event called "Kufenstechen".
The traditional event is celebrated by the communities of the Lower Gailtal valley every year between Whitsun and mid-September, with the highlight event being held on Whit Monday in Feistritz an der Gail.
The tradition sees the young men of the region riding through the village on powerful Noriker horses, trying to smash a wooden barrel with an iron club in the process. The subsequent "Lindentanz" ("dance under the lime tree") is the highlight of the annual "Kirchtag" – and the perfect opportunity to show off the intricately crafted traditional costumes of the Gailtal region.
Join in the celebration: You would like to get to know more of the region's festivities besides the famous "Kufenstechen"? Simply take a look at our event calendar…
You should spend your holiday in Feistritz if …
… you like "transnational" excursions and would like to nip over to Italy or Slovenia during your holiday in Austria.

… you always wanted to witness the region's famous "Kufenstechen" event.

… you and your children are looking for a holiday destination with a family-friendly T-bar lift right on site.

… you would like to cycle along the Gail river all the way to Villach on the Gailtal Radweg R3 cycle route.

... you would like to see bats from up close in Austria's first bat house.
Location and how to find us
The Nassfeld-Pressegger See holiday region lies in the Austrian province of Carinthia, directly next to the Italian border.
Plan your journey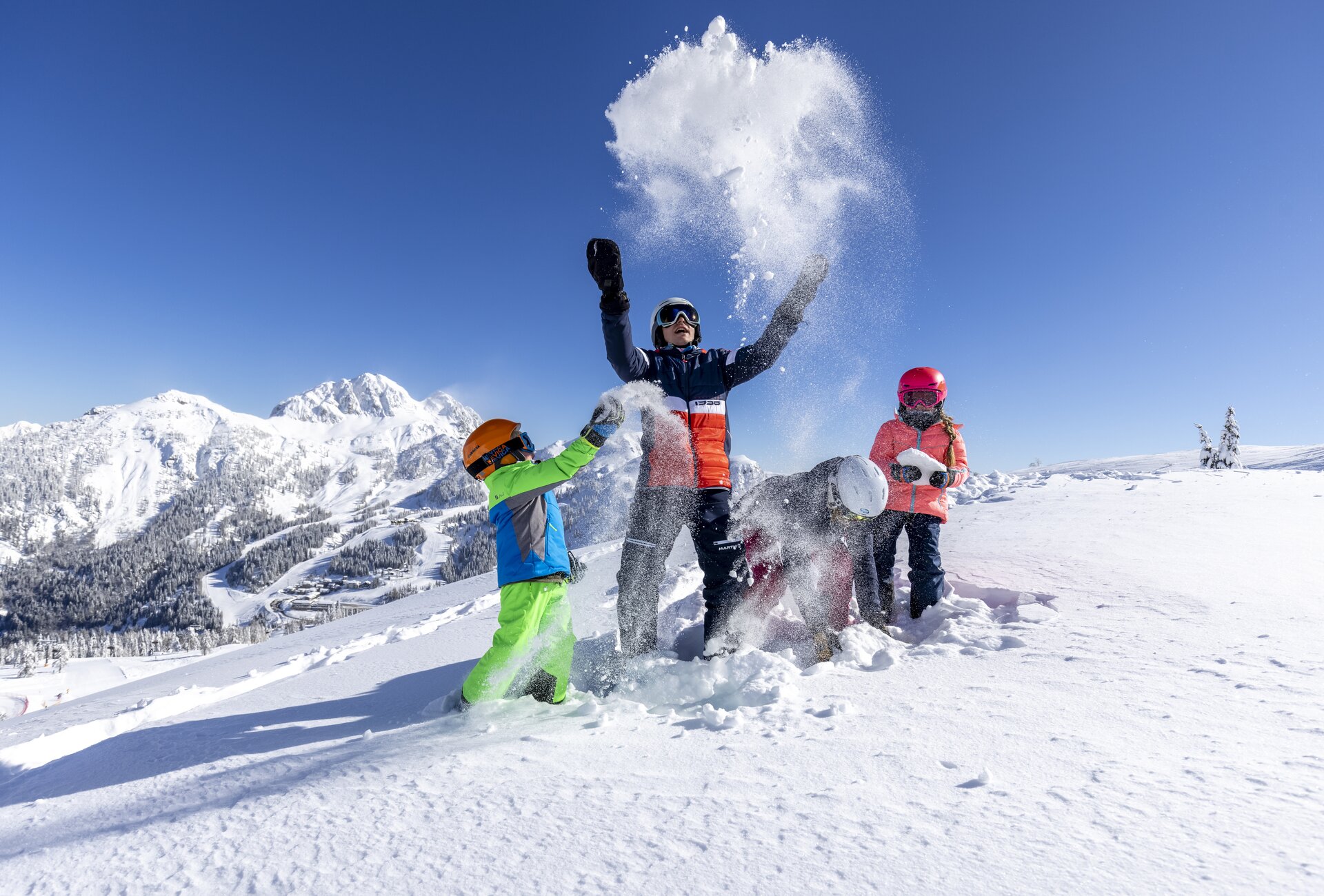 What do you want to discover?