Excursions with kids on rainy days
Family activities for bad weather days
Although the Nassfeld-Pressegger See region is located on the "sunny side of the Alps", it gets the occasional rainy day, too. So what to do when the sun's not shining for a change? You'll be happy to hear that there are plenty of great family activities waiting for you all throughout the region, both in summer and in winter. Check out our ideas for things to do on rainy days that are sure to brighten up your day!
Indoor water fun
A visit to the indoor swimming pool or spa
A dive into the refreshing water is not just a fun thing to do when you're outdoors. For instance, the Aquarena indoor swimming pool in Kötschach-Mauthen is particularly popular with families. Enjoy fun-filled days in the modern water and spa world. Alternatively, the thermal spa in Warmbad-Villach offers a variety of water activities for all ages on four levels.
If you'd rather stay dry, how about some fun and action at the climbing hall in Hermagor?
On a historic discovery tour
A day at the museum
You are interested in history and regional culture? Then a visit to the museum is the perfect choice for you! South of Hermagor, Gailtail Museum of Local History at Möderndorf Castle awaits visitors with more than 5,000 exhibits. For a closer look at European contemporary history, visit Museum 1915-1918 located inside Kötschach-Mauthen town hall. It is home to more than 1,500 historic photos and documents, numerous exhibits and reproductions of Alpine forts: The 600 square-metre museum takes you on a journey along the frontline from Ortler mountain to the Adriatic Sea.
Excursion tip for nature lovers: the visitors' centre of the Carnic Alps GeoPark in Dellach.
Welcome to the "adventure farm"
GailtålBauer farm in Kirchbach
Zest for life that you can taste – that's what you can experience at Austria's most modern show farm. Milking robots, show cheese dairy, hay cinema, pigsty: There's always something going on at the GailtålBauern farm in Kirchbach! Play in the hay, pet the farm animals and find out about life and work on a farm … After an eventful day on the farm, the regional snacks from the farm shop will taste even better, you'll see!
City trip with the family
Shopping mall or cinema
You feel like shopping or watching a film? Then the "shopping city" of Hermagor is the perfect choice. In nearby Villach, you can find the Cineplexx and Stadtkino cinemas as well as the Atrio Villach shopping mall. Located near the Villach Warmbad slip road towards Italy, the mall boasts numerous shops, cafes and restaurants to while away the day. Alternatively, the City-Arkaden Klagenfurt are also a good choice for shopping.
Family activities free of charge
Free bad weather activities with the +CARD holiday
If you're looking for child-friendly excursion ideas for bad weather days, the +CARD holiday offers many great options free of charge. With the convenient discount card, you benefit from free admission to many local attractions that are guaranteed to put big smiles on little faces. For instance, how about a visit to the indoor ice rink in Pontebba? Or some fun and games at the Flaschberger indoor tennis court or bowling alleys in Obervellach?
Our tip for all of you who dare to venture underground: Terra Mystica show mine in Bad Bleiberg awaits you with Europe's longest miner's slide!
Stroll across the "leather market"
A trip to the market in Tarvisio
Sheltered from the rain and cold weather, Mercato di Tarvisio is a great choice for bad weather excursions with kids. The "leather market", which is very popular with Austrian holiday-makers due to its proximity to the border, is completely roofed over and offers everything from clothes to accessories.
It's also a good idea to check out the rainbow programme for children in the Nassfeld-Pressegger See region as well as the excursion ideas for families in the World of Mountains & Lakes. Alternatively, it's always nice to spend bad weather days at one of the many local restaurants, especially those located in the Gailtal and Lesachtal valley, also known as the world's first Slow Food Travel Region.
Location and how to find us
The Nassfeld-Pressegger See holiday region lies in the Austrian province of Carinthia, directly next to the Italian border.
Plan your journey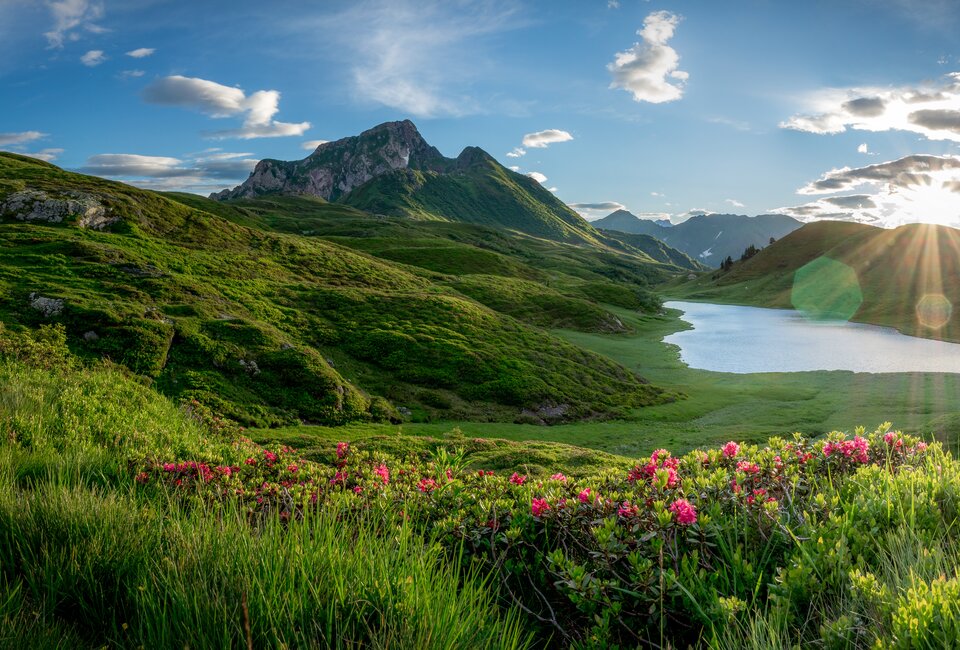 What do you want to discover?