Things to see and do in Carinthia with children
Excursion tips for families
Why travel far when you have it all on your doorstep? After all, the World of Mountains & Lakes truly is your oyster. Summer or winter, the small town of Hermagor, Gitschtal valley or Lake Weissensee: There are more than enough options for every day of your holiday.
However, sometimes you simply want to "expand your horizon", wouldn't you say? And our excursion tips are just the perfect opportunity to do so. Whether it's as an alternative to skiing in winter or as a change from hiking in summer – the great excursion destinations around the Nassfeld area are always worth a visit.
Our tip: Why not use one of the region's many public transport options to get to your excursion destination all hassle-free and without having to look for a parking space? After all, the regional busses are free of charge with the +CARD holiday and the GästeCard Basic!
Two-wheeled excursion to Villach
Gailtal cycle route
In the mood for a little shopping spree in Villach? Then how about combining it with a bit of exercise and embarking on a nice spring, summer or autumn ride on the Gailtal Radweg R3 bicycle route? The family-friendly cycle path takes you along the Gail river from Kötschach-Mauthen to Villach.
If you need a little breather on the way, you can stop by at one of the many cosy restaurants and inns along the route and fuel up on cool drinks and irresistible Carinthian delicacies there.
Your shopping spree has resulted in too many bags to take home on your bike? Don't worry! The region's excellent public transport options will take you as well as your bike and bags back to your hotel.
Adventure awaits
Carinthia's first adventure park
Lake Presseggersee is not just one of Carinthia's warmest swimming lakes. It's also well worth a visit when it's too cold for swimming.
After all, Lake Presseggersee is your go-to place for relaxation as well as action – thanks to Carinthia's first adventure park, which offers fun and games for the young and young-at-heart.
Whether it's a ride on the "Nautic Jet", the "Comet" or the "Luna Loop" – the adventure park is full of thrills and spills. If you need a break from all the action, there are also plenty of less adrenaline-fuelled pastimes to be found there. For instance, try the excavator simulators, the balance bikes, the Sky Dive … or simply take a nice break at the Lake Tavern.
Good to know: Carinthia's first adventure park is also perfectly suitable for smaller kids, offering age-appropriate attractions from bouncy castles to pedal-powered rail bikes. Also don't miss the great discounts you get there with the +CARD holiday!
Treasure hunt in the petrified forest
Carnic Alps GeoPark
Thundering waterfalls, serene mountain lakes and impressive ravines – there's something new to discover behind every corner at Carnic Alps GeoPark. Learn about the formation of the Alps and experience geology first-hand at more than 70 stages between Feistritz/Gail and Maria Luggau im Lesachtal.
Embark on a journey to eras long past along the signposted geo trails and discover stones and fossilised animals and plants that are more than a hundred million years old. The big highlight for the little ones: the exciting treasure hunt in the petrified forest!
Good to know: Even when the Carinthian sun is not shining for a change, the visitors' centre in Dellach is still worth a visit, especially thanks to the many benefits you get with the +CARD holiday. Among other activities, you and your kids can touch fossils, watch interesting films and explore interactive elements at the visitors' centre.
The heart of the mountains
Terra Mystica show mine
The 1,300-kilometre tunnel system inside Bad Bleiberg's Erzberg mountain is a sight to behold – and not just for kids! With the +CARD holiday, exploring the fascinating Terra Mystica show mine is even more fun. Swoosh down Europe's longest miner's slide, ride on the mining car, discover the mine shaft elevator … there's plenty to see and do underground!
Adventure tip: The thrilling treasure hunt is a highlight for young explorers. Equipped with a torch, adventure-loving kids can go looking for mystic semi-precious stones – and even take their finds back home.
Ciao bella!
A visit to Italy
The proximity to Austria's neighbouring country of Italy adds an air of "dolce vita" and some great excursion ideas to the World of Mountains & Lakes. For instance, how about a shopping trip to Tarvisio in spring? A short swimming trip to one of the Adriatic beaches in summer? Or a leisurely stroll through the narrow lanes of Udine in autumn? If you spend your holidays in the Nassfeld-Pressegger See region, all of this is easy to do.
Especially in winter, it can be nice to get a quick dose of "summer holiday feeling" during a visit to Italy – even if it's just for grabbing a quick pizza or a glass of Aperol …
Talking about winter: Our activities for bad weather days are sure to brighten up even the coldest winter days or a rainy day in summer!
Location and how to find us
The Nassfeld-Pressegger See holiday region lies in the Austrian province of Carinthia, directly next to the Italian border.
Plan your journey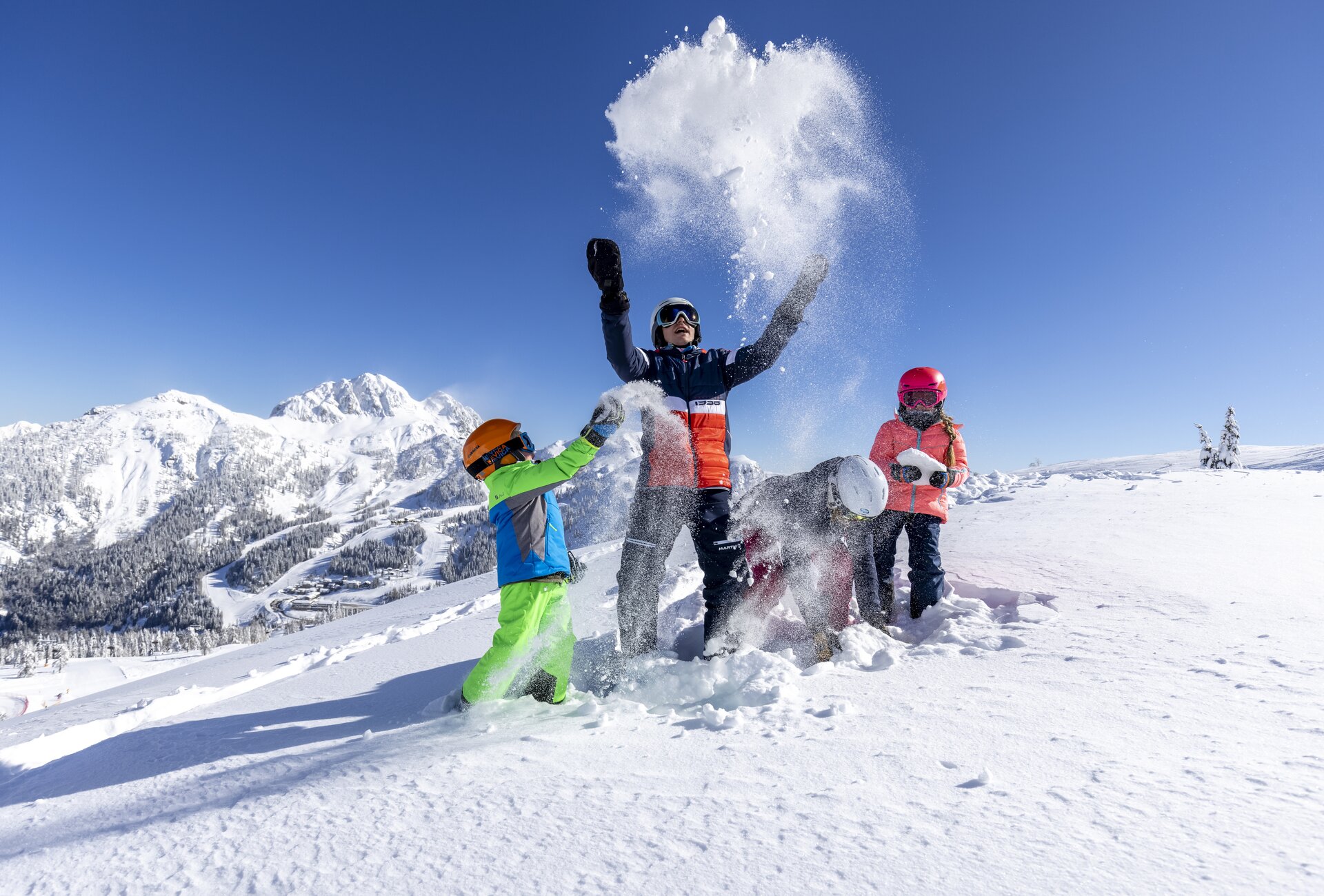 What do you want to discover?