Kötschach-Mauthen
On the sunny side of life
Nestled between the Gailtal Alps and the Carnic Alps, you can find Carinthia's "sun child" of Kötschach-Mauthen. Situated at the beginning of the Lesachtal valley, the holiday region boasts a number of natural and climatic advantages.
Whether you spend your summer or winter holiday in Kötschach-Mauthen, you'll enjoy an exceptionally high number of sunny days – the perfect setting for a sun-kissed good time! What's more, you can see the seasons change in a particularly spectacular way in the Carinthian region. Tender alpine flowers in spring, glistening mountain lakes in summer, woods exploding with colour in autumn, pristinely white snow blankets in winter: Kötschach-Mauthen is worth a visit all year round!
The region's glorious nature makes the holiday region highly popular with recreation-seekers and outdoor enthusiasts. Relax and unwind in pristine landscapes, work up a sweat during multiple outdoor sports – in Kötschach-Mauthen, it's easy to recharge your batteries.
An air of "dolce vita": Kötschach-Mauthen is only 15 kilometres away from the state border to Italy, making it easy to nip over to the land of pizza and pasta for a day trip.
What to see around Kötschach-Mauthen
The best sights
Cycling, hiking, swimming, mountaineering … there are plenty of activities for you to choose from in Kötschach-Mauthen. The perfect setting for varied and exciting holidays!
You feel like a day without sports? Fair enough! Then why not take a leisurely stroll to discover the holiday region's most impressive cultural heritage sites?
Don't miss the following sights around Kötschach-Mauthen:
Mussen
In summer, the "Mussen" is a must on every hiker's list. The Mussenstock is known as Carinthia's "flower mountain", making it a colourful, fragrant holiday highlight.
Plöcken pass
A paradise for motorcyclists: Cruise along the winding serpentines of Plöcken pass and take a day trip to the Italian Dolomites or Lago di Sauris.
Mauthen mountaineering village
The spirit of mountaineering is thriving in Mauthen – the perfect "base camp" to heed the call of the mountains!
Open-air museum at Plöcken pass
Learn about the region's history at the open-air museum at Mt. Pal Piccolo – an impressive testimony of WWI!
St. Mary's pilgrims way
You don't have to go as far as the Camino de Santiago – you can also go on a pilgrimage on Kötschach-Mauthen's 266-kilometre St. Mary's pilgrims trail.
Cool, cooler, winters in Kötschach-Mauthen
Kötschach-Mauthen in winter
Looking out your window in the morning, you can already tell that it's going to be another splendid winter's day in Kötschach-Mauthen. So what are you waiting for? Get out there and make the most of the Carinthian winter wonderland – there are plenty of things to see and do!
For instance, how about visiting Vorhegg family ski resort with its perfectly groomed, family-friendly slopes and many nice extras? You could also go cross-country skiing on more than 60 kilometres of groomed double trails for all skill levels.
You've still not had enough of the snow? That's great – because Kötschach-Mauthen has so much more to offer! Snowshoeing, horseback riding, ski touring through the wintry Gailtal valley … doesn't this sound like heaps of fun to you and your family?
And afterwards? It's time to kick back and relax together with your loved ones at the Aquarena indoor swimming pool!
Special tip for ice climbers: the 28-metre ice tower at OeAV-Freizeitpark. From end of November until March, you can climb the "Alpine stake" with top-rope belaying during the day or even at night.
Summer adventures in the Carnic Alps
Kötschach-Mauthen in summer
In Kötschach-Mauthen, it's not just the sunshine that brightens your days – it's also the many adventures and activities waiting for you around the Carnic Alps.
Whether you're holidaying with the family, with your partner, alone or together with a group of friends: Summer in Kötschach-Mauthen offers something for everyone. Discover a new adventure every day and make the most of summer!
For instance, embark on a family hike with your loved ones or tackle a more ambitious mountaineering tour with your best friend. Cruise along the Radweg R3 cycle route or ride one of the region's many great MTB trails. Or how about trying something new? Rafting along the Gail river, kayaking in the Lesachtal valley, climbing, horseback riding, tennis, motorcycling …. Aren't you thrilled with all the great opportunities?
Bring your swimwear … and dive right into Carinthia's wonderful World of Mountains & Lakes! In Kötschach-Mauthen, the best place for a refreshing dip is the natural swimming pool in Mauthen. If you're aiming higher, we recommend a hike to the three breathtakingly beautiful mountain reservoirs of Lake Grünsee, Lake Valentinsee and Lake Cellonsee or to the natural gem of Lake Wolayersee.
Kötschach-Mauthen for foodies and pleasure-seekers
Cuisine & culture
The proximity to Italy brings a bit of the Mediterranean to the cuisine of the Kötschach-Mauthen area. The typical specialties of the region are traditional, authentic and rooted in the Alpine-Adriatic cuisine. Whether it's Gailtalter Speck g.g.A. bacon, Lesachtal bread, Gailtal valley maize, Gailtaler Almkäse g.U. cheese or LONCIUM beer – the culinary treats of the Carinthian mountains are a feast for the taste buds.
If you want to treat your palate to some of these exquisite delights, you should check out the region's "Slow Food Travel" programme. Numerous manufacturers and artisan food producers around Kötschach-Mauthen invite visitors to take a look behind the scenes and join in the kneading, stirring and cooking. Learn how to bake bread, how to make cheese or how to "krendel" the typical Carinthian "Kasnudeln" – and become an expert of Carinthian cuisine!
Carinthia's famous delicacies also play a major role in the region's events and festivities – whether it's at the local Cheese Festival or The Festival of Taste.
Did we whet your appetite? Then how about taking a look at our event calendar and finding out about upcoming event highlights in the World of Mountains & Lakes?
You should spend your holiday in Kötschach-Mauthen if …
… you would like to "spice up" your holiday with a dose of Alpine charm and a pinch of Italian zest for life.

… you always wanted to visit a whole festival dedicated to cheese.

… you feel like a wintry ice climbing adventure.

… you are looking for a holiday region offering family-friendly cycle routes.

… you would like to learn how to "krendel" typical Carinthian "Kasnudeln".
Location and how to find us
The Nassfeld-Pressegger See holiday region lies in the Austrian province of Carinthia, directly next to the Italian border.
Plan your journey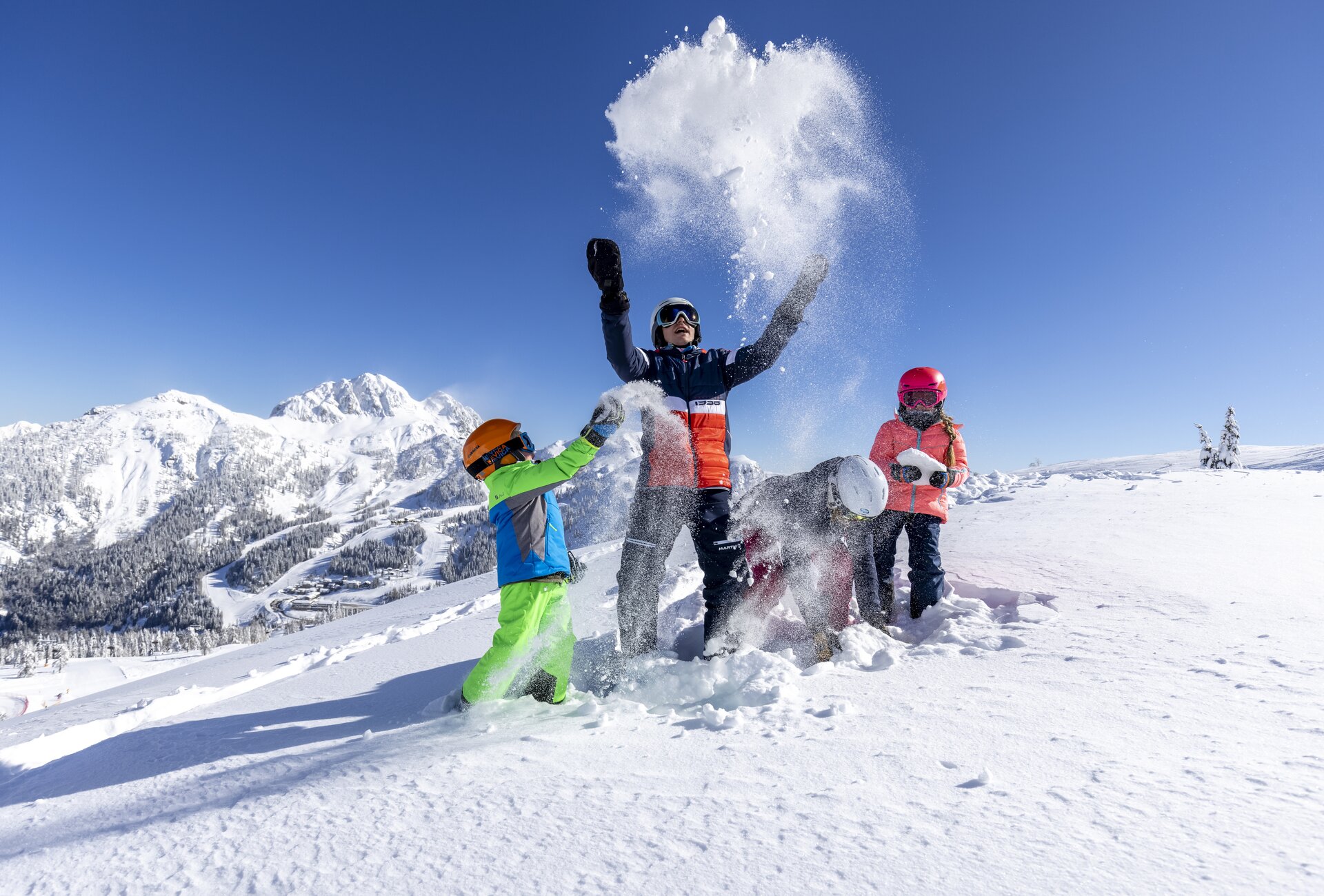 What do you want to discover?