Gitschtal
Active relaxation surrounded by unspoilt nature
Exciting or relaxing? If you think that these two are mutually exclusive, you have obviously never visited the Carinthian Gitschtal region! After all, action and relaxation go together perfectly in the endearing community in the Nassfeld-Pressegger See region.
Work up a sweat during mountain biking and then cool off with a refreshing dip in the water. Hike up impressive summits and then recharge your batteries with a delicious "Brettljause" snack platter at a mountain hut. In Gitschtal, adventures and recreation go hand in hand.
The community is located in the Gitschtal valley, one of Gailtal valley's side valleys, and is dominated by the 2,300-metre Reißkofel, which offers splendid views of the surrounding Gitschtal area.
Have you ever wondered … what Gitschtal's coat of arms means? The crossed mining insignia, the hammer and pick, on the lower part of the coat of arms stand for the municipality's pronounced mining tradition. Between the 13th and 16th century, the region was a popular mining area for gold, silver and iron ore. On a walk through Gösseringgraben, you can still see old relics and read up on useful information on ore processing.
What to see around Gitschtal
The best sights
Gitschtal is a small paradise for nature lovers as well as for fans of arts and culture, offering many opportunities to combine both. For instance, how about a hike to see the most famous churches of the region?
Don't miss the following sights around Gitschtal:
Weissbriach protestant church
Check out the intricate carvings on the altar of the neo-Gothic hall church.
St. Johann zu Weissbriach church
When St. Johann church was remodelled in a neo-Gothic fashion in the 19th century, a relic capsule was found that had been walled in there since the 15th century.
St. Lorenzen catholic church
The church's pretty high altar depicts Saint Lawrence, while on the side altars you can see apostles Peter and Paul.
Gitschtal arts & crafts parlour at Weissbriach blacksmith museum
The small museum offers you charming glances into the region's artisanal history.
Warmly recommended
Gitschtal in winter
If you are looking for the "real" Carinthia away from the crowds, you might just find it in the wintry Gitschtal region. In the small municipality, time seems to stand still during winter. Or maybe it's just that time is not measured by clocks but by the rhythm of the dancing snowflakes during this period?
One way or another, it gives you ample time to enjoy winter to the fullest. Whether you spend it swooshing down the slopes, exploring the area on cross-country skis or sledging with your kids. Or you could always just soak up the sun on the terrace of a traditional mountain hut, with a steaming cup of tea in your hands and your gaze firmly set on the miraculous mountain world of Carinthia.
If you have young children, Weissbriach family ski resort is your number-one choice for unforgettable days in the snow, offering three lifts, a professional ski school, convenient ski and snowboard rental facilities and plenty of cosy mountain huts.
In addition, the region boasts numerous activities away from the slopes. For instance, how about cross-country skiing on 40 kilometres of perfectly groomed double trails? Or snowshoeing, winter hiking or dashing down the 3.9-kilometre toboggan run?
Our winter tip for ice skating fans: The Gitschtal region is only a few minutes drive from Europe's largest natural ice rink at Lake Weissensee. Sounds quite cool, don't you think?
On your marks for summer action
Gitschtal in summer
Summer in the Gitschtal region belongs to those who love the great outdoors. After all, the area offers perfect opportunities for cycling and mountain biking. For hiking and mountaineering. For jumping into the lake and splashing about with your family – after all, the Gitschtal region is located right between the perfect swimming lakes of Weissensee and Pressegger See. As you can see, Gitschtal valley offers countless opportunities for perfect summer activities.
If you prefer exploring your holiday region on two wheels, there's every biker's dream right on your doorstep. If you're cycling with the family, we recommend Familienradwanderweg R3b cycle route, which connects right to the 950 kilometres of MTB and cycle routes of the Nassfeld-Pressegger See and Weissensee regions. If you're looking for a bit of a challenge, the official MTB route up to Möslalm might be just the thing for you.
The Gitschtal area also boasts numerous great tours and trails for hiking and Nordic walking. Whether it's Gösseringgraben nature trail or the trail up to Kohlrösl hut – the stunning nature of the region is full of breathtaking spots.
Fun tip: Have you heard of mountain farmers' golf? No? Then a "nice surprise" is already waiting for you in the Gitschtal region! Without giving away too much: You might want to look out for low-flying wellies …!
Relax tip: Even if summer in Gitschtal is full of activities, there are also plenty of opportunities to relax and unwind. For instance, how about a visit to Gitschtal adventure swimming pool or one of the amazing swimming lakes of the World of Mountains & Lakes? For some extra heavenly relaxation, we recommend the healing treatments and therapies at Weissbriach health resort ...
Gitschtal for foodies and pleasure-seekers
Cuisine & culture
The more the merrier: The Gitschtal region is all about celebrating and enjoying good food and drinks together. While sitting around a table at Brunnwirt restaurant, while watching a show of the local "Schuhplattler" dance group or while mingling with the locals at one of the region's popular events.
Among others, there is the traditional "Kirchtag" celebrations, the crazy Gitschtal carnival, the annual cabbage festival or the – we're not joking! – Gitschtal cowpat tombola. You wonder what the latter is all about? Well, you'd best find out for yourself – during an unforgettable, surprising and wonderfully unique holiday in the World of Mountains & Lakes!
You should spend your holiday in Gitschtal if …
... you love to explore your holiday destination with your mountain bike.

… you want to gamble at the Gitschtal cowpat tombola.

… you are looking for a charming family ski resort.

… you don't want to stick to one sport only in summer.

… you want to get to know the unrivalled hospitality of the Gitschtal people during one of the local events and festivities.

… you want to experience a soothing treatment by the qualified staff at Weissbriach health resort.
Location and how to find us
The Nassfeld-Pressegger See holiday region lies in the Austrian province of Carinthia, directly next to the Italian border.
Plan your journey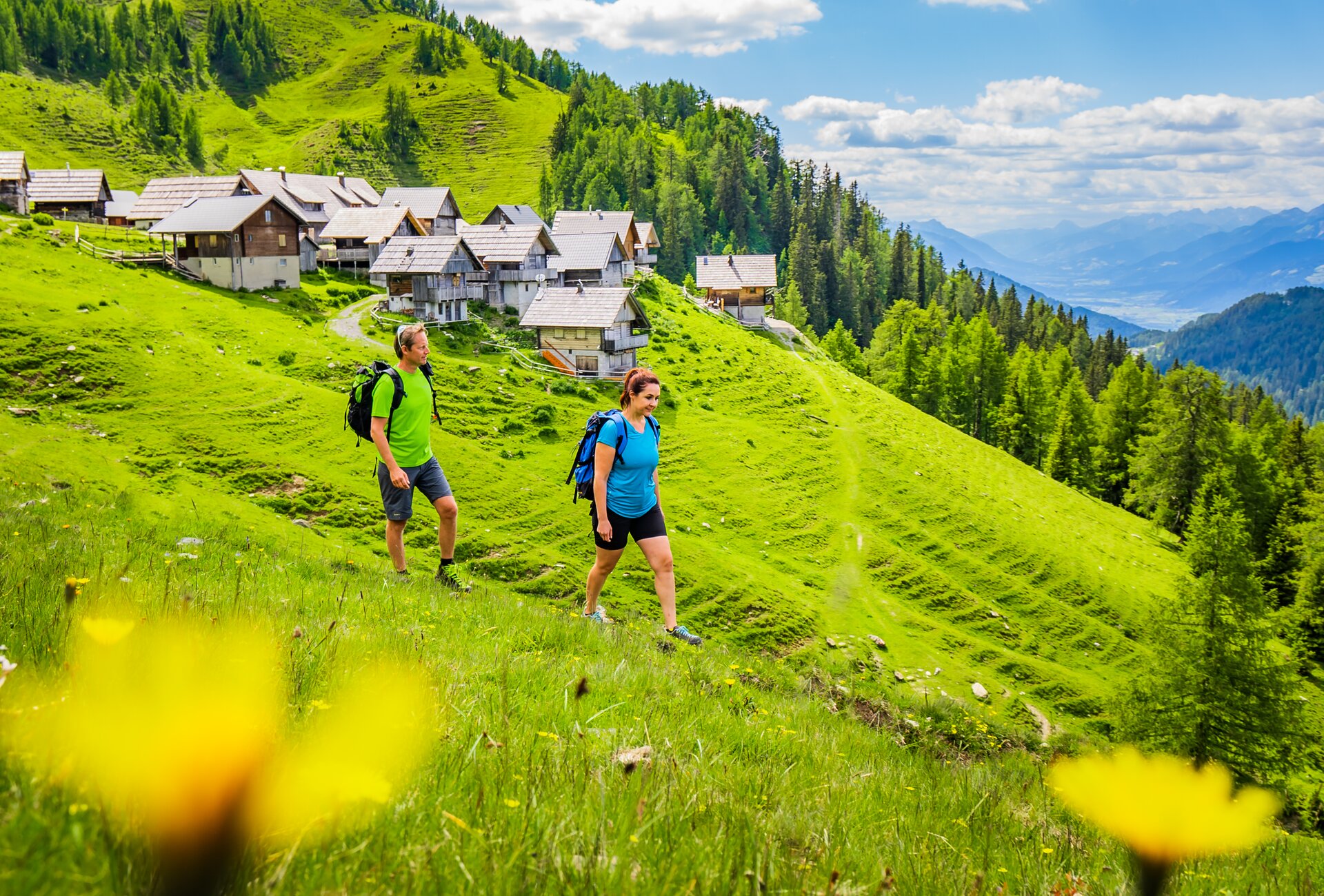 What do you want to discover?