Join the fun!
Slope highlights for kids
Sunshine, snow and quality time with Mum, Dad and new friends: Kids don't need a lot to be happy. If they get even more on top, the little ones are on cloud nine.
Luckily, the Sun Ski World offers them quite a lot more on top. After all, the family-friendly ski resorts of the Nassfeld-Pressegger See region boast plenty of great extras and attractions for the little ones.
For instance, at the top-10 ski resort of Nassfeld, cool kids on skis can look forward to numerous slope highlights that they will tell their friends at home about.
Is it a slope? A fun park? Or a ski-cross course? "The Snake" is all rolled into one! And it's this unique combination that makes the adventure slope so popular with young (and young-at-heart) guests at Nassfeld ski resort.
Once you have tried this slope highlight, we bet you'll want to do it all over again straight away!
The Snake at a glance
Access: Lärchenboden run (via Kanonenrohrlift or 6er-Madritschen Sesselbahn)
Length: 700 m
Highlights: 11 rollers, 2 jumps, 9 banked turns, 1 rainbow box, 1 butter box, 2 "high-five" jibs, 1 snail tunnel
Cameras rolling!
Skimovie & Speed-Photo race tracks
You always wanted to be a movie star? Then you should definitely drop by at the two Skimovie race tracks of the Sun Ski World. After all, your speedy ride down the giant slalom or parallel giant slalom track is captured on video. What are you waiting for?
You can also show off your racing skills at the Speed-Photo race track at Trogkofelbahn. Down at the finish line, a keepsake photo of your adventure is waiting for you.
Skimovie & Speed-Photo race tracks – what to expect
Skimovie race tracks
at "Zweikofelbahn" and "Watschiger Alm"
giant slalom or parallel giant slalom
Your ride is captured on video
Speed-Photo race track
at Trogkofelbahn
with live speed measurement
finish photo to take home
Free your style
Nassfeld Snowpark
Ready for take-off? Then Nassfeld Snowpark is the place to be for you and your kids! The park boasts excellent conditions for catching some airtime and trying out your best freestyle tricks.
Whether you're there with your skis or with your snowboard, the various boxes, jibs and jumps at the snow park are sure to keep you entertained. The best thing about it: The park is suitable for beginners as well as for advanced riders and for children as well as for adults.
Nassfeld Snowpark – the facts

Location: at Gartnerkofel (via Watschiger-Alm-Lift Nr. 3 or slopes 2 and 2a)
Beginner-Medium-Line: flat box, rainbow box, kicker box, butter box, updown tube, wave box and quarter
Pro Line: industry down pipe, flat down kinked box, pole jam, lollipop, 2 corners, double kink tube, flat rail, down donkey and quarter
Out tip: Evers Sunday, ShredSchool hosts free snowboard and freeski workshops at the snow park.
Treasure hunt in the snow
Nassfeld Challenge
You have older kids that have outgrown the kiddie slopes? Then the Nassfeld Challenge might be just the thing for them: The thrilling hunt for badges is the perfect opportunity to compete against Mum and Dad and win some great prizes.
Nassfeld Challenge – how it works:
Register your ski pass number on the Skiline website
Sign up for the Nassfeld Challenge
Collect badges for certain runs, attractions and achievements
Win cool prizes
Location and how to find us
The Nassfeld-Pressegger See holiday region lies in the Austrian province of Carinthia, directly next to the Italian border.
Plan your journey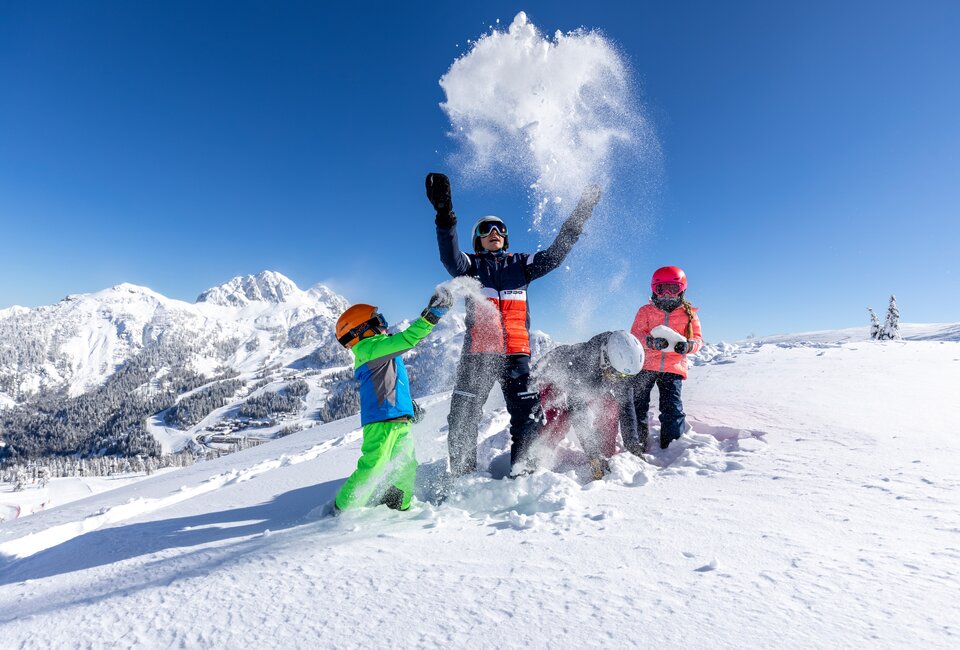 What do you want to discover?