Winter World
Extraordinary. Varied. Eventful.
Winter World
Glistening. Snow. Joys.
Winter in the Nassfeld-Pressegger See region is winter for all senses. Winter full of action and pleasure. Full of relaxation and family fun. And that's no wonder: After all, the World of Mountains & Lakes is one big, glistening canvas for colourful winter adventures.
Whether it's for skiing and snowboarding, for relaxing and unwinding or for having fun with your family: The winter paradise of the Nassfeld-Pressegger See region offers something for every taste. Discover a winter wonderland world full of unforgettable adventures – but be warned: The Winter World of the Carinthian mountains is addictive! Once you're there, you won't want to leave ...
Space. Snow. Spectacular slopes.
Welcome to the Sun Ski World
Avid skiers and snowboarders feel like a fish in water in the Nassfeld-Pressegger See region. After all, the Sun Ski World offers something for every fan of winter sports:
Huge variety: The enormous Sun Ski World offers you 40 different slopes ranging from sporty to family-friendly. At the top-10 ski resort of Nassfeld, at three nearby family ski resorts and at two charming lifts in Feistritz/Hrast and Griminitzen .

---

Breathtaking panoramic views: Let your gaze wander and savour the views – the panoramic views of the World of Mountains & Lakes are uniquely exquisite!
Snow and sun galore: 100 % snow reliability and more than 850 hours of sunshine in one winter season – the famous success formula of the Winter World!

Mouth-watering delights: The finest treats of the Alpine-Adriatic cuisine served right by the slope – simply irresistible!
Plenty of "nice surprises":

Whether it's ski service, accommodation or family discounts – the holiday region surrounding Nassfeld ski resort is full of surprises!
Relax. Unwind. Enjoy.
Enjoy the Outdoor & Relax World
The Nassfeld-Pressegger See region is all about variety. Skiing alone simply isn't enough on the sun terrace of the Alps! After all, it would be a pity to miss out on all the other winter highlights waiting for you in the World of Mountains & Lakes …
A walk through winter wonderland: Enjoy romantic snowshoe hikes through the glistening landscape.

One, two, whee! Sledging makes you happy – no matter your age!
Ice, ice, baby: Ice skating on Europe's largest natural ice surface at Lake Weissensee is a truly magical experience.

On track for happiness: Enjoy cross-country skiing on perfectly groomed trails.

Warm and cosy: Kick back and relax with the heavenly spa and wellness offers of the Outdoor & Relax World.
Endless. Smiles. Together.
Family World
Family fun at its best – in Carinthia's Winter World. Enjoy some quality time with your loved ones in the snow and make unforgettable family memories. The World of Mountains & Lakes has plenty of "nice surprises" in store for adventure-loving families:
Practice makes perfect: With the help of the region's ski schools, you and your family are going to swoosh down the slopes in no time at all.
The best equipment: Simply rent your gear at one of the numerous ski rental facilities on site.
Home, sweet home: Family-friendly accommodation options make your getaway to Carinthia's Winter World an unforgettable experience.
The must-sees of the Winter World
You should visit the Winter World if …
… you want more from your skiing experience – like more slopes, more mountain huts and more highlights.
… you're a fan of "cross-national" skiing and love a bit of Italian joie de vivre during your winter holiday.
… skiing alone simply isn't enough for you and you want some ice skating, sledging or cross-country skiing on top.
… you want your winter holidays to be full of action as well as relaxation and are looking for a destination with great spa and wellness offers.
… you are looking for the perfect holiday destination for adventure-loving families and would like to enjoy some nice family extras.
Location and how to find us
The Nassfeld-Pressegger See holiday region lies in the Austrian province of Carinthia, directly next to the Italian border.
Plan your journey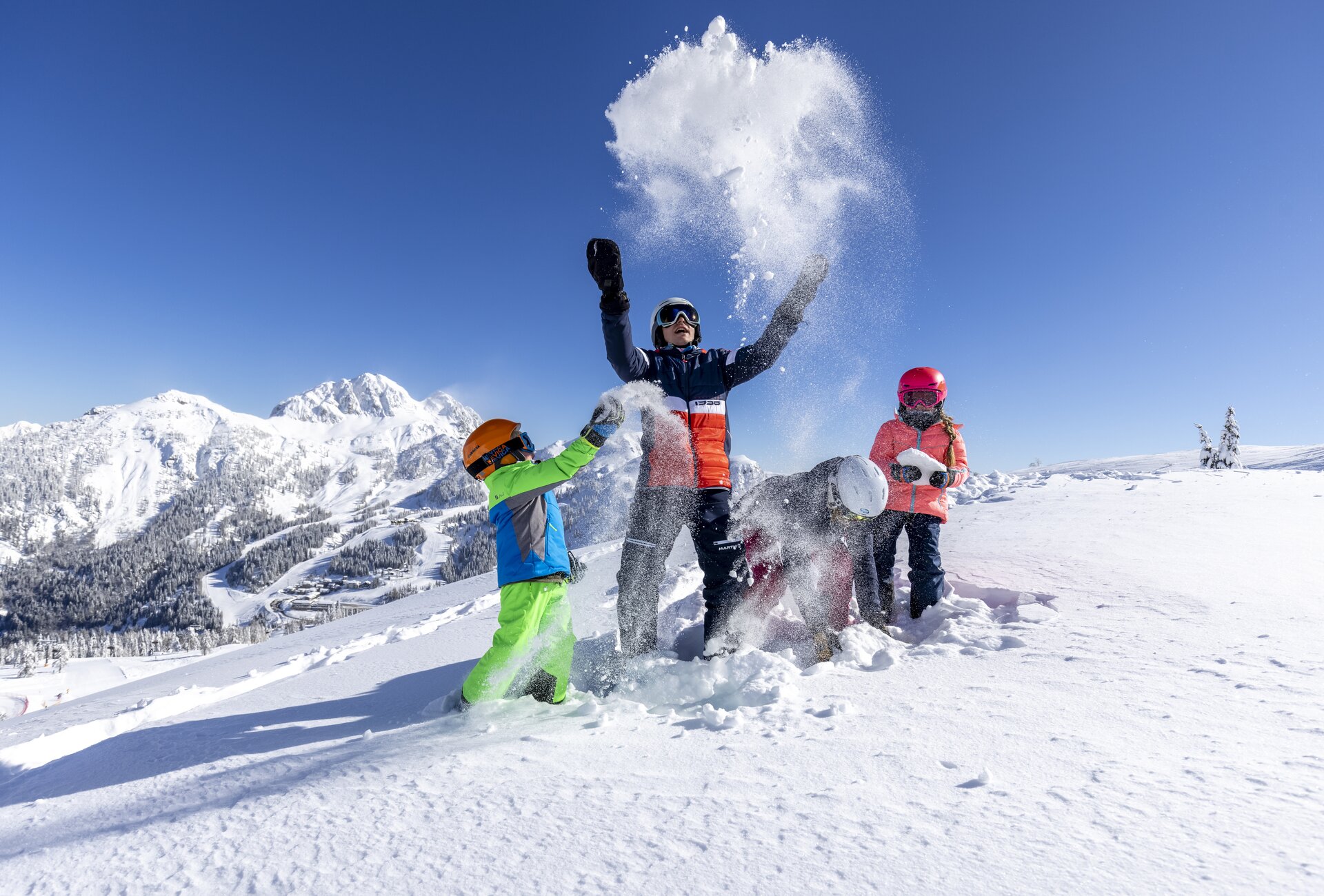 What do you want to discover?