Arrival & mobility in the Nassfeld-Pressegger See habitat
Arrive sustainably - relax from the first moment of your holiday
As a model region "Austria's most sustainable region" - awarded by the Climate Ministry and the Austrian Climate Fund, we promote car-free holidays. Sustainable forms of travel, such as train or bus, enable you to travel to our region comfortably and with low emissions. For the "last mile", there is also a sophisticated train station shuttle service that takes you directly to your booked accommodation or excursion destination.
Environmentally friendly and comfortable
Arriving by train
Just imagine: no annoying traffic jams. Instead, you can lean back and relax from the very start of your journey and at the same time do something for the environment. These are just some of the advantages of travelling by train.
Villach main station is the most important hub for train travels from all directions. From there, ÖBB suburban train line S4 to Hermagor leaves every hour. From Hermagor, take the regional bus to the surrounding villages and to the ski and hiking resort of Nassfeld. During winter, there is also a ski bus that takes you from the station right to Nassfeld ski resort (last stop Tröpolach Millennium-Express).
Good to know: With the +CARD holiday and the GästeCARD Basic you can use all regional trains for free.
Your journey doesn't end at Hermagor or Nassfeld ski resort? Local busses also conveniently take you to Kötschach-Mauthen, to the Lesachtal valley, to Oberdrauburg and to Lake Weissensee.
Useful information for travelling by train
The Carinthia train station shuttle takes all guests arriving by train and bus at Hermagor, Greifenburg or Oberdrauburg train station to their accommodation and also to selected excursion destinations in the region at a reasonable rate.
Please note that the online advance registration at www.bahnhofshuttle.at must be carried out by 6:00pm the day before.
… from Austria & Germany
Arriving by car
from western Austria: Take the A10 motorway, passing through Tauern tunnel and Katschberg tunnel (toll gates) and take exit Feistritz/Drau. From there, follow the signs to Windische Höhe and Hermagor.

from eastern Austria: Take the A2 motorway (towards Italy) and exit at Hermagor/Gailtal. From there, follow B111 state road to Nassfeld.

from Germany: Coming from Munich, either take the A10 motorway (see section "from western Austria") or the A12 Inntal motorway up to exit Kufstein. From there, continue through Felbertauern tunnel (toll gates) to Lienz, the Gailbergsattel, Kötschach-Mauthen and Hermagor.
from southern Italy: Take the motorway towards Udine and Austria. You can either exit the motorway at Pontebba and continue through Pontebba village along Passo Pramollo mountain pass to Nassfeld or stay on the motorway towards Tarvisio and exit at Hermagor/Gailtal.
Useful information for travelling by car
Flying to the World of Mountains & Lakes
Arriving by plane
The airports of Klagenfurt, Laibach/Ljubljana, Trieste and Venice are most convenient for flying to the Nassfeld-Pressegger See region. The Nassfeld is within a few hour's drive of all four of them.
Airport-Shuttle service from the airport to your hotel
Starting at 45 Euro per person, a shared taxi service takes you from the airports of Klagenfurt, Trieste and Laibach/Ljubljana directly to your holiday accommodation.
Book your airport shuttle!
Mobility at the Nassfeld-Pressegger See region
You didn't arrive by car but want to explore the highlights of the World of Mountains & Lakes? Then you'll be glad to hear about the many convenient transport options in the Nassfeld-Pressegger See region, ranging from the hike bus to Piccolo-Express Nassfeld, the ski bus and the hail and ride service for individual tours.
Our tip: Explore the Carnic region in a cost-saving and flexible way with FReD electric cars! Find out more about the e-car sharing project and protect our environment!
Thanks to the extensive bus network of the Nassfeld-Pressegger See region, it's easy to get around your holiday region without a car. The best thing about it: Public transport – up to the Lesachtal valley – is free for holders of a +CARD holiday or a GuestCard Basic!
Useful information for getting around the Nassfeld-Pressegger See region
Location and how to find us
The Nassfeld-Pressegger See holiday region lies in the Austrian province of Carinthia, directly next to the Italian border.
Plan your journey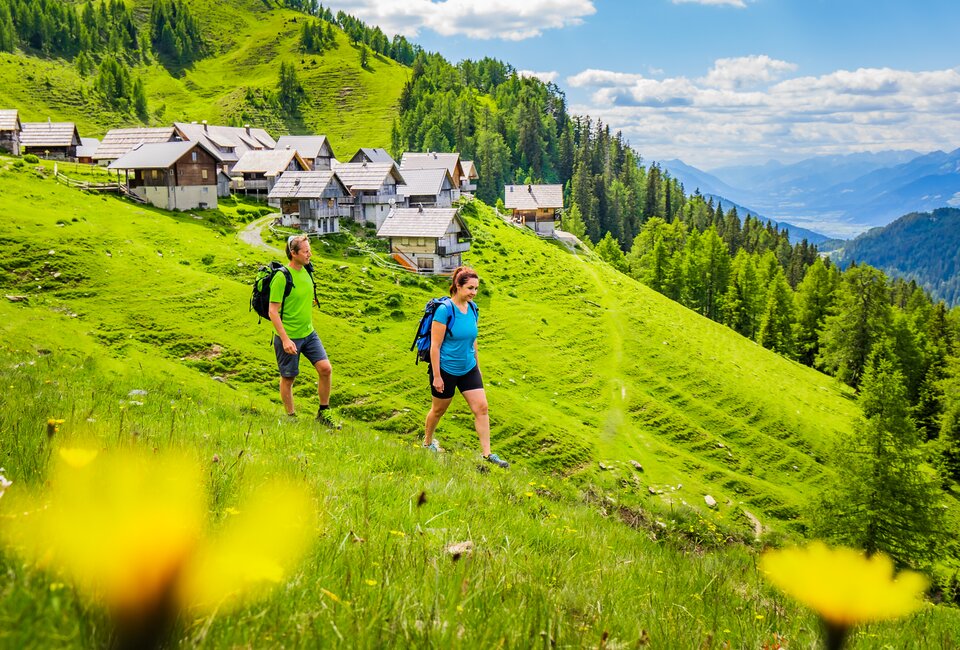 What do you want to discover?