Family activities involving water
Experience the waters of the Family World
Whether you prefer swimming, stand-up paddling or windsurfing: The World of Mountains & Lakes offers plenty of opportunities for family fun in the water. For instance, the region is known for its beautiful lakes and streams including Lake Pressegger See, Lake Weissensee or the Gail river. And there's more! Find out about water fun in the Family World, and experience endless fun and sun-kissed holidays with happy kids!
Our best tips: water fun for families
Carinthia's 1st Adventure Park
Action, nature and swimming fun: All this and more is waiting for you and your little ones at the one-of-a-kind Adventure Park at the shores of Lake Pressegger See.
"BergWasser" Aqua Trail
The 1.5-kilometre family adventure trail at Nassfeld's Madritsche is perfect for playing and exploring.
Themed playground "The realm of the lake witch"
Experience thrilling adventures in the realm of the lake witch at the 2,400-square metre nature playground .
Water sports on the Gail river
Whether it's rafting, river tubing, canoeing or kayaking – there are many ways to tackle the wild waters of the Family World together with your loved ones!
Garnitzenklamm gorge
Thundering waterfalls, impressive rock faces and emerald-green bays make Garnitzenklamm gorge a spectacular outdoor experience.
Weissenbachklamm gorge
The wildly romantic Weissenbachklamm gorge in the Gitschtal valley is popular with young and young-at-heart water lovers.
Our tip: Enjoy water fun in the Nassfeld-Pressegger See region at discounted prices with the +CARD holiday! With the convenient card, you benefit from free admission to two public beaches and three public swimming pools. In addition, it offers many more discounted attractions and services, including the popular summer cable cars.
Swimming fun and relaxation amid mountains and lakes
Lake Presseggersee
Lake Presseggersee and its surroundings make it easy for families to enjoy summer on the sunny side of the Alps. Discover one of Carinthia's cleanest and warmest swimming lakes that is also lovingly called "the bathtub of the Gailtal valley". Surrounded by Austria's second biggest reed belt, the lake reaches temperatures of up to 28 degrees Celsius in summer and boasts an excellent water quality.
Curious to find out which family adventures are waiting for you at Lake Pressegger See? Expect a nice mixture of action and relaxation, of fun, activities and leisure. For instance, there are five public beaches at the shores of the lake, plus Carinthia's first Adventure Park. Or how about a visit to the free themed playground "In the realm of the lake witch" at Hermagor public beach?
Other lakes and streams in the region
Only 25 kilometres from the Nassfeld-Pressegger See region, another great recreation area is waiting for you at Lake Weissensee. Discover natural beaches, varied activities and a picturesque lakeside, three quarters of which are still undeveloped.
Alternatively, you can learn more about the region's water on the "Garnitzenklamm", "Wolayersee" and "Zollner See" geo trails in the Carnic Alps GeoPark. What's more, many family hiking trails lead past crystal-clear mountain lakes. There's no better way to end a hike than with a quick dip, don't you think?
An extra dose of adrenaline: How about a family rafting adventure on the Gail river? Or a bit of canyoning, canoeing, kayaking or river tubing? Fans of water sports will be thrilled with the many possibilities waiting for them in the World of Mountains & Lakes. If you like it a bit more quiet, we recommend fly sight-fishing on the Drave's biggest southern tributary.
The sun isn't shining today? No problem! Simply seize the chance to relax and splash about at the region's many indoor hotel swimming pools, at Aquarena Kötschach-Mauthen or at the nearby "Warmbad Villach" family spa!
Location and how to find us
The Nassfeld-Pressegger See holiday region lies in the Austrian province of Carinthia, directly next to the Italian border.
Plan your journey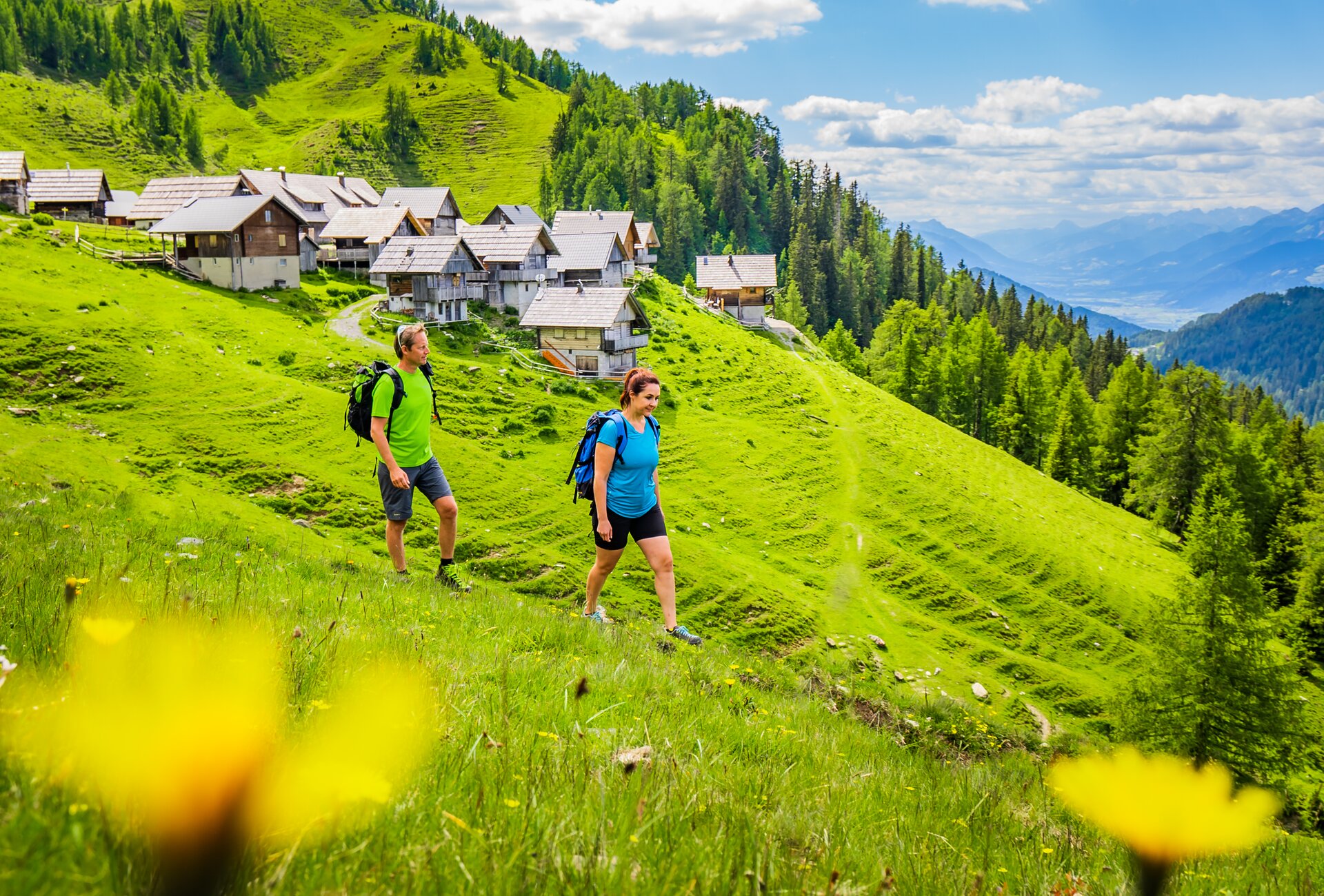 What do you want to discover?