Immerse yourself in the Nassfeld-Pressegger See region
Lake Pressegger See
Take a run-up and jump – into the "bathtub of Gailtal Valley"! Thanks to its optimal water temperature with up to 28 degrees in summer, Lake Presseggersee is an Eldorado for swimming enthusiasts. The crystal-clear water of the lake is seamed by a tall belt of reeds. It's also habitat to a unique flora and fauna, and the many sunshine hours ensure a comfortably warm climate. By the way: The drinking-water-quality lake is especially popular with families.
Thanks to the many playgrounds "in the realm of the lake witch", a grass maze and Carinthia's first adventure park, little and grown up adventurers have plenty to discover. You'd like to immerse yourself in the beautiful natural scenery of Lake Presseggersee, too? And enjoy some fun, action and adventure with your loved ones? Then go ahead and visit this one-of-a-kind lake amidst the Gailtal Alps!
A nature lover's dream around Lake Pressegger see
Summer, sun, Carinthia
Becoming one with nature, utter relaxation and wellbeing, and taking your time to enjoy the stunning landscape that surrounds you: Lake Presseggersee not only boasts plenty of options for fun and adventure, it also has a rich flora and fauna. Austria's second biggest belt of reeds which seams this Carinthian lake is the perfect habitat for countless species of plants and animals. So keep your eyes peeled when you're in the water or out on the Slow Trail – you just might see a yellow water-lily or mare's tail in full bloom.
By the way: There are several fascinating natural landscapes in the World of Mountains & Lakes that are well-worth seeing. How about a hike on one of the 25 themed trails in the Hike World? Or a cross-border bike tour from Austria to Italy?
Lake Pressegger See
Lake Presseggersee: Fun, action and a heaping scoop of adventure
Swimming, surfing, fishing, or stand-up paddle boarding ... The range of activities you can do at Lake Presseggersee is vast and the options are seemingly infinite. Thanks to the lake's southern location in Carinthia, Lake Presseggersee not only offers a first-rate water quality but also a well-developed infrastructure. Sports enthusiasts truly get their money's worth in the summery World of Lakes.
Whether it's at Standbad Hermagor-Pressegger See, Strandbad Presseggen, Familien-Strandbad Süd Passriach-Samerhof or Seebad Schluga: Little ones get to enjoy some play time while "their grown-ups" can relax. The Slow Trail around Lake Presseggersee is another great option for spending time as a family. And if you're looking for a more action-packed alternative, you might want to visit Carinthia's first adventure park or the Fix & Foxi playground together.
When all family members have had enough fun in the water, you can rent a paddle boat at almost all of the bathing lidos – for an exciting adventure on the lake.
By the way: With the +CARD holiday, admission to Strandbad Hermagor is free. The same applies to using the summer cable cars and lifts. This means your next wow-moments in the mountains and valleys are always right within reach!
Lake Presseggersee, Lake Weissensee, Lake Zollnersee and more: The World of Lakes is full of beautiful bodies of water only waiting for you to take a dip in them – down in the valley or up in the mountains.
Location and how to find us
The Nassfeld-Pressegger See holiday region lies in the Austrian province of Carinthia, directly next to the Italian border.
Plan your journey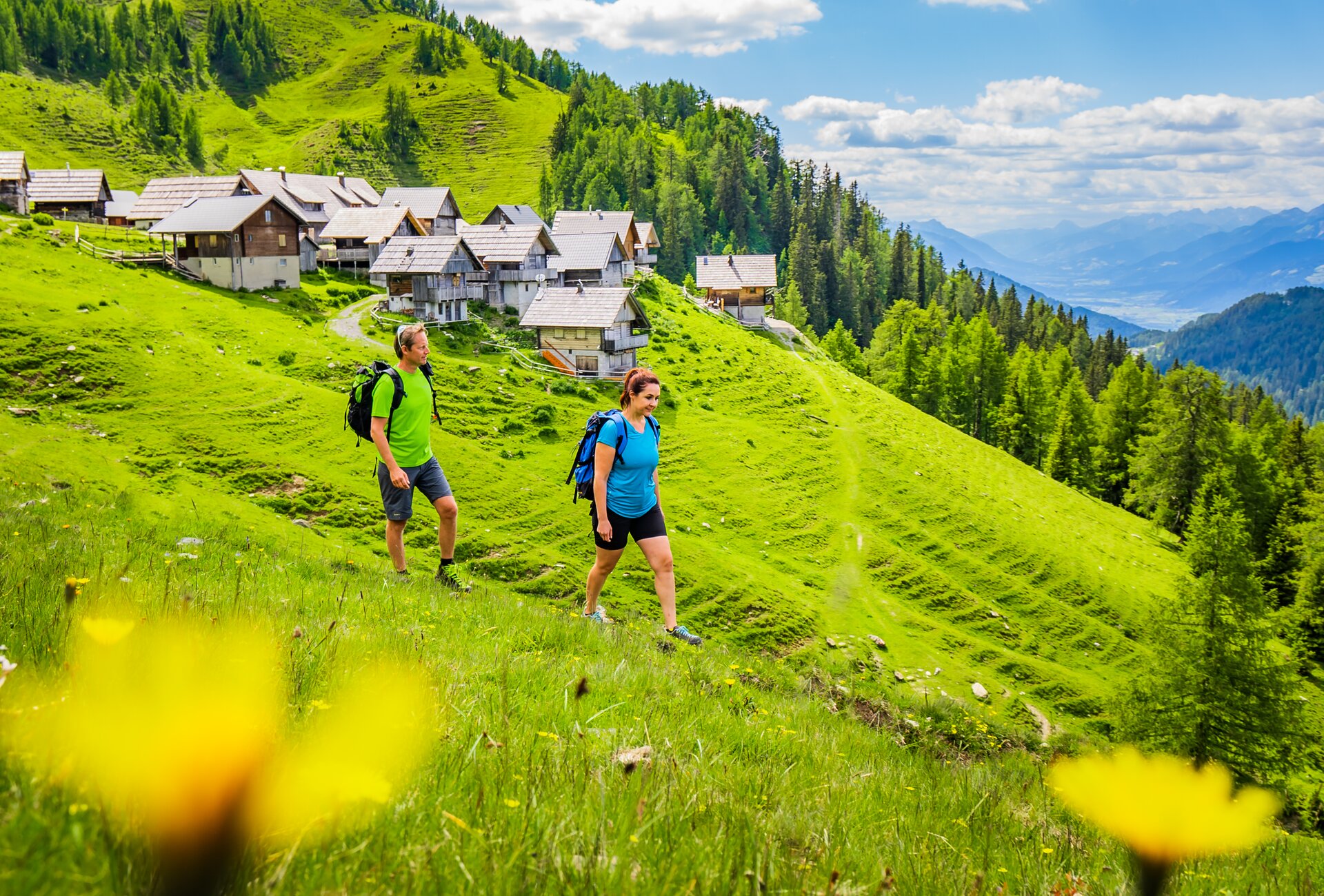 What do you want to discover?