Sustainability and carbon neutrality in winter sports
Winter sports in general, and skiing in particular, are always under special scrutiny in the areas of use of resources and energy consumption. That is why we would like to do a "fact check" here, without ignoring the fact that these are interventions in nature – but in controlled and verified way.
Before we look at some details, one thing first: only 3% of the total area of the Carnic and Gailtal Valley Alps is accessible for (winter) tourism. At the same time, the facilities in this - comparatively very small - area are employers for many people in the region as well as a motor for income opportunities in a rural region with only few options in the industrial and commercial sector.
Nassfeld ski resort
With 110 kilometres of pistes, 30 modern lifts and regular fresh snow, Nassfeld is one of the TOP 10 ski resorts in Austria. For years, Nassfeld has been operating its 30 lifts and around 460 snowmaking systems with 100 percent green electricity from renewable sources. For the use of the pistes, farmers and landowners receive fair compensation during the winter months. In summer, the areas are used as alpine meadows for grazing. The quality seal of the professional association for cable cars confirms once again the high quality of services and TOP pistes of Bergbahnen Nassfeld Pramollo AG.
Facts about the Nassfeld ski resort
Bergbahnen Nassfeld Pramollo AG makes a relevant contribution to regional development & added value (jobs, use of resources, ...):
100 % of the energy requirement for lifts & snowmaking systems from green electricity
Almost 100 % of the cable car employees from the region, 70 % of them in year-round jobs
Online ticket shop - simply top up your ski ticket
Sophisticated ski bus system ensures a strong decline in individual traffic and saves 320 tons of CO² (or 4,000,000 car kilometres)
Car-free holidays are being promoted - cooperation with ÖBB railways and Bahnhofshuttle Kärnten (train station shuttle) for the "last mile"
Piste grooming
Of the 17 piste grooming machines, 8 are already equipped with snow depth measuring devices. The state-of-the-art GNSS devices measure the snow depth on the slopes during grooming. This ensures an even distribution of the snow. By using this technology, there is a reduction in the number of working hours with the piste bullies. This also allows us to make savings on mechanical snowmaking.
Everyone involved is aware that snowmaking systems, cable car and lift construction and winter tourism developments are interventions in nature. At the same time, however, it is in the very own interest of the infrastructure operators to keep nature intact and to minimise the impact of the infrastructure facilities. After all, we all live from and with it. Therefore, it requires a multi-layered procedure before an investment can even begin. Besides the complex planning with geological and water law aspects, environmental compatibility plays a major role. Independent bodies, such as the Carinthian Environmental Ombudsman's Office, have an important influence here and assess any effects on the local flora and fauna as well as on natural areas in their entirety.
Climate-friendly arrival at the downhill run
ATTRACTING AND RETAINING EMPLOYEES
The goal of our tourism businesses is to promote employees from the region. Keeping people in the region, giving them income and life perspectives in a unique living and recreational environment, is a top priority. The mountain railway companies alone employ more than 200 people. Of these, 70 percent are in year-round jobs!
REGIONAL FOOD SOVEREIGNTY AND CIRCULAR ECONOMY
On behalf of Slow Food International, the region has developed the world's first Slow Food Travel destination with certified food artisans and producers, as well as catering and accommodation establishments, and has set the international standard for this. The primary goal was to harmonise the interests of regional agriculture and tourism. At the same time, we want to give the locals perspectives for staying in the region.
The people of the Lesachtal Valley, Gailtal Valley and Gitschtal Valley and of Lake Weissensee have always lived the Slow Food philosophy "Good - Clean - Fair". In the spirit of this slow enjoyment, they are now letting us look over their shoulders while demonstrating their craftsmanship and passing on their knowledge. The encounters between locals, guests and producers lead to kitchens, smokehouses and maturing cellars, to beehives and bread ovens, to grain mills and butter churns.
This initiative has created additional jobs in the regional craft-based food sector. A new motivation for growing, producing and selling regional food has emerged.
Fancy journeys to the "roots of good taste"? www.slowfood.travel
RESOURCE-CONSERVING MANAGEMENT
In order to save resources, the printed materials of the tourism region and at the leisure providers have been reduced to a bare minimum. Interactive piste and leisure maps, hiking and biking maps as well as digital accommodation directories, booking platforms and the leisure companion "my Nassfeld Buddy" offer a sustainable alternative to printed information and directories in the digital age.
However, it is not (yet) possible to do without printed maps and brochures. That's why we use eco-certified paper and sustainable printing methods.
Location and how to find us
The Nassfeld-Pressegger See holiday region lies in the Austrian province of Carinthia, directly next to the Italian border.
Plan your journey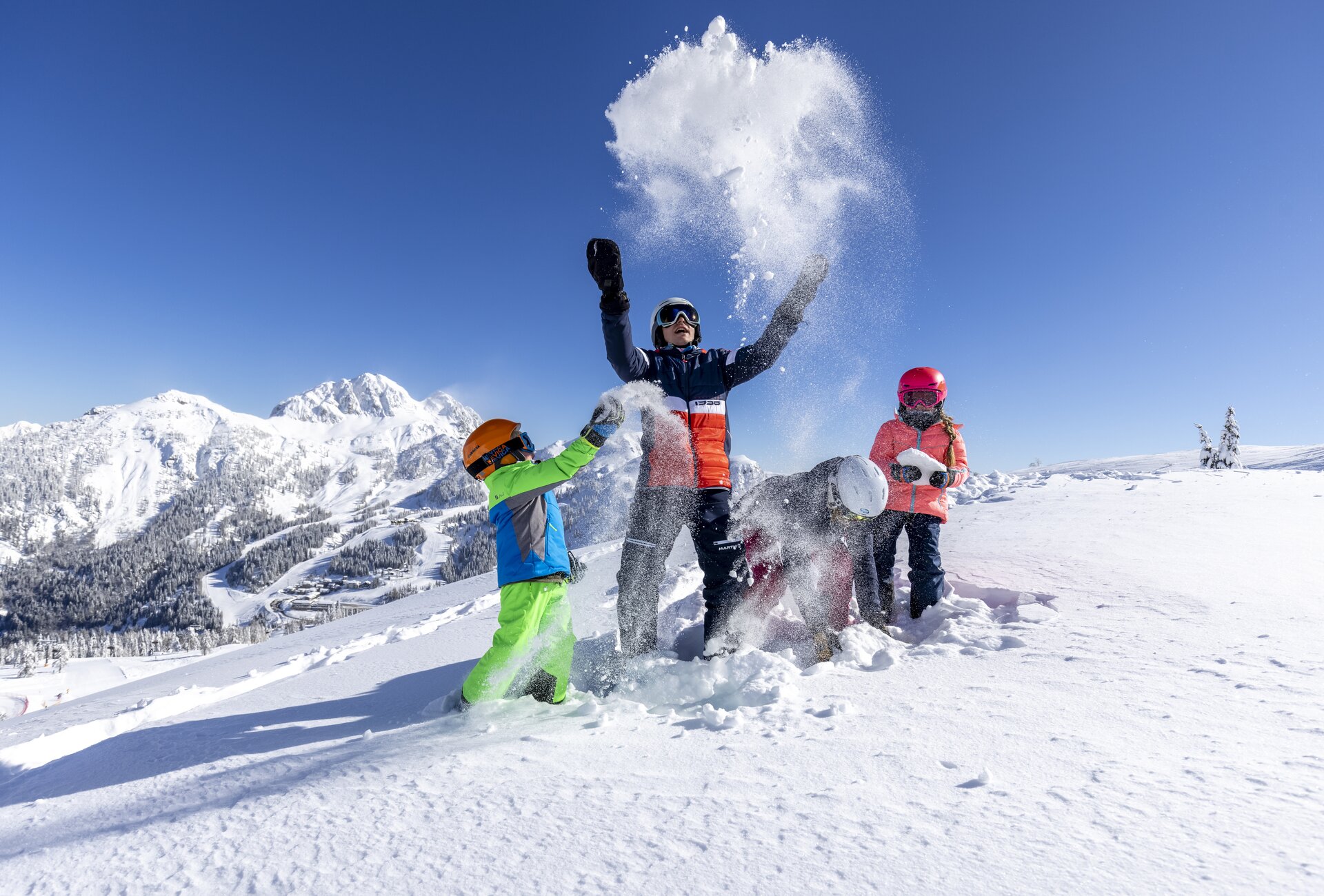 What do you want to discover?