Surprising and extraordinary
Slope highlights
Put on your skis, grab your helmet and off you go! You're looking for the perfect skiing challenge for the day ahead? Well, there are plenty of those at Nassfeld ski resort! Actually, the first challenge is to choose between the many splendid slopes the Sun Ski World has to offer!
110 kilometres of amazing slopes, 30 cable cars and lifts, 24 mountain huts – the stage is set for your grand entrance on the slopes! Thanks to the special microclimate of the Nassfeld region, the red – or should we say white – carpet is ready for your snow show. After all, this section of the Carnic Alps is known for its abundant snowfalls. The stage is all yours: What slope highlight is it going to be for you today?
Some easy cruising on the Wulfenia run? A bit of action on the red FIS run? Or thrills and spills galore on the black Trogkofel run? Choosing between the many highlight slopes at Nassfeld ski resort can be tricky! And let's not forget – there are plenty of "Nice Surprises" waiting for you on top of all of this …
Did you know? While you're merrily skipping from one slope highlight to the next, don't forget to drop by at the ski resort's photo points and the Nassfeld Cinemas! They are the perfect places to capture a nice keepsake photo of your stay in the World of Mountains & Lakes and share it with your friends.
WE ARE LOOKING FORWARD TO YOUR PARTICIPATION IN WINTER 2022/23
Nassfeld Challenge
Let the challenge begin! At Nassfeld ski resort, you not only collect unforgettable skiing memories, you also collect badges. What are they for? That's simple: for winning great prizes ranging from a free ski service or day ticket to a whole season ticket!
All you have to do is enter your ski pass number online, register – and give it your best! Master different mountain adventures from night skiing to completing the Route 66 and collect the coveted badges. Who knows, you might soon be top of the highscore list …
All about the Nassfeld Challenge
Register your ski pass number on skiline.cc/nassfeld
Collect badges by mastering different runs and attractions
Win great prizes – from a free ski service to day tickets or season tickets
Our tip: As a special prize, all holders of a "Hillclimber Gold Badge" participate in a raffle for a limited-edition, Nassfeld design ski helmet!
Skimovie
Three, two, one – go! On the Skimovie race tracks, you can show off your skills and send the snow flying. The speedy downhill runs are all about proving your will to win!
Give it your all on two secured race tracks, one for giant slalom (at Zweikofelbahn N.23) and one for parallel giant slalom (at Gartnerkofel chairlift N.1) and become the star of your own speed adventure! Your speedy descent is captured on video, perfect for sharing with your friends. Your very own ski action blockbuster, so to speak!
Skimovie – the facts
2 Skimovie race tracks: Zweikofelbahn, Watschiger Alm (Gartnerkofel chairlift)
activate it with your ski pass
have your speed run captured on video
Speed-Photo
At the Speed-Photo race track near Trogkofelbahn (N.22), it's no holds barred! Ready, set – and off you race! Down at the finish, the results of the live speed measurement plus a personal keepsake photo are waiting for you.
The Speed-Photo race track in a nutshell
secured race track near Trogkofelbahn cable car
with live speed measurement
plus a personal keepsake photo
Click here for your photo of the finish!
Nassfeld snowpark
Free your mind … and the rest will follow. Nassfeld Snowpark near Gartnerkofel-Watschiger Alm is the perfect "playground" for freestylers of all skill levels to shred, jib and jump on three great lines.
You're a rookie freestyler? No problem! The four-metre flat box and the rainbow box are perfect for getting started. And what about the more seasoned winter sports athletes? Well, they can show off their skills on the awe-inspiring monster kicker!
The Snowpark at a glance
located near Gartnerkofel-Watschiger Alm
can be reached via Watschiger Alm Lift (No. 3) as well as via slopes 2 and 2a
kicker line, public line and beginner line for different skill levels
various boxes, rails, wallrides and more

Beginners' tip: Starting in January, free snowboard and freeski workshops with the ShredSchool experts take place at the Snowpark every Sunday. Drop by and have fun!
The Snake
Slope, funpark or cross? Nassfeld ski resort's thrilling adventure slope "The Snake" at Madritschen chairlift (N. 10) is a bit of everything! And it's definitely not just for the kids: Rumour has it that many a grown-up was spotted whooping with joy while racing through the banked turns ...
The many rollers, turns and jumps of "The Snake" are a blast for both young and young-at-heart skiers. Don't miss this 700-metre adventure trail through the wood, it's the highlight of any family ski day at Nassfeld ski resort!
The Snake – what to expect:
11 rollers
2 jumps
9 banked turns
1 rainbow box
1 butter box
2 "high-five" jibs
1 snail tunnel at the end

Buy the way: To get to the "The Snake's" entrance, simply take Kanonenrohrlift (N.12) or 6er-Madritschen chairlift (N.10) via the Lärchenboden run!
Click here for your photo.
Our tip: You need a break to recharge your batteries after giving it your all on our slope highlights? Fair enough! Luckily, the Sun Ski World is not only known for its excellent ski runs, but also for its irresistible cuisine featuring regional, Alpine delicacies as well as Mediterranean treats …
Location and how to find us
The Nassfeld-Pressegger See holiday region lies in the Austrian province of Carinthia, directly next to the Italian border.
Plan your journey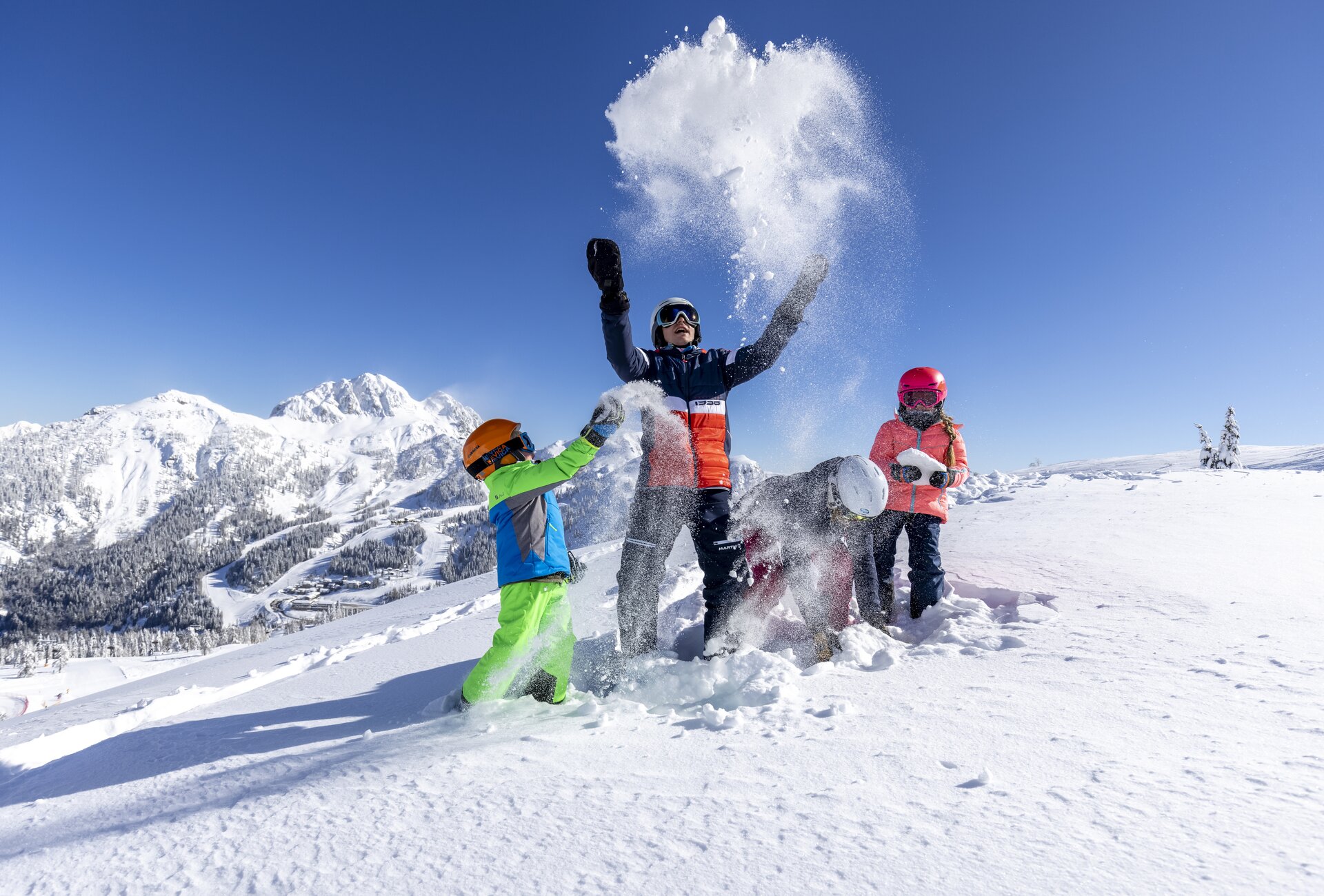 What do you want to discover?