The Carinthian snow paradise for all ages
Family ski holidays at Nassfeld ski resort
Sunshine? Check! Snow? Check! Lots of extras for families? Check, check! It's no surprise that adventure-loving families flock to Nassfeld ski resort in the Carinthian mountains every winter. After all, it simply offers the perfect package!
For instance, family-friendly slopes, spacious practice areas and fun skiing lessons with new friends. Or 24 mountain huts and "ristoranti" to have a little breather and recharge your batteries with a delicious Carinthian "Brettljause" snack platter or an oven-fresh family pizza. Incidentally, these scrumptious treats are best served with a side of "nice family surprises" that put big smiles on everyone's faces!
Ready, set, ski!
Children's skiing lessons at Nassfeld ski resort
Put on your helmet and start to smile! The children's skiing lessons at Nassfeld ski resort are all about having fun in the snow. And you can tell from the many beaming faces all around the ski resort that this strategy pays off!
The qualified skiing instructors of the four ski schools at Nassfeld ski resort teach the little ones how to master their first turns in the snow. You'll see, your kids will be swooshing down the slopes in no time at all!
What families can look forward to at Nassfeld family ski resort:
3 ski schools directly at the ski resort
4 secured practice areas
practice lifts and magic carpets
children's land with Octi, the skiing squid
supervised lunch
Adventure awaits: Your kids can't wait to hit the slopes during your family ski holiday? The four ski schools at Nassfeld ski resort offer a great variety of children's skiing lessons.
In the best of hands at Nassfeld ski resort
Professional childcare
Family ski holidays are all about spending time together. However, Mum and Dad might also want to explore the more challenging slopes of the Sun Ski World without the little ones for a change.
Thanks to comprehensive childcare services, parents can rest assured that their children are always in the best of hands. Whether in kindergarten, at a children's ski course, with Octi, the skiing octopus: Together with friendly instructors and new friends, time flies by for the little ones.
Good to know: Many accommodation providers and family hotels in the region offer additional childcare services from guest kindergartens to children's entertainment programmes.
Top-class equipment for the whole family
Ski rental right by the slope
Have your kids outgrown last year's skiwear? No problem: Simply rent top-class equipment for your little ones right at the ski resort at attractive prices!
Three Sport-Sölle rental stations, plus Intersport in Tröpolach and select hotels right by the slope offer latest-generation rental equipment including skis, helmets and more, for all ages. After all, Mum and Dad might want to put the season's top models to the test on the slopes, too …
Our tip: Thanks to the attractive Family Special, kids below the age of ten get their rental equipment for free.
Best for rent: You would like to know more about the Family Specials and test offers of Sport Sölle? Check out the website of the rental experts at Nassfeld ski resort!
Skiing fun for little money
"Kids Surprise" family discount
You think that skiing is expensive? At Nassfeld ski resort, it isn't! After all, during the "Ski Surprise" discount weeks, accommodation and ski tickets are free for children below the age of ten.
In addition, the "Kids Surprise" day ticket allows kids below ten to hit the slopes for only € 10 every Saturday throughout the season.
An excellent opportunity: Find out more about the "Kids Surprise" family discount and look forward to an unforgettable time at Nassfeld family ski resort!
Four ski resorts, one family dream
You know the slopes of Nassfeld family ski resort like the back of your hand? Then it's a good thing that the Nassfeld-Pressegger See region has even more to offer!
In addition to the top-10 ski resort of Nassfeld, the Sun Ski World boasts three more charming family ski resorts. Whether you visit Weissbriach, Kötschach-Mauthen or Weissensee – the stage is set for you and your little ones!
Good to know: The family ski resorts and Nassfeld ski resort are connected by a free ski shuttle bus – skiing doesn't get much more convenient than this!
Variety for your family ski holiday: Find out more about the family ski resorts of Weissbriach, Kötschach-Mauthen and Weissensee!
Location and how to find us
The Nassfeld-Pressegger See holiday region lies in the Austrian province of Carinthia, directly next to the Italian border.
Plan your journey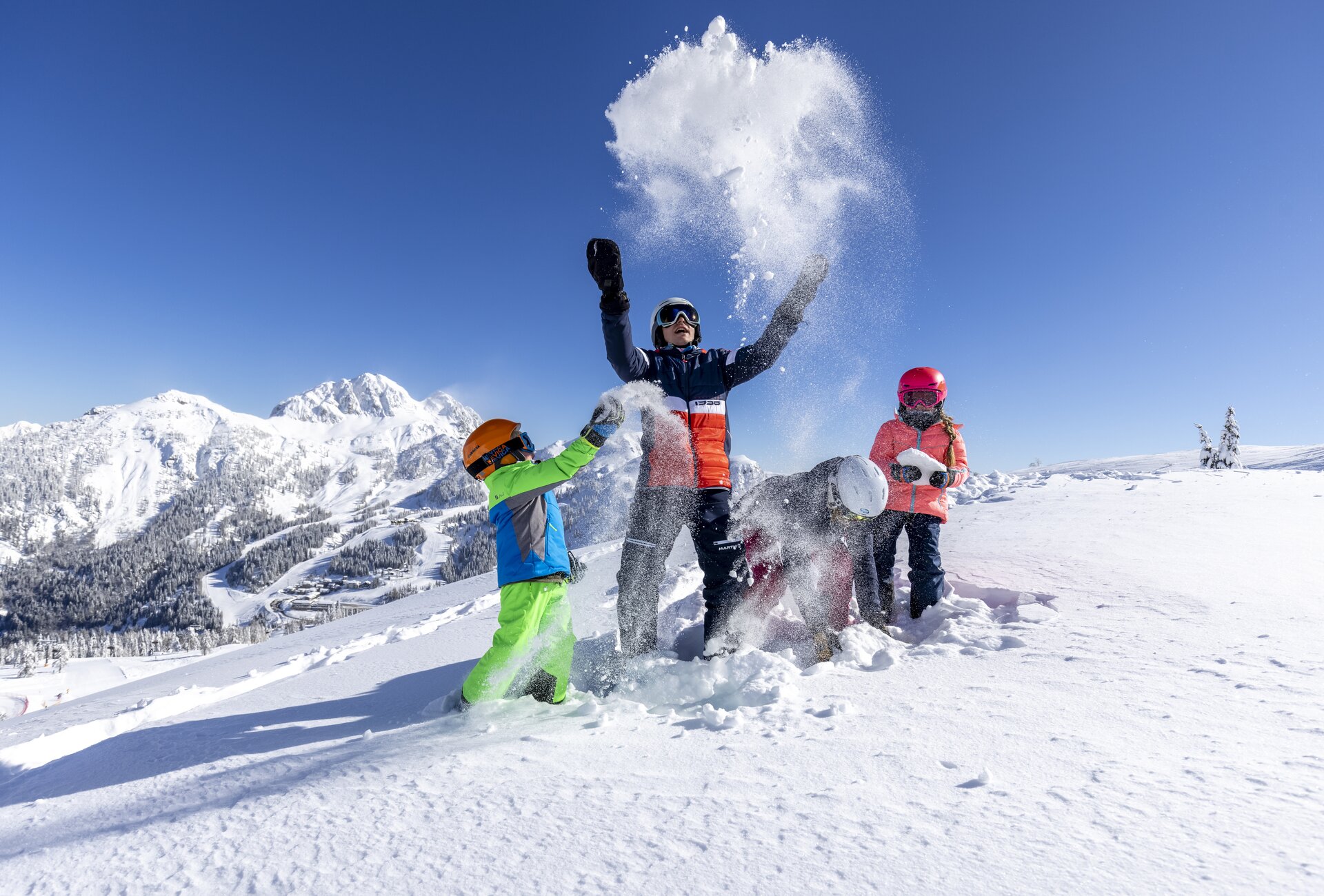 What do you want to discover?