Gliding over natural ice as smooth as glass
Ice skating in the Nassfeld-Pressegger See region
Lake Presseggersee is surrounded by mountains, forests and meadows and seamed with Austria's second biggest reed belt. And once you've explored the slopes of the region, you can continue all the fun by discovering the other winter sports offers at the Nassfeld ski resort. Two sharpened skate blades, gloves and a good sense of balance – that's all you need for your adventures on natural ice!
A seasonal chameleon: Lake Pressegger see
In summer, Lake Pressegger See – with its 28-degrees water temperature – attracts countless swimming enthusiasts. In winter, it's covered with a thick layer of ice. Because of its three-metre-tall reeds and the numerous species of fish that inhabit the lake, it's known for being one of Carinthia's natural treasures. In particularly cold winters, Lake Pressegger See completely freezes over and thus becomes an Eldorado for ice skaters.
A total of 55 hectares of natural ice are the perfect location for winter guests to leisurely glide along, race each other, and practice their pirouettes. Ice skaters will truly find an ice paradise out on Lake Pressegger See.
Facts and figures about the ice-skating paradise of Lake Pressegger See:
55 hectares of natural ice
a unique flora and fauna
a groomed 2.5-kilometre circular skating track
ice skate rental and changing facilities at Strandbad Hermagor
several ice-skating rinks
option of going on a hike along the shoreline (Slow Trail)
Ice skating on Lake Weissensee
Almost like clockwock, the 6.5-square-kilometre Lake Weissensee in Carinthia freezes over right around 25 November. Starting at the smaller western end, it's completely covered in a 40-centrimetre layer of ice by mid-December. And then it won't be long before the first ice skaters show up …
What's more, ice skaters and holiday guests can skate along several circular tracks from four to 25 kilometres in length.
You'd like to find out more about the ice Eldorado of Lake Weissensee? Go ahead!
Ice rink Mauthen
As every year, the ice rink in Mauthen is a guaranteed fixed point. On a total area of 2,000 square meters, ice skaters of all generations can pursue their winter hobby. Admission is free for ÖAV section members. Admission children 2€, adults 4€.
Contact & Information
An ice sport with a long-standing tradition: ice stock
On asphalt in summer or on ice as smooth as glass in winter: The ice stock sport – also known as Alpine curling – enjoys great popularity in Carinthia. Especially when temperatures drop below zero, many ice stock enthusiasts have only one goal: Manoeuvring the cone-shaped ice stocks over the ice to hit a small wooden target called "Daube" in German.
Contact & information
Ice climbing in the Nassfeld-Pressegger See region
First, you kick your crampons into the frozen wall in front of you, and then you swing the axe into the ice above your head. It's amazing how just a few centimetres-deep is enough to pull yourself up on! Equipped with crampons, an axe and a helmet, you can scale the vertical ice wall. Guided ice climbing tours are offered both at the Vorderberger Klamm and at the Kötschach-Mauthen ice tower.
Contact & information
ÖAV Obergailtal-Lesachtal
Tel. +43 (0)699 12647680
www.bergsteigerdorf-mauthen.at/eiswelt
You've already explored the ice, and now you're ready for other adventures in the Outdoor & Relax World?
Location and how to find us
The Nassfeld-Pressegger See holiday region lies in the Austrian province of Carinthia, directly next to the Italian border.
Plan your journey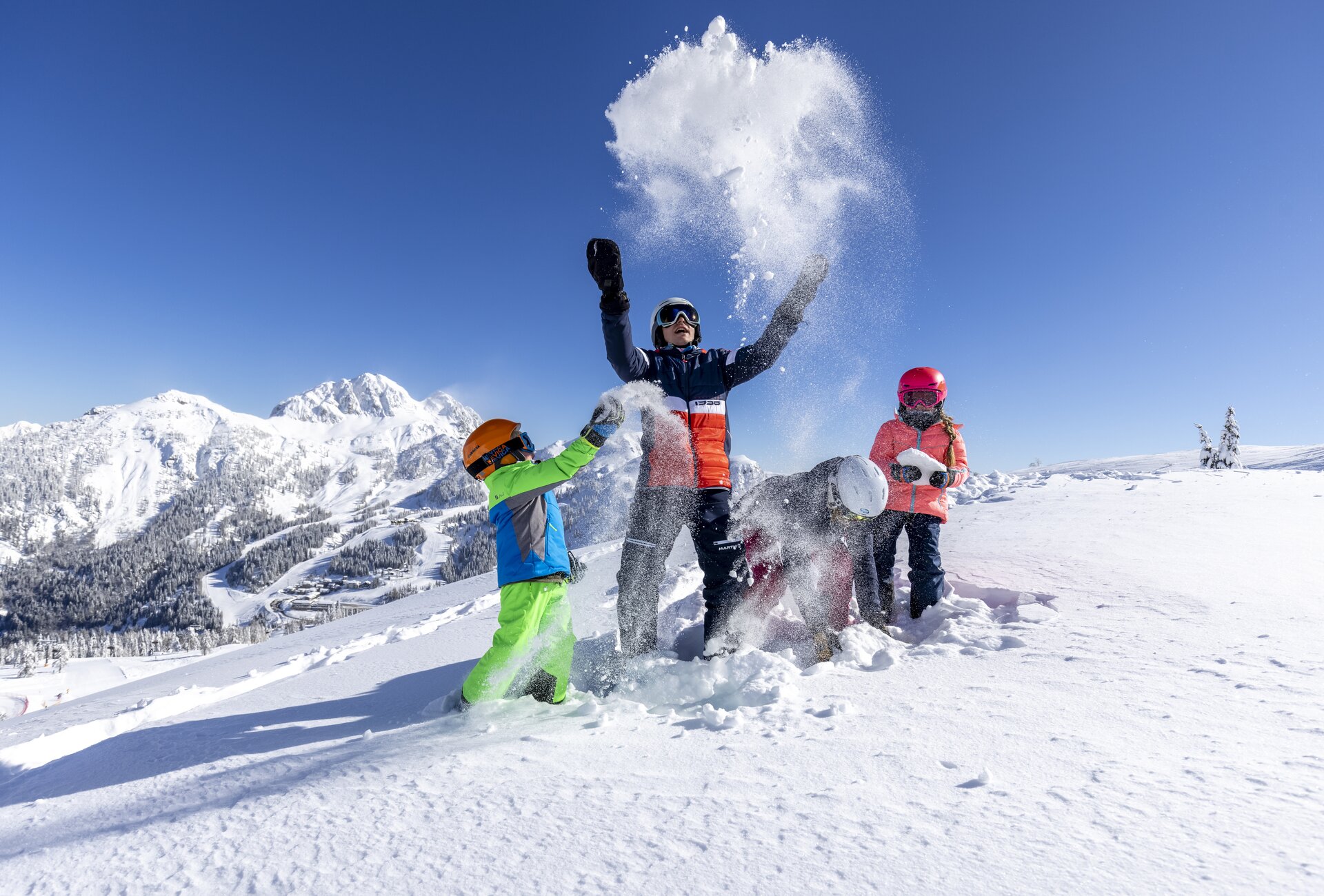 What do you want to discover?