Mountain holidays without remorse
Sustainability in the World of Mountains & Lakes
Helping to save our planet while holidaying in one of Austria's most beautiful regions? That's easy! Because in the World of Mountains & Lakes, we place great importance on sustainability. In fact, it's a quite natural part of our everyday lives, considering that 97 per cent of the Carnic and the Gailtal Alps are completely undeveloped.
Every one of us can contribute to preserving the beauty of the Carinthian mountains. For us, this means to advance innovative concepts in the fields of mobility, regional production and supply and electricity – both in summer and in winter.
In 2020, an implementation concept for the climate and energy model region Carnic Region in the field of tourism was drawn up. This concept includes the Nassfeld-Pressegger See, Lesachtal and Weißensee habitats.
What does it mean for you? Well, a first step could be your decision to spend your holidays in the amazing mountain world of Carinthia. Because – can you believe it? – mountain holidays in Austria are one of the best travel options for cutting down your environmental footprint!
Working to become The most Sustainable Region in Austria
Out and about in an environmentally friendly way
Mobility
Protecting the environment already starts on your journey to the World of Mountains & Lakes. After all, you don't need a car to get there – thanks to our comprehensive public transport system. Simply take the train or bus to get to or around your holiday destination all relaxed and without hassle. And did you know that the hourly S4 rapid transit train between Villach and Hermagor was fully electrified in 2019?
Our tip: The Last Mile Service is the perfect way to get from the station to your hotel or to your excursion destination.
Travelling light is easy: You don't want to bring your heavy ski equipment on holiday? You certainly don't have to! Simply rent your gear at a great price from one of the many ski rental facilities in the Nassfeld-Pressegger See region – or, even more conveniently, at select hotels there.
Did you know? If you need a car during your stay, there is a vast choice of electric cars for rent in the World of Mountains & Lakes. Of course, there are also plenty of charging points, for instance directly at the valley station of the Millennium-Express.
Welcome to the "Green Mountains"
Environmentally friendly cable cars
Of course, the cable car and lift operators of the World of Mountains & Lakes also contribute their share to our overall sustainability concept. For instance, 100 per cent energy from hydropower and eco energy make the Carinthian mountains even "greener". What's more, ecological slope management is an important aspect of conserving the biodiversity of the Nassfeld-Pressegger See region.
Our slope management strategy is based on the following
Sustainable snow management for an even, compact snow cover
artifical snowmaking with a mixture of water and air only
GPS snow depth measurement in all snow groomers
Thought-out slope construction concepts that have a positive effect on the landscape
multiple use of ski/forestry trails
conversion of low-fertility forest patches into fertile meadows and range land
dredging method for constructing new slopes
comprehensive topsoil cover after levelling
stone removal
planting of environmentally compatible plants and seeds
The taste of sustainability
Slow Food Travel in the spotlight
The food production industry is said to have negative effects on climate change. That's why Slow Food Travel Alpe Adria has made the deliberate decision to set sail for sustainability – in a most delicious way:
use of seasonal, regional products
regional, artisanal production of high-quality foods
support of local manufacturers
creation of jobs
conservation of regional food culture
conservation of biodiversity
Sounds good? Find out more about the sustainable delicacies of the World of Mountains & Lakes in our Culinary World!
Location and how to find us
The Nassfeld-Pressegger See holiday region lies in the Austrian province of Carinthia, directly next to the Italian border.
Plan your journey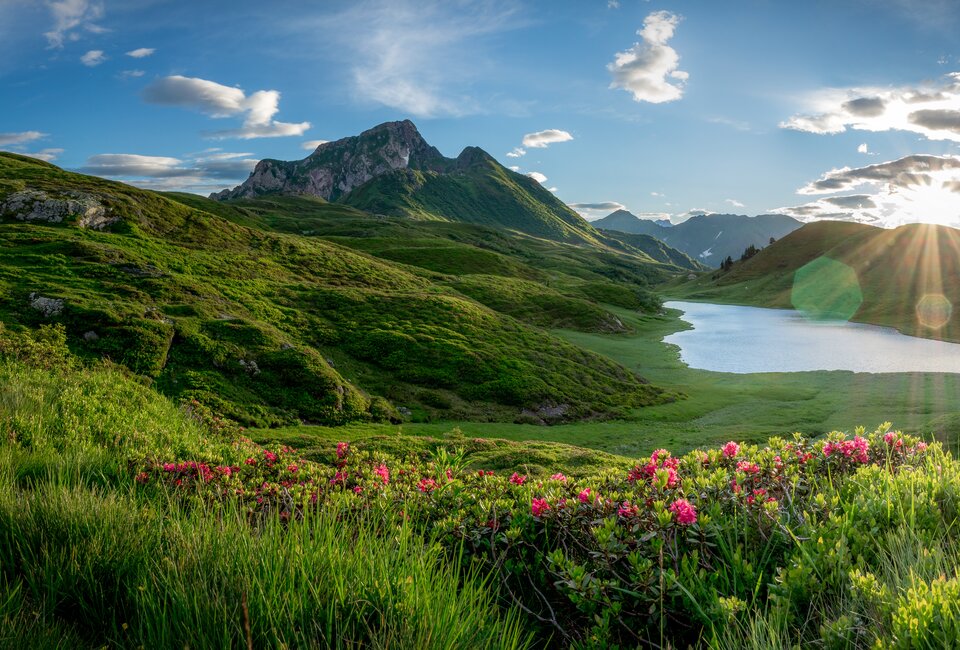 What do you want to discover?