Time to have some fun in the water!
Public indoor and outdoor pools in the Nassfeld-Pressegger See region
The Nassfeld-Pressegger See region leaves nothing to be desired. Thanks to the multitude of different offers, you can spend your days just how you imagined. From hikes through the Hike World to cross-border bike adventures in the mountains and valleys in summer. And from fun on the slopes to sledging and ice skating in the Sun Ski World or exploring the World of Lakes in winter. You certainly won't have to look very far to find a variety of fun things to do. What's more, lovers of the element of water can choose from plenty of options for relaxing at the public indoor and outdoor pools of the Nassfeld-Pressegger See region.
Fun for the whole family at Kirchbach Open-Air Pool
Solar-heated water all summer long: At Kirchbach Open-Air Pool, you can relax and splash about in pleasantly warm water. And outside of the pool, you can play beach volleyball or visit the playground for even more fun-filled variety.
Tip for smart spenders: With the +CARD holiday, families receive a discount on the admission!
Gitschtal Outdoor Adventure Pool
A 40-metre water slide, a giant bouncy castle, a volleyball court, a playground and plenty of space for sunbathing: That's what makes the Outdoor Adventure Pool a great option for families where they can relax and have fun on hot summer days. Your little ones aren't too fond of Carinthia's lakes just yet? Then you should visit Gitschtal Valley for your adventures in the water!
Small but mighty nice:
the natural bathing ponds in Radnig and Vorderberg
You're not a fan of chlorinated water and lots of people? How about visiting the natural bathing pond in Radnig then? Amidst a gently undulating landscape surrounded by trees, forests and mountains, this natural pond is perfect for an afternoon swim. The flat section of the pond also quickly reaches a temperature of up to 25 degrees on warm summer days, which makes for a pleasant bathing experience.
The natural adventure pond in Vorderberg offers a special pond just for children. It's not too deep but still deep enough to have tons of fun – so the little ones can enjoy their time in the water to the fullest.
At the foot of the Polinik:
Mauthen Natural Forest Bathing Pond
More than 100 years old and located right at the Valentinalm, the Natural Forest Bathing Pond in Mauthen lets you enjoy peace and quiet far away from traffic noise. The only sound you'll hear is the burbling of the nearby river. Besides a picturesque setting right in nature, the forest pond also boasts shingle beaches, wide jetties, and about 1,700 square metres of swimming area.
Tip: With the +CARD holiday, families receive discounts!
Aquarena Kötschach-Mauthen
A family ticket to the water and wellness oasis in Gailtal Valley, please! The Aquarena is a paradise for family members of all ages – no matter the season. Diving towers, slides, a whitewater channel, a sauna, an indoor pool, a climbing web … all this and more awaits visitors at this wellness temple. And in case the sun isn't shining one day, the Aquarena Kötschach-Mauthen is a perfect all-weather alternative for having fun as a family.
Location and how to find us
The Nassfeld-Pressegger See holiday region lies in the Austrian province of Carinthia, directly next to the Italian border.
Plan your journey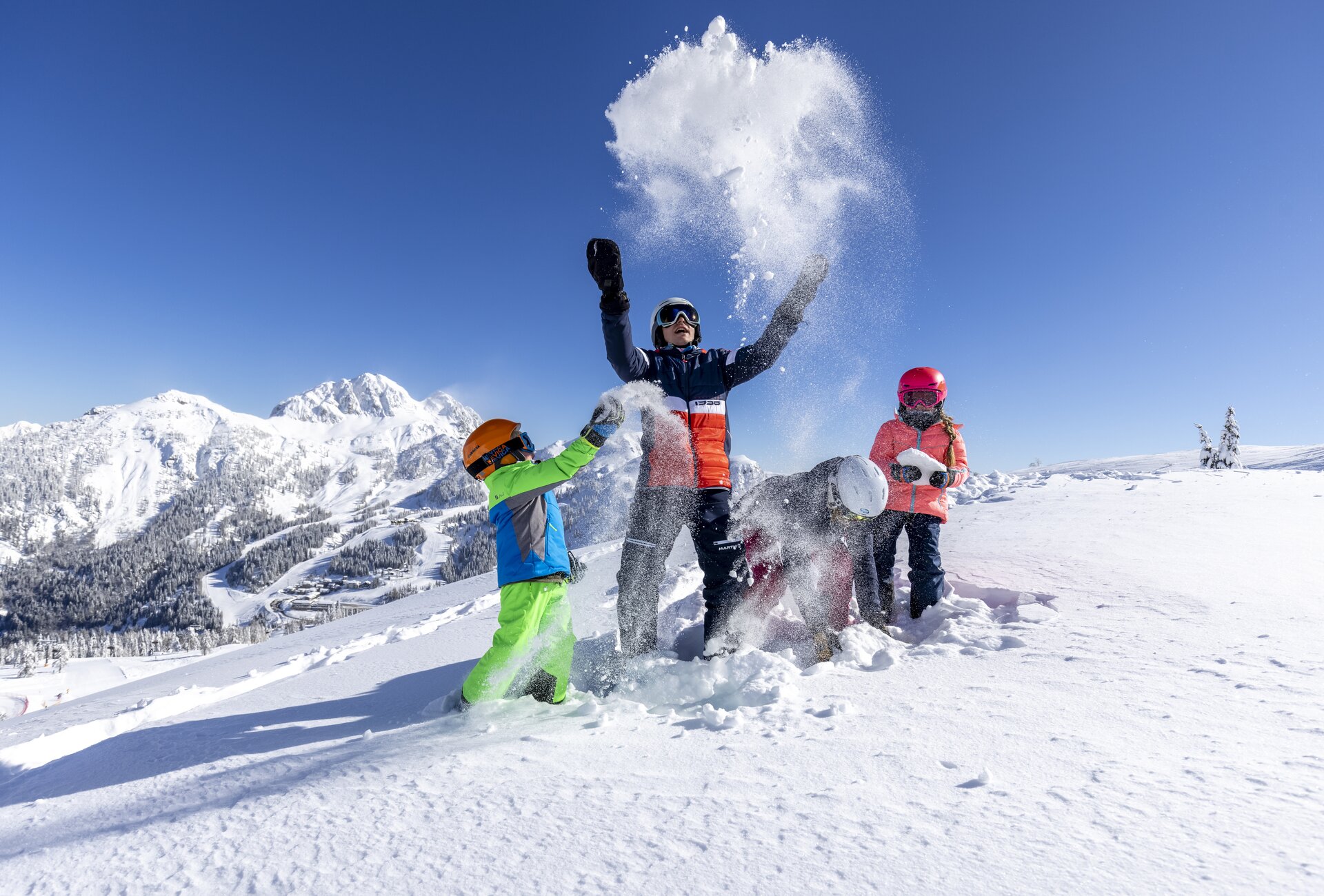 What do you want to discover?