As far as your feet will carry you
Outdoor sports in the Nassfeld-Pressegger See region
Sports on holiday? For some, that's unimaginable – for others, it's an absolute must. But when you have the beautiful Outdoor & Relax World stretching out in front of you, even staunch anti-sports advocates won't be able to resist. That's how diverse and unique the offers for running trails, Nordic walking routes, mountain challenges, paragliding high up in the air, and exciting water sports are. You'll suddenly see couch potatoes reach for their trainers – who would have thought? But no wonder in these surroundings!
Waking up, opening your eyes, putting your sports outfit on, and then experiencing pure joy with every step you take: What could be better? Thanks to the vast selection of sports offers, holiday guests can choose from countless activities in nature.
A variety of activities for all holiday guests
Around Lake Pressegger See, outdoor fans have the option of visiting the Slow Trail, discovering several Nordic walking routes or going for a leisurely walk.
Hobby athletes, marathon runners or mountaineers might want to explore the more challenging routes of the Outdoor & Relax World. In the valley, on the water or in higher altitudes: The route network spans the entire region. That's how runners and trail runners can test their limits. So: Time to immerse yourself in the sports paradise of the Carnic and Gailtal Alps!

Top tip for an extended run: How about giving the Alpine loop from Tressdorfer Alm via Rossalm all the way to Sonnalpe Nassfeld a try? It's located at 1,500 metres above sea level and boasts stunning scenic views of the mountains, colourful flowering meadows and gently burbling waters.
Nordic walking & running tours
Sports up in lofty heights
Tighten your harness, open your paraglide and start running! Once you glide through the air, you can take a deep breath and enjoy a bird's eye view of the region. Paragliding in the Carnic and Gailtal Alps is a dream come true. The starting point is on Stöfflerberg in Kirchbach at 1,131 metres above sea level. High above Gailtal Valley, you'll have breathtaking views spanning from the Carnic Alps to the Julian Alps and even the Dolomites.
Mountain adventures for little and grown-up explorers
Countless metres lie between you and the valley. You're looking for a personal challenge or a new and exciting leisure activity? In the Outdoor & Relax World, you can have both. The Outdoor Park Nassfeld is 40,000 square metres in size and boasts a rock labyrinth and a flying fox, for instance. A perfect opportunity for true adventurers and explorers to discover the mountains.
Alongside wonderful climbing experiences, the holiday destination also features a multitude of hiking and biking routes. That's outdoor sports fun at its best!
Tip for water lovers: When adrenaline floods your system and your nerves are doing a shimmy, you're probably out on an adventure in the waters of the crystal-clear Gail. From canyoning to river tubing, there's a vast selection of water sports to try in the Nassfeld-Pressegger See region. Find out more about the region's water sports offers with one click!
You can hardly wait to immerse yourself in the Outdoor & Relax World? It won't be long before summer – start planning your holiday right away and experience the joy of anticipation!
Location and how to find us
The Nassfeld-Pressegger See holiday region lies in the Austrian province of Carinthia, directly next to the Italian border.
Plan your journey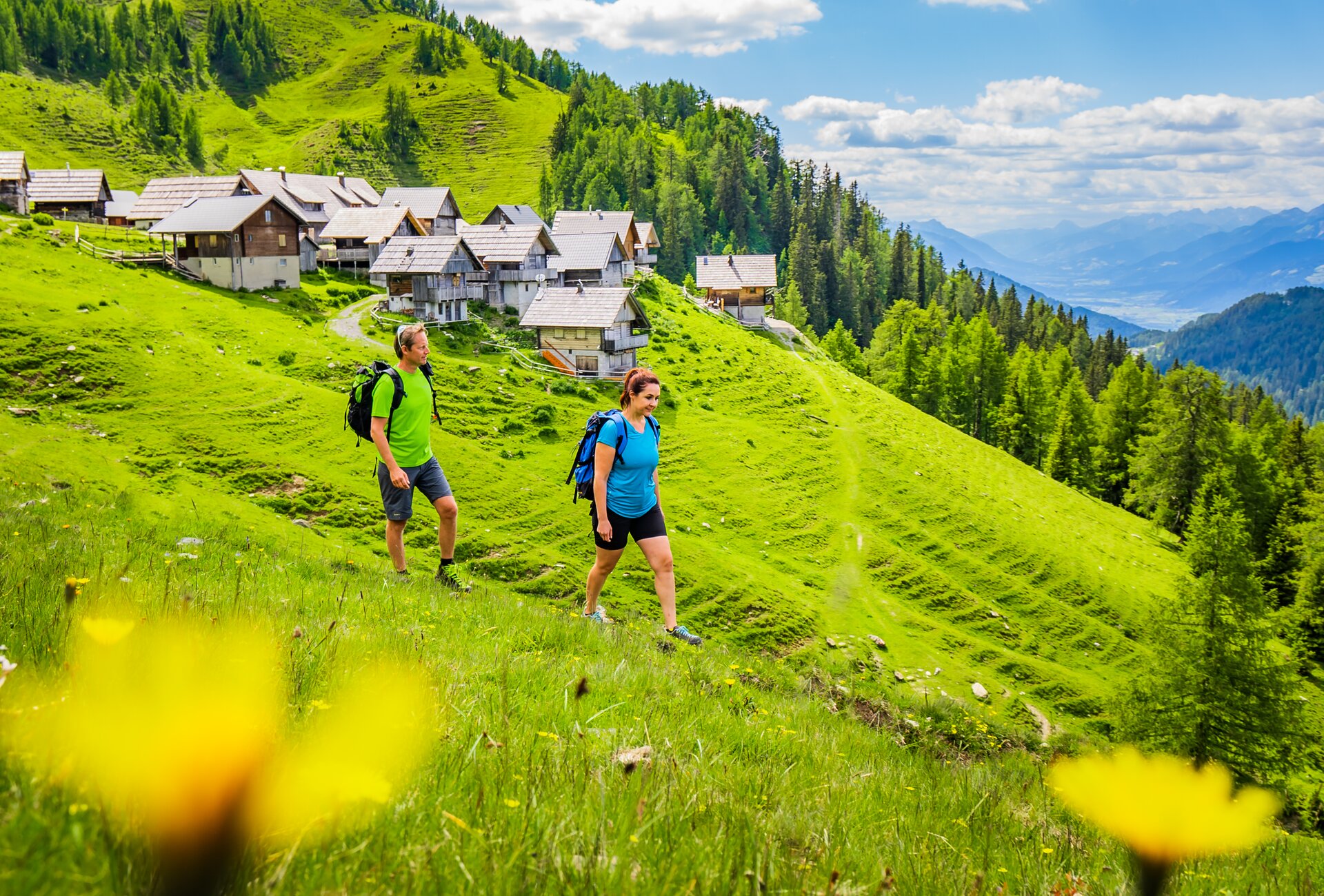 What do you want to discover?