Outdoor & Relax World
Experiencing winter sports off the slopes
The Outdoor & Relax World in winter
Active. Refreshing. Different.
Surrounded by the snow-covered summits of the Gartnerkofel, Rosskofel, Reiskofel, Trogkofel and Kellerwand mountain ranges. Clear blue skies and countless hours of sunshine in the Nassfeld-Pressegger See region. A glistening and pristine snow cover … and you're smack in the middle of the sunny Carnic and Gailtal Alps. Winter holidays without skis or a snowboard are refreshingly different experience in the Outdoor & Relax World!
Being active, gliding along and leaving your tracks in the snow while cross-country skiing or hiking through the wintry landscape on "bear paws" while snowshoeing. Doesn't that sound amazing? Or how about skating over the ice of Lake Pressegger See while breathing fresh mountain air? Maybe you're in the mood for something different and a little more action-packed? Then you might want to swoosh down the hills and runs in the Nassfeld-Pressegger See region on a sledge – smiling from ear to ear. In the Carnic and Gailtal Alps, the outdoor activities you can do off the slopes abound – just take your pick!
The winter sports world …
of the Carnic and Gailtal Alps
There's a mountain ridge in the Carnic Alps – right between the Austrian Gailtal Valley and the Italian Val Canale: The Nassfeld Pass is located at 1,530 metres above sea level, and it enjoys great popularity far beyond the Nassfeld region. Whether it's right at the Nassfeld ski resort or in the active, refreshing and different Nassfeld-Pressegger See region: You'll be amazed at the multitude of options for leisure activities.
Exploring the region and its neighbouring areas – Lesachtal Valley, for instance – on touring skis is a truly magical experience in more than one regard. For one, you'll get to enjoy the breathtaking mountain scenery including views all the way to Italy and Slovenia. And what's more: You'll quite literally find yourself on the sunny side of life.
Another wonderful option to discover the region is on snowshoes. With "bear paws" strapped to your feet and wrapped up in a scarf and warm jacket, exploring the wintry landscape becomSchneeschuhwandernes an incredibly peaceful – almost meditative – adventure close to nature.
Tip for romantics: There's hardly anything more atmospheric than going on a horse-drawn sleigh ride through the region, gliding over frozen Lake Weissensee tightly snuggled up to your significant other.
On track
Cross-country skiing in the Outdoor & Relax World
When the sun rises above the mountain tops and the groomed trails suddenly become a glistening snow carpet, cross-country skiers will hardly be able to contain their excitement. Take a deep breath of fresh mountain air, step into the binding, grab your poles and head for the track! The Nassfeld region's cross-country trail network spans 130 kilometres and even boasts two high-altitude trails. As you can see: The options for this Nordic sport are vast – now all you need to do is take your pick and start gliding through the snowy mountains.
And that's not all: Near Gailtal Valley, at Lake Weissensee, you can ski or skate around the frozen lake. Cross-country skiers also get their money's worth in Lesachtal – Europe's most pristine valley – at the internationally renowned Obertilliach Cross-Country and Biathlon Centre.
Fun with your loved ones:
sledging and ice skating
One thing's for sure: Ice skating and sledging are just as much a part of winter as skiing and snowboarding. Holding on tightly to the sledge or gliding over the smooth surface of the ice: You certainly won't get bored in the Nassfeld-Pressegger See region – even if you're not in the mood to hit the slopes.
Countless daytime and nighttime sledging runs as well as the natural ice rinks on Lake Presseggersee and Lake Weissensee make your holidays in this winter wonderland even more beautiful. Deep belly laughs, radiant eyes and rosy cheeks included!
You're looking for variety in the snow? Discover the outdoor activities you can do in the wintry Nassfeld-Pressegger See region!
The magical winter world of the Nassfeld-Pressegger See region
Silence, relaxation and beautiful moments in nature: That's what most people look forward to when on winter holiday. And what better way to forget your everyday worries than while going on a horse-drawn sleigh ride or leisurely walking along the Slow Trail? In the tall belt of reeds surrounding Lake Pressegger See, you'll feel all stress dissipate. Now it's all about wellbeing – for body, mind and soul.
Take a deep breath and unwind! Whether it's while snuggled up to your partner in a horse-drawn sleigh or while swimming in warm thermal water: Health and wellness take priority.
You should visit the Outdoor & Relax World, if …
Location and how to find us
The Nassfeld-Pressegger See holiday region lies in the Austrian province of Carinthia, directly next to the Italian border.
Plan your journey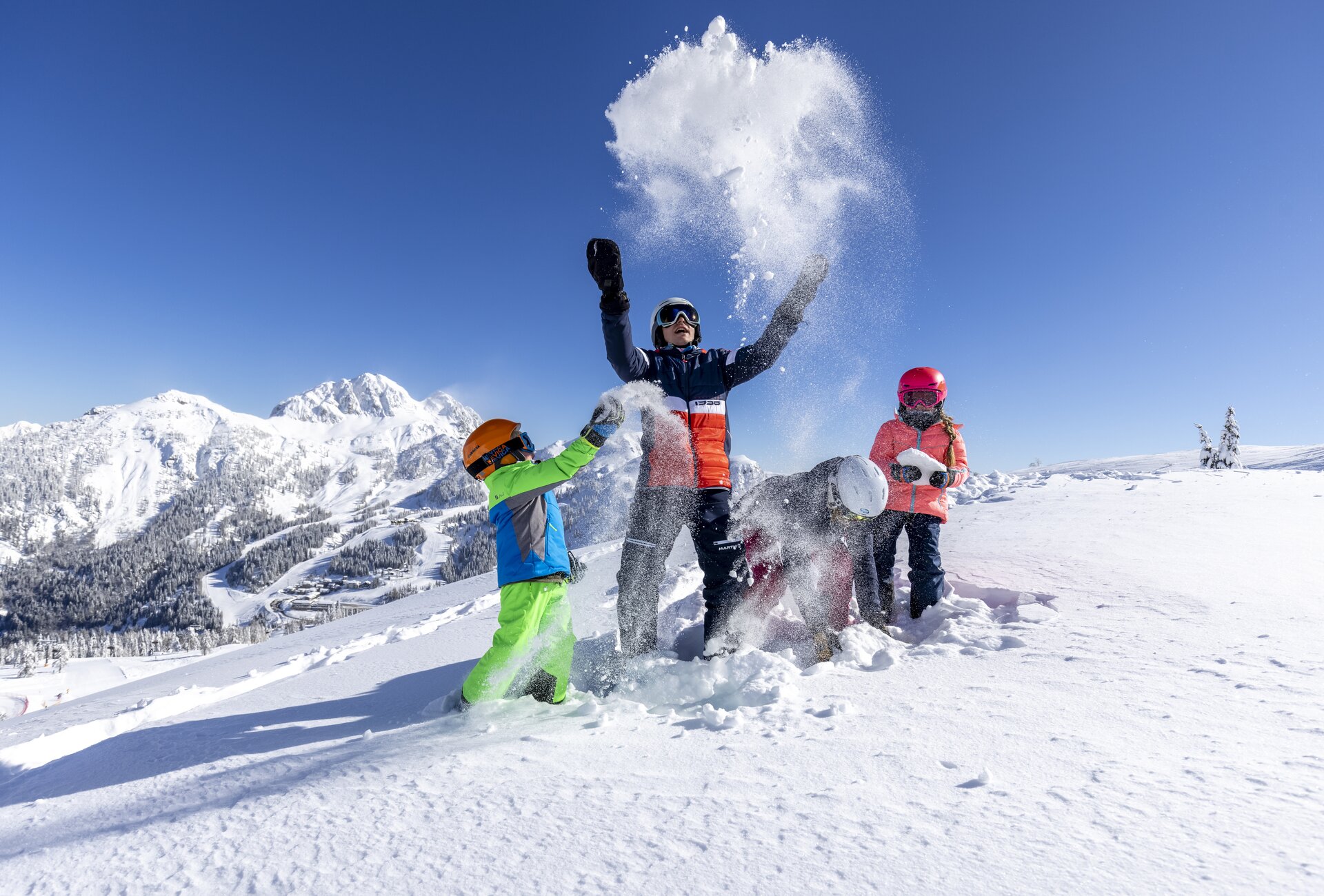 What do you want to discover?