Hike World
Carnic Alps. Gailtal Alps. Julian Alps.
Hiking the Nassfeld-Pressegger See region
Unlimited. Climbing. Bliss.
Austria or Italy? A hiking holiday in the Nassfeld-Pressegger See region combines the best of both countries. After all, the expansive and diverse Hike World stretches all the way from the Carnic Alps to the Gailtal Alps and the Julian Alps. Charming contrasts and surprising variety can be found wherever you look. Alpine mountain air seasoned with Mediterranean flair: There are a seemingly unlimited amount of experiences in nature and moments of pleasure in the World of Mountains & Lakes.
While hiking on the sunny side of the Alps, you'll follow in the tracks of days long past. Themed trails lead you across the former bottom of the ocean and give you insights into the early periods of earth's history. Leisurely walks in the mountains take you to quaint huts where cheese is made. And if you succeed in climbing one of the summits, you'll be rewarded with outstanding scenic views of the surrounding mountains.
What else awaits you? Loop trails around comfortably warm lakes that let you rediscover what it means to slow down. Sunrise hikes that let every mountain enthusiast experience a feeling of becoming and expansion. And in contrast to that, climbing routes for guaranteed adrenaline rushes.
Now there's only one thing missing for sheer bliss: the free +CARD holiday. From the ascent by summer cable car or lift to admission to the various bathing lidos at Lake Pressegger See – these and more than 30 other included services and benefits are truly "nice surprises", don't you think? What's more, the +CARD holiday is your ticket to guided themed hikes and an adventure-filled programme of activities.
The right terrain for every type of hiker: Find a suitable tour for your requirements on our interactive route map!
The Hike World at a glance
1,000 kilometres of hiking trails

hikes between 600 m and 2,800 m above sea level

cross-border routes all the way to the Italian "Val Canale"

2 multi-stage hikes: Carnic Peace Trail and Gailtal Valley High Route

2 pilgrimage routes: Maria Pilgrimage Trail and "Weg des Buches" Trail

2 summiteer villages: Mauthen and Lesachtal Valley

Slow Trail at Lake Presseggersee through Austria's second-biggest reed belt

25 themed trails and beautiful mountain lakes

Geo-Trails at the Carnic Alps GeoPark

via ferratas and climbing routes

2 summer lifts and 1 cable car in the Nassfeld region and another one at Lake Weissensee

85 Alpine pastures on Austrian and Italian territory along the Carnic Milky Way
Experiencing the Carnic and the Gailtal Alps …
… in all their facets
About 1,000 kilometres of hiking trails stretch out in front of you in the Carinthian hiking paradise. Some of them are narrow and windy, other are wide and long – and they're all jam-packed with wonderful experiences. And it doesn't matter if you're "just" walking around a beautiful bathing lake, if you're enjoying the scenic views of countless summits while soaking up the sun, if you're tackling a challenging mountain tour, or if you're after your next adrenaline rush on one of the via ferratas.
The result is always the same: a beaming smile, lightness of being, and plenty of hiking joy.
A variety of family-friendly themed trails leads you to exceptional experiences throughout the Nassfeld-Pressegger See region. Its highlight for hikers of every age: the Carnic Milky Way – full of special moments in the mountains between pastures, huts and star constellations. Learning about old traditions, experiencing hospitality, getting a feel for the region's history: All this is waiting for you during a visit to the Carnic Alpine Villages and the countless rustic mountain huts.
You would like to know who used to live in Gailtal Valley more than 290 million years ago? At the Carnic Alps GeoPark, you can go on an exciting journey through earth's history – and not just at the exhibition titled "The Dinosaurs of Gailtal Valley" …
On the various Geo-Trails, you can discover fossils and learn about the origin of the mountain lakes. You can also take a walk across the bottom of the primordial ocean or enjoy breathtaking scenic views during a mountain tour. Footpaths along comfortably warm lakes invite you to slow down and relax.
Impressive sunrise hikes let you experience unforgettable moments of awe. Special natural treasures wherever you look – that's exactly what you'll find in the Carnic Alps GeoPark.
The grandeur of the mountains
Sometimes it doesn't take much to experience pure bliss. Soaking up the sun on a summit and enjoying the stunning scenic views. Watching some marmots from not too far away. Keeping an eye on the Alpine choughs as the wind carries them along. Just sitting there – completely at peace and one with nature. There are plenty of options for feeling the power of the mountains besides while hiking.
New routes following in traditional tracks
Slowing down, reflection, and enjoyment – those are the topics that become increasingly important in these fast-paced times we live in. Taking deep breaths on easy routes, relaxing and winding down: Everyone who needs to take some time for themselves and give their body and mind a break will find many opportunities to do so in the World of Mountains & Lakes.
How about a walk on Austria's first Slow Trail in the Nassfeld-Pressegger See region? Or a star constellation hike along the Carnic Milky Way? Daredevils might even discover the meditative potential of jumping into a crystal-clear mountain lake. What rounds off the experience is a visit to one of the 85 alpine pastures and mountain huts of the Culinary World in Austria and Italy.
Proving your power in the mountains
You love a good challenge, and summit conquests are an essential part of every great hike for you? In the Hike World, there are several summits only waiting to be conquered by you. What's more, several challenging multi-stage hikes have their starting point in the Nassfeld-Pressegger See region. Multi-day tours to the neighbouring countries of Italy and Slovenia require persistence, concentration and a certain level of endurance. Especially popular: the Carnic Peace Trail – organised day tours or multi-day tours can be conveniently and easily booked online!
Hiking is great but you're aiming even higher? In the Nassfeld-Pressegger See region, there are numerous via ferratas and climbing routes for beginners and pros. Most of the routes and some of the best routes can be found in Upper Gailtal Valley and in Lesachtal Valley, Europe's most untouched valley. That's where you get to feel the bare rock underneath your fingertips on the region's most beautiful via ferratas.
Tip: Climbing high above the waters of Lake Weissensee is a truly special experience for alpinists and climbing enthusiasts!
The must-sees of the Hike World
Carnic Peace Trail
On approximately 150 kilometres, this famous multi-stage hiking route leads you along the mountain ridge of the Carnic Alps and thus along the country border of Austria and Italy.

Gailtal Valley High Route
90 kilometres, 10 summits: The Gailtal Valley High Route is a true secret tip among hikers and known for its natural and scenic beauty.

Carnic Milky Way
Between pastures, huts and star constellations, this special themed trail takes you on a hike like you've never experienced before.

Aqua Trail
On the 1.5-kilometre adventure trail (suitable for baby buggies and prams), everything revolves around the element of water.
Tip: You'd rather not admire the beauty of the Carnic Alps all by yourself? You don't have to! On numerous guided hikes, you'll have the opportunity to explore Carinthia's most stunning locations accompanied by professional guides and like-minded hiking enthusiasts.
Services for even more hiking joy
Hikers' bus
The World of Mountains & Lakes stretches from Gailtal Valley to Lesachtal Valley and from Lake Weissensee via Tarvisio all the way to the Julian Alps. What's the best and most comfortable way to get to the starting point of even far-away routes? The bus or train! Did you know that all hourly bus connections can be used for free by holders of the +CARD holiday or the GuestCard Basic?
Another tip: Right in the Nassfeld region, the Piccolo Express takes you from one mountain attraction to the next – more specifically, from Tressdorfer Alm via Sonnalpe Nassfeld to Gartnerkofel lift station and back. What's more, you can book an individual shuttle service.
Summer cable cars & lifts
Three summer cable cars and lifts bring you one step closer to mountain joy in the Nassfeld region – regardless of whether you're planning to do some outdoor sports or not. Hop into the cable car or onto the lift, and up you go onto the mountain! Besides the starting points of many hiking routes, you can also look forward to breathtaking scenic views.
By the way: If you'd like to explore the mountains at neighbouring Lake Weissensee, you can take the summer lift onto Naggler Alm.
Don't miss out on visiting the Hike World, if …
… you want to explore the sunny side of the Alps while hiking.

… you're looking for a hiking region that combines summit joy with relaxation by the lake.

… you're longing for diverse moments of pleasure – from culinary to scenic.

… you can't wait to experience the mountains vertically while climbing.

… you'd like to benefit from all the advantages that come with the +CARD holiday.
Location and how to find us
The Nassfeld-Pressegger See holiday region lies in the Austrian province of Carinthia, directly next to the Italian border.
Plan your journey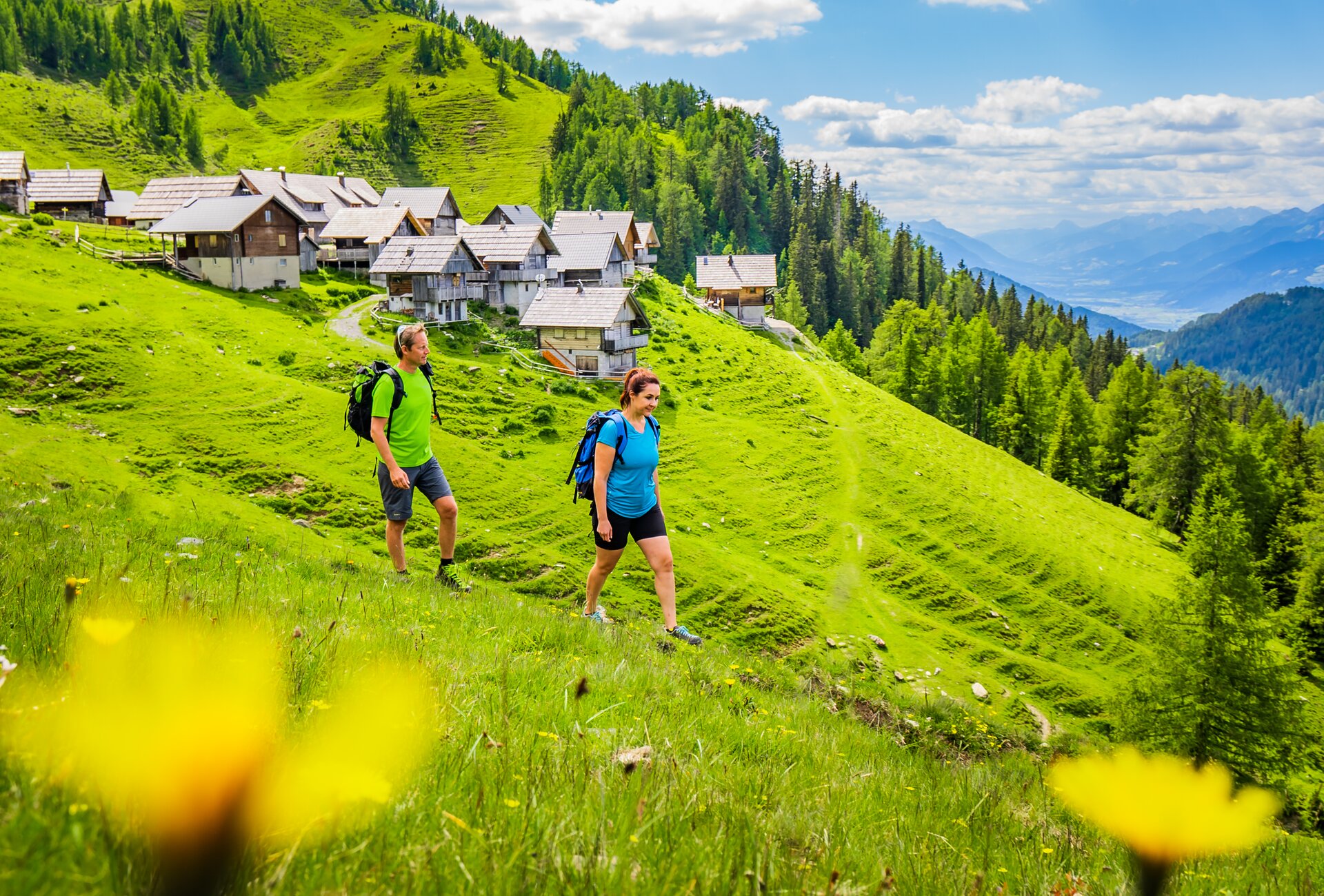 What do you want to discover?