Holidays under starry skies
Camping in the World of Mountains & Lakes
It's no secret that camping is one of the coolest ways to spend a holiday. Whether it's camper vans or tents – trends like "vanlife" are living proof that camping holidays are booming.
And that's not much of a surprise considering the many benefits of living the "camper life", among them independence, freedom and closeness to nature. Especially for families with young children or pets, camping holidays are a great choice.
After all, it's easy to structure your day as you wish when camping. Having breakfast as late as midday or enjoying a barbecue with fellow holidaymakers in the evening? All of this is a matter of course for campers.
What's more, camping is a great adventure. It's the closest you can get to nature and one of the most relaxing ways to spend a holiday – particularly in the World of Mountains & Lakes!
Why book a camping holiday in the World of Mountains & Lakes?
Just imagine: the rugged peaks of the Carnic Alps. The lush green of the Gailtal valley. The glistening waves of Lake Presseggersee. And now imagine that these are the very first things you see in the morning. You just woke up in your camper van or you have just unzipped your tent – and already you're bang in the middle of one of the most glorious natural landscapes you can imagine.
Did we whet your appetite for camping holidays in Carinthia? Excellent! After all, the region surrounding the Nassfeld is home to some of Austria's most beautiful campsites.
Camping in the World of Mountains & Lakes is camping with plenty of luxury. With the luxury of splendid nature all around you, in of one of the sunniest regions of Austria. And of course, with all the luxury that discerning campers expect from an ideal campsite. This means: Camping with great amenities ranging from bakery to sauna and from swimming pool to steam bath – and then some!
Sleep under starry skies and start your hiking, biking or climbing adventure in the World of Mountains & Lakes right at the doorstep of your caravan!
Camping in the World of Mountains & Lakes … not just in summer!
Even if temperatures in the World of Mountains & Lakes decrease, camping aficionados can rejoice. After all, your favourite holiday adventure is not at all limited to summer.
Winter camping is a booming trend these days, offering outdoor enthusiasts the perfect way to prolong the camping season. You can't get much closer to the Carinthian snow than parking your caravan right in the middle of it.
And don't worry: Camping in the World of Mountains & Lakes is just as cosy in winter as it is in summer – thanks to plenty of winter-proof campsites, heated bathroom facilities and convenient drying rooms for your clothes and ski equipment. And if your own van is not quite up to winter camping, why not rent a homely bungalow, mobile home or apartment at the campsite?
Winter camping in Carinthia: the best tips
To make your camping trip to winter wonderland an undisputed success, we have compiled a little checklist for you:
What to bring: anti-frost windscreen cover, doormat, jump leads, snow shovel
Antifreeze: not just for your windscreen washer system but also for your dishwater. Don't turn off the heating and hot water system during the night – to prevent them from freezing.
Sufficient gas: Bring plenty of gas cylinders and, if possible, only use propane gas because it has a very low freezing point.
Pitch: Thoroughly remove the snow from your pitch! Place boards beneath your support jacks to prevent your caravan from sinking during thaw. Make sure that your power cables don't freeze to the ground or get damaged by snow ploughs.

Handbrake: Disengage the handbrake after jacking up your caravan to prevent it from freezing.

Ventilation holes: Make sure that they are not covered by snow.

Snow: A bit of powder snow on top of your camper van is not a bad thing, in fact it helps to insulate your caravan. However, make sure that it's not more than a thin layer that's not too heavy!
How to get to the World of Mountains & Lakes with your caravan
What you should know when driving to the World of Mountains & Lakes with your caravan
Speed limits

Caravans up to 3.5 tons: 50 km/h in towns and villages, 100 km/h on open roads, 100 km/h on clearways, 130 km/h on motorways
Caravans over 3.5 tons: 50 km/h in towns and villages, 70 km/h on open roads, 70 km/h on clearways, 80 km/h on motorways
Road charges

Keep in mind that in Austria, all vehicles using motorways and clearways must carry a "Vignette" or toll sticker!
Caravans up to 3.5 tons: A valid toll sticker must be placed clearly visible on the inside of your windscreen. The sticker is available from automobile associations, tobacconists and service stations. Tip: Since 2018, it's also possible to purchase a digital toll sticker online.
Caravans over 3.5 tons: With a bigger caravan, you need a so-called GO-Box, which is available from various GO distributors. The device communicates with the toll gates by way of radio signal and can be charged with up to € 700.
Winter tyres

Caravans up to 3.5 tons: Between 1 November and 15 April, vehicles with a weight of up to 3.5 t must be equipped with winter tyres when winter conditions apply. This regulation is not applicable to trailers.
Caravans over 3.5 tons: Between 1 November and 15 April, caravans with a weight of more than 3.5 tons must be equipped with winter tyres at least on the drive axle.

Emergency corridor
In case of congestion, drivers on Austrian motorways and clearways are obliged to form an emergency corridor. To do so, all vehicles in the left lane move as far to the left as possible, while all other vehicles move as far to the right as possible, including the hard shoulder.
Location and how to find us
The Nassfeld-Pressegger See holiday region lies in the Austrian province of Carinthia, directly next to the Italian border.
Plan your journey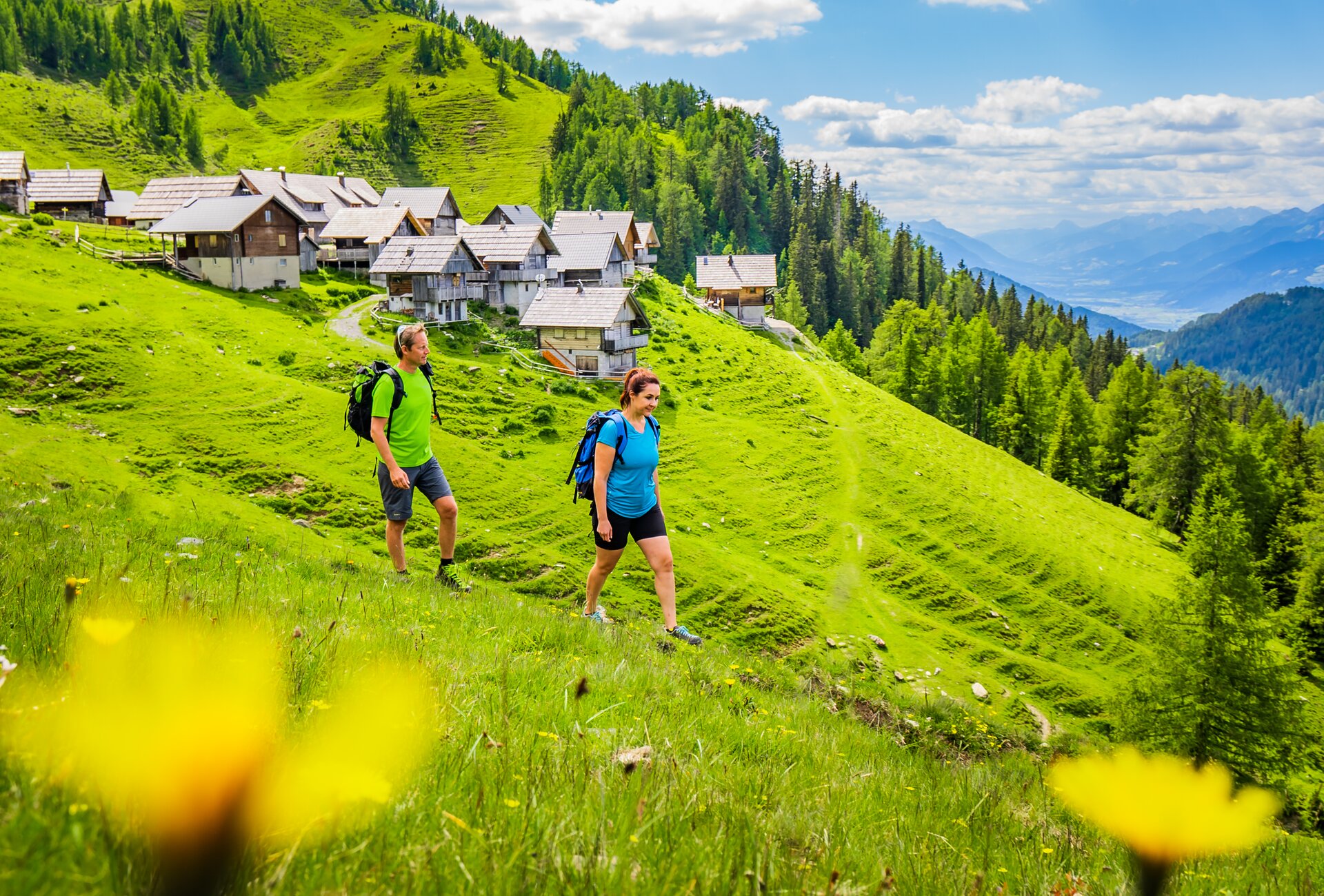 What do you want to discover?