Lift & Bike Giro in the Trail World
Cable cars & lifts for bikers in the Nassfeld region
Quick, easy, effortless: With the three summer cable cars and lifts in the Nassfeld region, you'll be up in the mountains in no time – and then you can dash back down into the valley on your bike. From downhill action to long-distance tours: There are many reasons for taking advantage of the convenient bike transport by cable car. The lifts also take you to the starting points of many bicycle routes and trails as well as to the Lift & Bike Giro in the Trail World.
A convenient trip up the mountain with your bike
Who can use the bike transport?
Bike transport by cable car or lift is perfect for …
downhillers who would like to save their strength for the downhill ride.
single-track enthusiasts who enjoy being in higher altitudes.
bikers who would like to ride the single tracks and flow trails several times.
families with kids who aren't quite ready to tackle steep climbs on their bikes.
trekking fans and pleasure-seekers who would like to enjoy the scenic views of the valley, as they start their short ride or multi-stage tour.
Cable car Millennium-Express, Gartnerkofel chairlift, Madritschen chairlift
NASSFELD Day Ticket
* In addition to the lift ticket, a ticket is required for bike transport up the mountain.
All prices in €
Group prices
School groups
Day ticket (per person)
Adult
Child
Adult
Child
S II
S I
Cable cars + 1 ride attraction + Piccolo Express
38,00
22,00
34,00
20,00
25,50
20,00
Cable cars + bike transport
40,00
24,00
36,00
21,50
–
–
bike transport only (day ticket)*
22,50
22,50
–
–
–
–
bike transport only (single ride)*
9,00
9,00
–
–
–
–
Cable cars
34,00
17,00
30,50
15,50
4 hours cable cars + bike transport
34,00
20,50
Up to higher altitudes by summer cable car
Excellent cable cars and lifts in the Nassfeld region
The Millennium Express cable car, the Gartnerkofel chairlift and the Madritschen chairlift are three excellent options for your ascent – quite literally! They are among the "Best Austrian Summer Mountain Railways", and they all let you bring your bike.
Your "nice surprise": If you'd like to explore the entire Bike World on your bike, you'll find another lift in Weissensee.
Various services for biking enthusiasts
Bike transport by summer cable car
How does the bike transport by cable car or lift work? If you take the Millennium Express, all you have to do is take your bike in the cable car with you. What's more, tools are available in case you need to take off your bike's front wheel. The chairlifts are equipped with special holders for bikes. What else boosts the level of comfort for biking holiday guests in the Nassfeld-Pressegger See region? Read more on our comprehensive bike services!
Ready for an extraordinary MTB adventure?
Lift & Bike Giro in the Trail World
If you're looking for a special experience on two wheels, you might want to visit Tröpolach – and more specifically, the valley station of the Millennium Express summer cable car. Because that's where the Lift & Bike Giro starts. First, you'll comfortably float up to the mountain station on the Madritsche with your bike.
And then: It's time for your descent down to the valley – across a distance of 11.7 kilometres. Most of the trail consists of a gravel road (forest road) and requires some caution. That's why this route is only something for experienced "mini-downhillers" accompanied by an adult. However, the stunning scenic views of the Carnic and Gailtal Alps as well the flora and fauna of the region are well-worth giving this Giro a try.
By the way: You can access the flow trail at the Gmanberg cable car station just before the last downhill section starts.
Convenient: Sport Sölle is located right by the valley station of the Millennium Express. That's where you can rent mountain bikes or register for technique training lessons. Perfect for MTB newbies who would like to gather some first mountain bike experience before tackling the Lift & Bike Giro …
Location and how to find us
The Nassfeld-Pressegger See holiday region lies in the Austrian province of Carinthia, directly next to the Italian border.
Plan your journey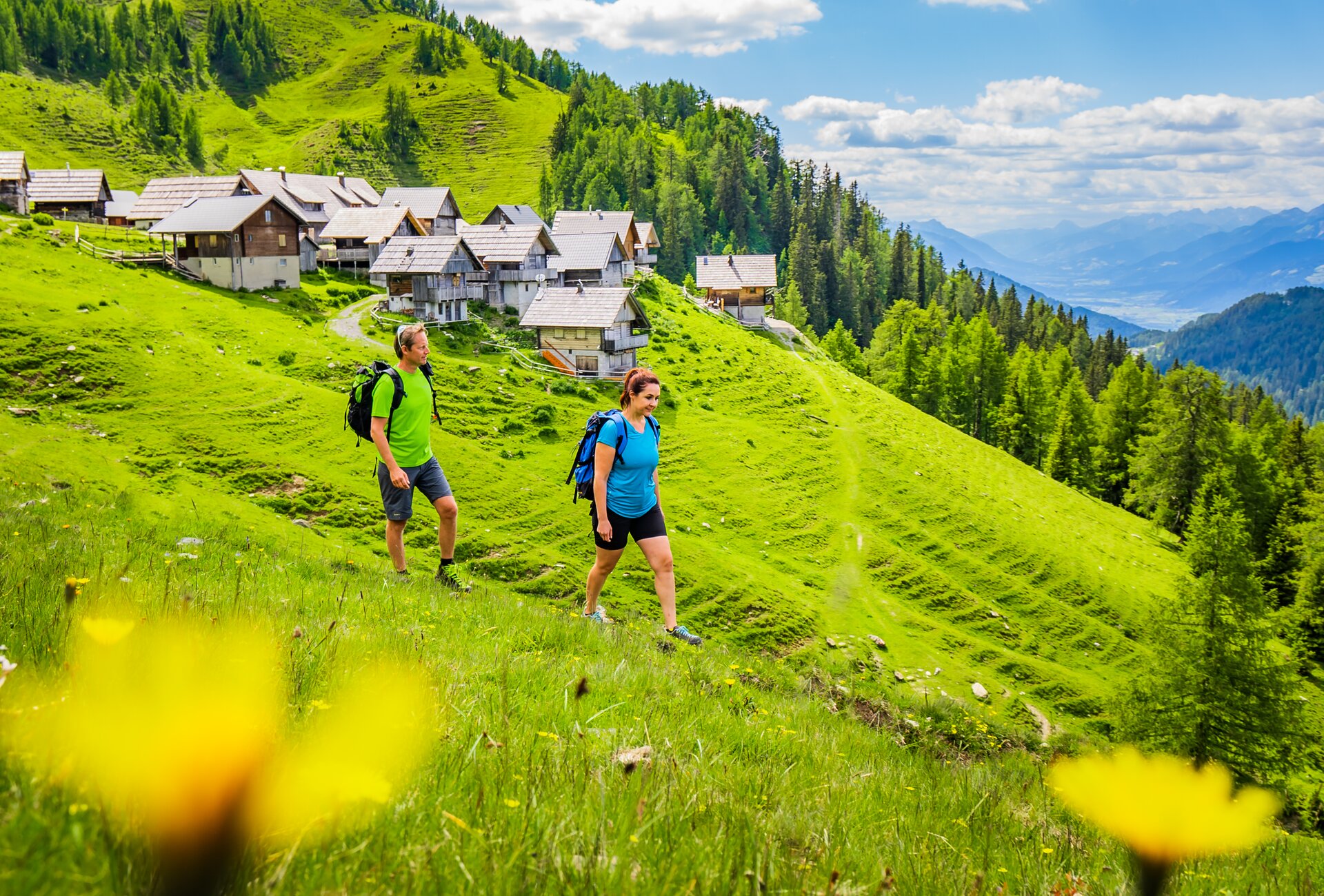 What do you want to discover?