Riding Experiences. Rich. With Pleasure.
E-bike holidays in the Nassfeld-Pressegger See region
Sporty adventure or leisurely ride? While e-biking in Carinthia, that's not an "either – or" decision. Both is possible! Because excitement and relaxation go hand in hand in the Bike World on the sunny side of the Alps …
One thing's for certain: On e-bike holiday in the region, you have vast selection of tours to choose from. From long-distance rides to demanding climbs onto Alpine pastures: What previously seemed like insurmountable challenges can now be accomplished with ease. This creates a brand-new and surprisingly pleasurable riding experience for the whole family in the south of Austria.
Ready for endless bike fun in the Carnic and Gailtal Alps? In the Summer World, you'll definitely get into gear while biking from one country to the next. And after your tour, you can enjoy a refreshing dip in one of the beautiful lakes of the region.
Support for cross-border bike adventures
You'd like to cross the border to Italy or Slovenia while on bike holiday? You've always wanted to see the Italian town of Tarvisio? If you spend your holidays in the Nassfeld-Pressegger See region, you're never more than a few stages of your tour away from Italy. And e-biking has become increasingly popular in this regard. No wonder: All those who want – or need – a bit of electrical tailwind get a chance to discover the region's natural and cultural treasures without too much effort.
Hop onto your trekking e-bike and then: Let's go! Pleasure-filled routes or family routes such as the Gailtal cycle route or the connection to the Alpe-Adria cycle route: With a bit of motorised support, even longer tours are tons of fun for family members of all ages. You and your little ones have never used an e-bike before? Find out about individual introductory lessons and guided bike tours in the Bike World!
Guided e-bike tours
The Bike World for e-bikers
In the Nassfeld-Pressegger See adventure region, e-bikers can look forward to an expansive bike Eldorado from Lake Pressegger See to Lesachtal Valley and Lake Weissensee. And the 950 kilometres of cycle routes and MTB trails in the World of Mountains & Lakes could hardly be more diverse. From pleasure-loving bikers to ambitious downhill pros – all holiday guests can find their perfect route. E-bikers even have several special routes available to them and can enjoy adventure-filled days full of aha moments amidst the stunning natural landscape of Carinthia!
You'd like to push the pedals while enjoying breathtaking scenic views from Lake Presseggersee to the Adriatic Sea? Have a look at the route map! That's where you'll find the most beautiful routes for e-bikers including GPS data, photos and other details.
E-biking just the way you like it: What's an essential ingredient of every wonderful bike tour? A well-deserved break at one of the many charming mountain huts along the trail. Gailtal Valley, Lesachtal Valley, Gitschtal Valley or Weissensee: As Slow Food Travel Regions, these destinations boast many opportunities for special moments of pleasure and lots of culinary surprises. Reason enough to find out more about the unique Culinary World, don't you think?
Another tip: the special star constellation routes along the Carnic Milky Way as an extraordinary treat for gourmets and bike enthusiasts.
Familiarise yourself with the tips and rules for staying save in the mountains before you head out on a tour!
Rent anywhere – return anywhere
PAPIN bike rental system
You're planning to go on a ride along the R3 Gailtal cycle route or R3B Gitschtal cycle route? But you'd rather take the train or bus back to your accommodation? Then there's one important question to answer: What do you do with your rental bike if you take public transport? The PAPIN bike rental system with a total of nine rental stations in Gailtal Valley and in Tarvisio has the answer for you: Return it wherever you are! Because no matter where you originally rented your e-bike or e-mountain bike: You can simply drop it off at the nearest rental station. That's certainly convenient and a "nice surprise"!
If you need assistance along the way: There are several bike service stations along the R3 Gailtal cycle route and the Alpe-Adria cycle route. You'd like to save your strength for the most scenic sections, and comfortably transport your bike from point A to point B before, during or after your tour? Then you might want to find out about bike transport by cable car, lift, bus or train.
As you can see: E-bike enthusiasts can look forward to a wealth of possibilities in the Nassfeld-Pressegger See region and several "nice surprises" – from select tour highlights to pleasurable options for breaks and comprehensive services. What are you waiting for? Find out what else the Summer World has to offer!
Location and how to find us
The Nassfeld-Pressegger See holiday region lies in the Austrian province of Carinthia, directly next to the Italian border.
Plan your journey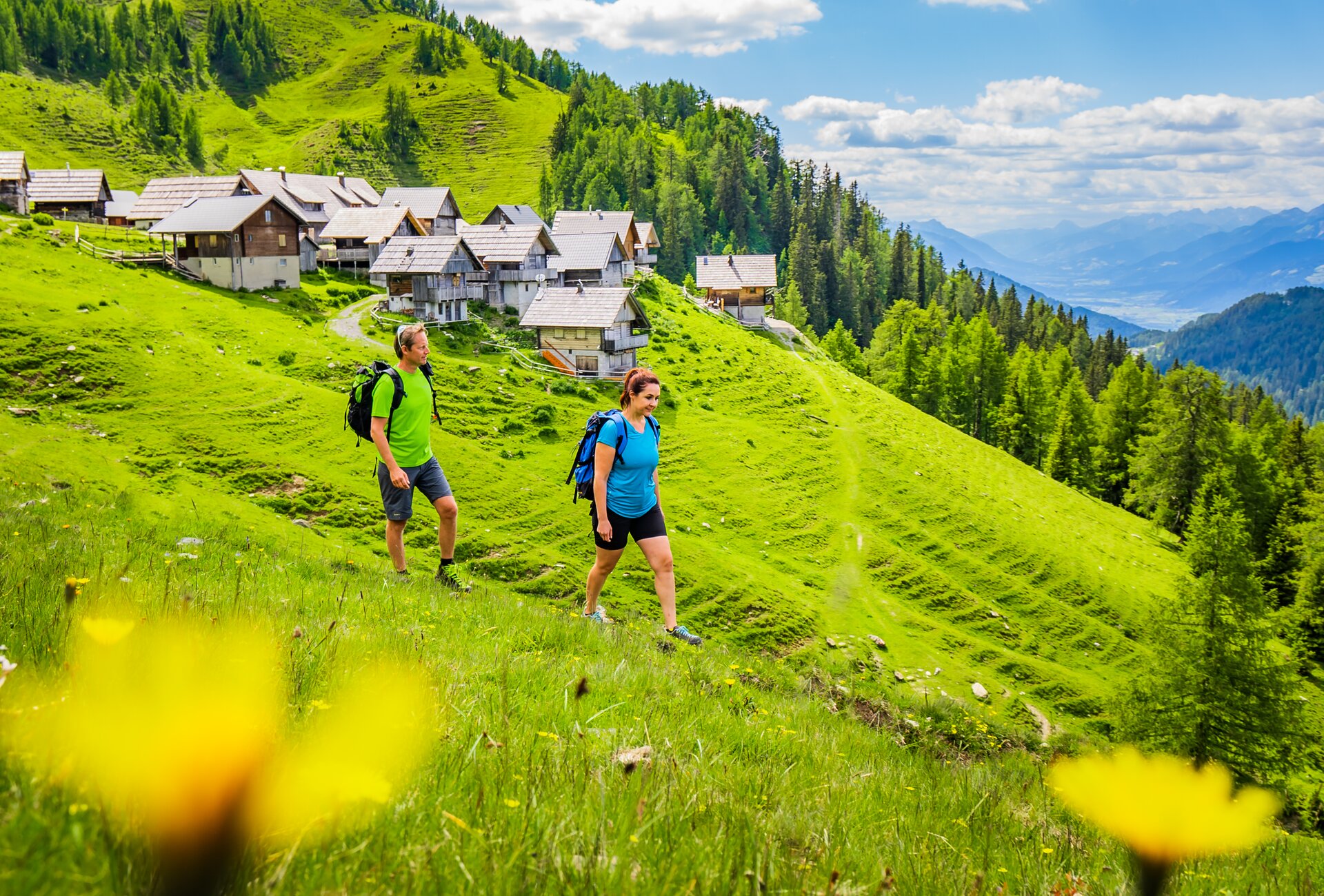 What do you want to discover?