Hit the slopes with excellent equipment
Ski rental at Nassfeld ski resort
Your ski holiday is just around the corner and you can hardly wait to swoosh down the perfectly groomed slopes of Nassfeld ski resort? Then we have a nice little extra for you.
Our great ski rental services make your getaway to the Sun Ski World even more attractive. There's no need to try and cram all your ski equipment into your car. Instead, you can travel light – and maybe even take the train. On site, you can choose from the season's top equipment. Sounds like a real win-win situation, we'd say!
Your skis are already in bed: Select hotels right by the slope offer their own ski rental. It's the perfect service for all those who don't want to lose any time and hop from their bed right on to the slopes.
Our tip: Our great ski rental offers are ideally combined with the convenient ski depots at Nassfeld ski resort. After all, nobody enjoys lugging their heavy ski equipment around at the ski resort, right?
4 rental stations at Nassfeld ski resort
Rent your ski equipment
Everything a winter sports lover could want and more – that's the short version of what the four "Sport Sölle" rental stations at Nassfeld ski resort offer. You need more details? There you go: More than 3,000 pairs of skis, more than 500 boards and plenty of accessories ranging from boots to helmets. Sounds quite impressive, doesn't it? From this comprehensive range, the expert team on site will put together the perfect package for your needs, tailored to your individual snow adventure.
That's nice: All Sport Sölle rental stations are located right at the slope. This makes it even easier for you to hit the slopes with your new rental equipment in no time at all.
Rent top-of-the-notch equipment – with plenty of benefits:
rental/exchange at all rental stations
all rental stations directly at the slope
ski depot: safe and dry overnight storage of your rental equipment
ski and snowboard service on site
book 7 days, only pay 6
early-bird discounts for online bookings – book now and enjoy great discounts!

By the way: INTERSPORT in Tröpolach also offers a vast selection of rental equipment. Don't miss the great offers of your rental experts in the valley!
Nice Surprise: Free ski equipment for kids under 10
Family special
It's no secret that the Sun Ski World is a paradise for family skiing. Of course, this also includes family-friendly ski rental prices and offers!
For instance, if one parent rents their ski or snowboard equipment at Sport Sölle, one child under the age of ten receives his or her rental equipment for free. If both parents rent their equipment at Sport Sölle, it gets even better: All kids younger than ten years rent their equipment for free!
Examples:·
Mum: 7 days 4* skis & boots € 143
Dad : 7 days 5* snowboard € 142
Son (8 years) : 7 days snowboard, boots & helmet: regular price € 64/family special: € 0
Daughter: 7 days skis, boots & helmet: regular price € 64/family special: € 0
You saved: € 128
Dad: 7 days 4* skis € 143
Son (9 years): 7 days, boots & helmet: regular price: € 64/family special: € 0
You saved: € 64
Maximum bang for your buck
"PREMIUM" ski rental for kids for only € 1
Even if Mum and Dad don't need any rental equipment for themselves, renting skis or boards for their kids is still affordable. With a "PREMIUM" ski pass, kids under the age of 15 rent their equipment for only one Euro a day. Doesn't this sound like the perfect deal for your next family day in the snow?
Good to know: The "One Euro Promotion" for children's rental equipment is valid from 3 to 24 December 2021 as well as from 13 March 18 April 2022.
Affordable prices for everyone
Nice Surprise: Ski rental promotion for adults
During the low and shoulder season, Nassfeld ski resort is not only full of snow, but also full of "Nice Surprises". One of them: Adults with a "PREMIUM" ski pass enjoy great discounts when renting skis or snowboards from Sport Sölle!
Low season: 3–24 December 2021; 27 March to 18 April 2022
15 % discount on ski rental for adults
Shoulder season: 09–22 January 2022; 13 - 26 March 2022
10 % discount on ski rental for adults
Location and how to find us
The Nassfeld-Pressegger See holiday region lies in the Austrian province of Carinthia, directly next to the Italian border.
Plan your journey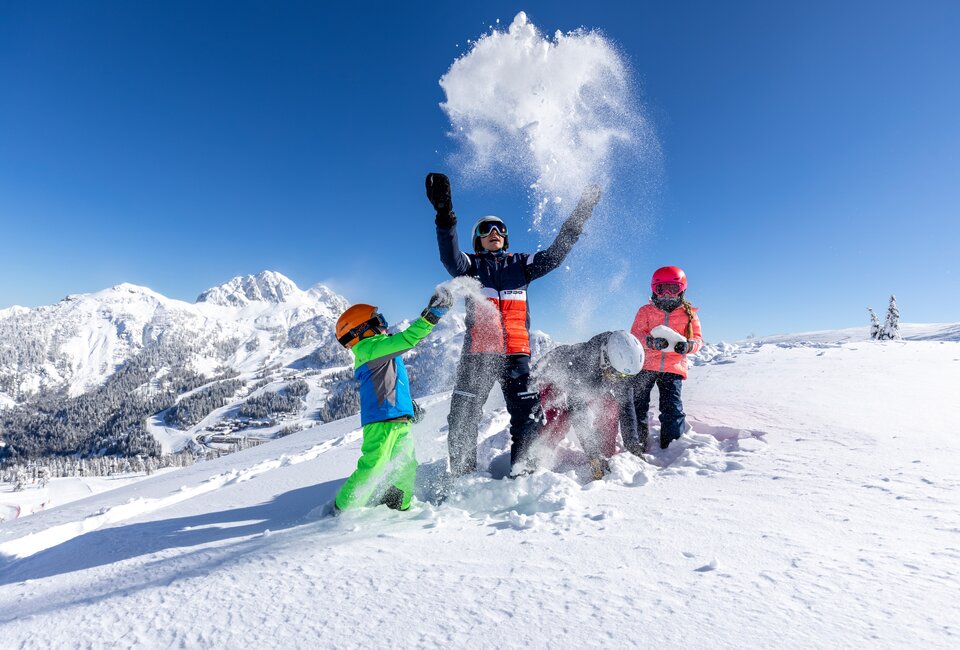 What do you want to discover?