Panoramaterrasse mit "Sky Plate"
Details
Panoramaterrasse inkl. "Sky Plate"
Das ist es, wofür sich Wanderer oft stundenlang bergauf mühen – für einen unvergleichlichen Ausblick.
Am Gartnerkofel kann man ihn auch einfacher haben.
Das einzigartige Bergpanorama, welches man am Nassfeld genießt, hat eine neue Bühne: die Panoramaterrasse am Gartnerkofel. Das Beste daran: sie ist nicht nur zu Fuß, sondern auch ganz bequem mit der Gartnerkofel Sesselbahn erreichbar. Wer hier steht, erhält ein Gefühl der Freiheit und kann den Blick schweifen lassen, soweit das Auge reicht. Im Süden erkennt man u.a. den Montasch in Italien oder den Mangart, einen der charakteristischsten Gipfel der Julischen Alpen. Im Nordwesten erhebt sich der Großglockner. Orientierung geben Panoramatafeln und Viscope, die automatisch den Namen des Berges anzeigen, den man anvisiert. Zum Greifen nah sind die Gipfel aber nicht nur dank der einzigartigen Aussicht. Auf der Panoramaterrasse sind Findlinge von den schönsten umliegenden Bergen platziert. Jeder enthält eine Tafel, die den Berg zeigt, von der er stammt, eine Kurzinformation zu seiner Geologie gibt und den Blick in die dazugehörige Gebirgsformation lenkt.
Hochgefühl und Nervenkitzel
Für ein besonderes "Hochgefühl" sorgt die freitragende Edelstahl-Plattform "Sky Plate", die die Bergwelt quasi aus der Vogelperspektive erlebbar macht. Wer schwindelfrei ist, kann den Klettersteig "Däumling" bezwingen. 150 Höhenmeter müssen Bergfexe überwinden, um den höchsten Punkt dieser Felsformation zu erreichen. Ein unvergessliches Erlebnis ist auch der Gang über die 40 Meter lange, unter dem Tritt der Bergsteiger schwankende Nepalbrücke (Teil des Klettersteigs).
Offer details
| Period | Included offer | Bonus offer |
| --- | --- | --- |
| 13/05/ - 01/10/2023 | Included | - |
We're looking forward to your enquiry.
Enquire now!
Location and how to find us
The Nassfeld-Pressegger See holiday region lies in the Austrian province of Carinthia, directly next to the Italian border.
Plan your journey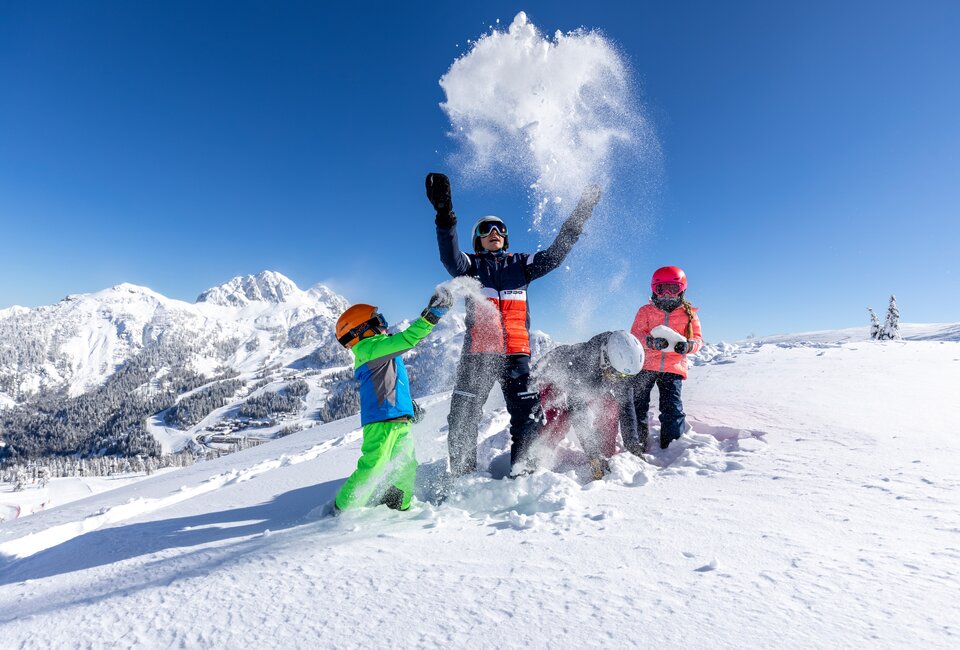 What do you want to discover?