Durch die Julischen Alpentäler
Level of difficulty:
Medium
323.6 km

Distance

5.5 h

Duration

153 vm

Lowest elevation

1480 vm

Highest elevation

5970 vm

5970 vm
A first glimpse
Some impressions of the tour
Von Egg am Faaker See geht es los in Richtung Westen. Via Drobollach geht es nach Faak und dort biegt man beim großen Harley-Kreisverkehr nach rechts auf die B 85 nach Fürnitz. Dort geht es weiter via B 83 nach Arnoldstein zum Österreichisch-Italienischen Grenzort Unterthörl. Wir sind nun in Italien und fahren via Tarvisio, Pontebba, Chiusaforte im Kanaltal / Val Canale nach Resiutta. Das Kanaltal / Val Canale trennt die Karnischen von den Julischen Alpen und den Karawanken. Das Kanaltal ist auch eine für den Alpenraum einzigartige Region. Alle drei großen europäischen Sprachfamilien – Germanische, Romanische und Slawische Sprache – trafen und treffen hier direkt aufeinander. Österreicher, Slowenen und Friulaner leben seit Jahrhunderten zusammen. Die heutige deutsch- und slowenischsprachige Minderheit geht jedoch im Wesentlichen auf die nach dem 2. Weltkrieg nichtausgesiedelten Kanaltaler zurück.
In Resiutta biegt man nach links in das Resiatal / Val Resia ein und folgt bis zur ersten großen Abzweigung den Resiafluss / Torrente Resia. Bei dieser Abzweigung nach ca 5 km fährt man nach rechts weiter Richtung Sella Carnizza und Slowenien und verlässt somit das eigentliche Resiatal / Val Resia, das bekannt war und ist für seine Scherenschleifer / Wanderschleifer. Denen ist im Ort Stolvizza auch ein eigenes Museum gewidmet. Via Lischiazze geht es auf den Sella Carnizza mit rund 1.100 Metern der höchste Punkt vor der Slowenischen Grenze. Danach geht es runter nach Uccea und bei Zaga erreicht man das Sočatal. Man fährt Richtung Süden nach Kobarid, dessen entzückendes Zentrum einen Zwischenstopp wert sein sollte. Hier steht auch das bekannte Museum Kobarid, das die Geschichte des ersten Weltkrieges in dieser Region und vor allem die Isonzoschlachten auf teilweise bedrückende Art und Weise dokumentiert.
Nach der Rast folgt man noch rund 15 km der Soča und gelangt nach Tolmin. Eine Ortsdurchfahrt ist empfehlenswert und so erreicht man östlich der Soča den Ort Most na Soči, wo es in östlicher Richtung entlang der Wocheinerbahn weiter geht. Diese Bahnstrecke wurde Anfang des 20. Jahrhundets vom KuK Eisenbahnministerium errichtet wurde und diente als wichtige Verbindung von den Alpen zum Meer nach Triest. Bei Podbrdo verschwinden die Bahngleise im Tunnel und mit dem Motorrad geht es weiter die Serpentinen hinauf auf rund 1.200 Meter Seehöhe immer Richtung Wocheiner See / Bohinjsko Jezero. Der wunderschön gelegene Wocheiner See ist ein absolutes Highlight auf dieser Tour und sollte in Ruhe genossen werden. Weiter geht es über die Pokljuka Hochebene - bekannt für seine alljährlichen Biathlon Weltcup Veranstaltungen - zum wohl bekanntesten Slowenischen Wahrzeichen, dem Bleder See mit der Bleder Burg und der Marienkirche auf der Insel in der Mitte des Sees. Natürlich darf auch die Bleder Cremeschnitte nicht fehlen in einem der zahlreichen Cafès.
Von Bled geht es weiter in östlicher Richtung und via Lesc und Pegunje gelangt man nach Tržič südlich des Loiblpass. Das Schusterhandwerk hat große Tradition in dieser Stadt, sie galt auch als Schuhmetropole Ex-Jugoslawiens. Mittlerweile erinnern aber nur mehr einige Gebäude und Straßen an das einst einträgliche Gewerbe. Tipp: Fahren Sie durch das alte Zentrum von Tržič, es steht seit 1985 unter Denkmalschutz. Von Tržič geht es nun in nördlicher Richtung hinauf auf den 1067 Meter hoch gelegenen Loiplpass, wo man nach dem Tunnel wieder die Grenze zu Österreich erreicht. Nun geht es auf der B91 hinunter durch das Loibltal nach Kirschentheuer. Man überquert die große Draubrücke des Ferlacher Stausees und auf der Kuppe bei der Hollenburg scharf links abbiegen nach Preliebl und Köttmannsdorf. Nun befindet man sich auf der berühmt berüchtigten Radstrecke des Kärnten Ironman Austria hinauf zum Rupertiberg von wo man einen wunderbaren Ausblick auf das Rosental und die Karawanken genießen kann. Via St. Egyden, Selpritsch und Rosegg geht es nach St. Martin. Dort biegt man unter der Autobahnbrücke links ab nach Ledenitzen und von dort sind es nur mehr wenige Kilometer bis zum Ausgangspunkt am Faaker See.
Location and how to find us
The Nassfeld-Pressegger See holiday region lies in the Austrian province of Carinthia, directly next to the Italian border.
Plan your journey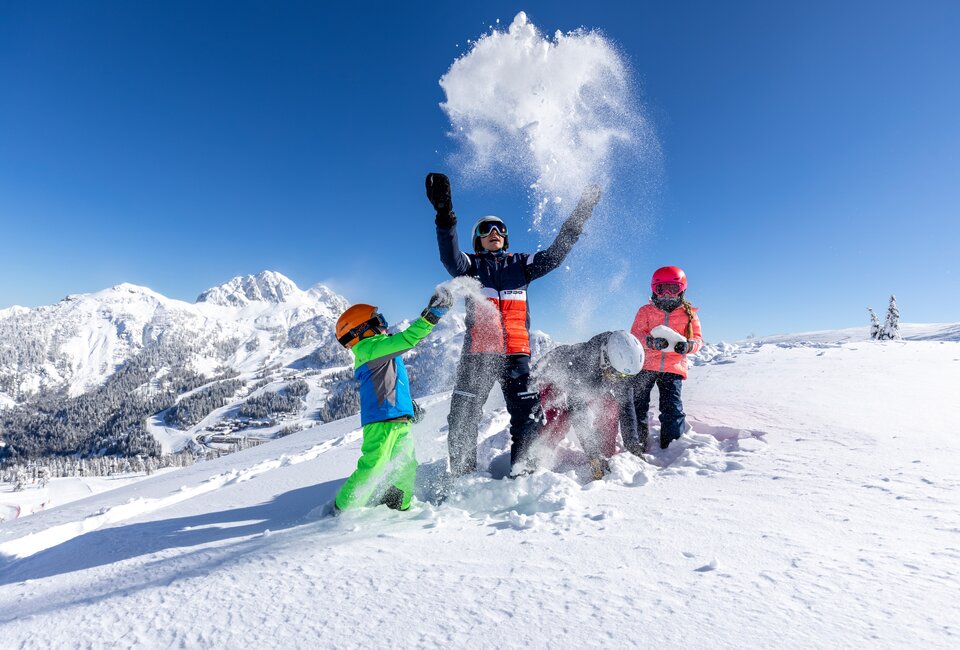 What do you want to discover?