"Berggeist" Rodelbahn - Weißbrich/Gitschtal
Level of difficulty:
Medium
2.3 km

Distance

0.8 h

Duration

834 vm

Lowest elevation

1050 vm

Highest elevation

226 vm

10 vm
"Berggeist" Rodelbahn - Weißbrich/Gitschtal
The face is dusted with snow, the tip of the nose glows red and the broad grin on the face is hard to miss: In Weissbriach, a three-kilometer toboggan run awaits winter lovers. And what is the icing on the cake of a tobogganing excursion? A rustic hut evening at the Berggeisthütte before speeding back down into the valley!
Starting point of the Berggeist-Rodelbahn is the Berggeisthütte. It lies directly on the "Max Franz" ski slope in the middle of the Weißbriach ski area. The toboggan run is over 3 km long and leads over a prepared forest track to Weißbriach. The toboggan run is illuminated in the evening.
A leisurely walk uphill increases the anticipation of the descent.
Those who want to save their strength can use the "Hüttentaxi". This brings guests to the hut for a fee and advance reservation.
Further information about the taxi service and sledge rental is available at the tourist office on +43 4286 219 or at the Hotel Löffele on +43 4286 228
A first glimpse
Some impressions of the tour
To get to the Berggeisthütte, the starting point of the toboggan run, we follow the winter hiking trail Berggeisthütte. Starting point is the parking lot Hammerbodenlift at the cable cars Weißbriach. Just below the valley station of the Hammerbodenlift the signposted forest path begins. In snow and ice it was not necessary to put on shoe spikes to ensure a safe ascent. After a walking time of about one hour we reach the Max Franz slope, which we only have to cross to get to the Berggeisthütte.
If you want, you can get some refreshment in the Berggeisthütte after the short hike.
With the toboggan we go back down into the valley via the illuminated toboggan run.
The details of the toboggan run:
Length: 3 km
Opening hours toboggan run: Monday to Thursday until 5:00 p.m., Friday and Saturday until 10:00 p.m., Sunday until 9:00 p.m.
Toboggan rental: at the Berggeisthütte (Thursday to Sunday from 16:00), Tel. +43 (0) 4286 228; rental fee: € 6,-.
Shuttle service: by bike truck up to the Berggeisthütte, per person € 5,-.
Hut evenings: with advance reservation
Location and how to find us
The Nassfeld-Pressegger See holiday region lies in the Austrian province of Carinthia, directly next to the Italian border.
Plan your journey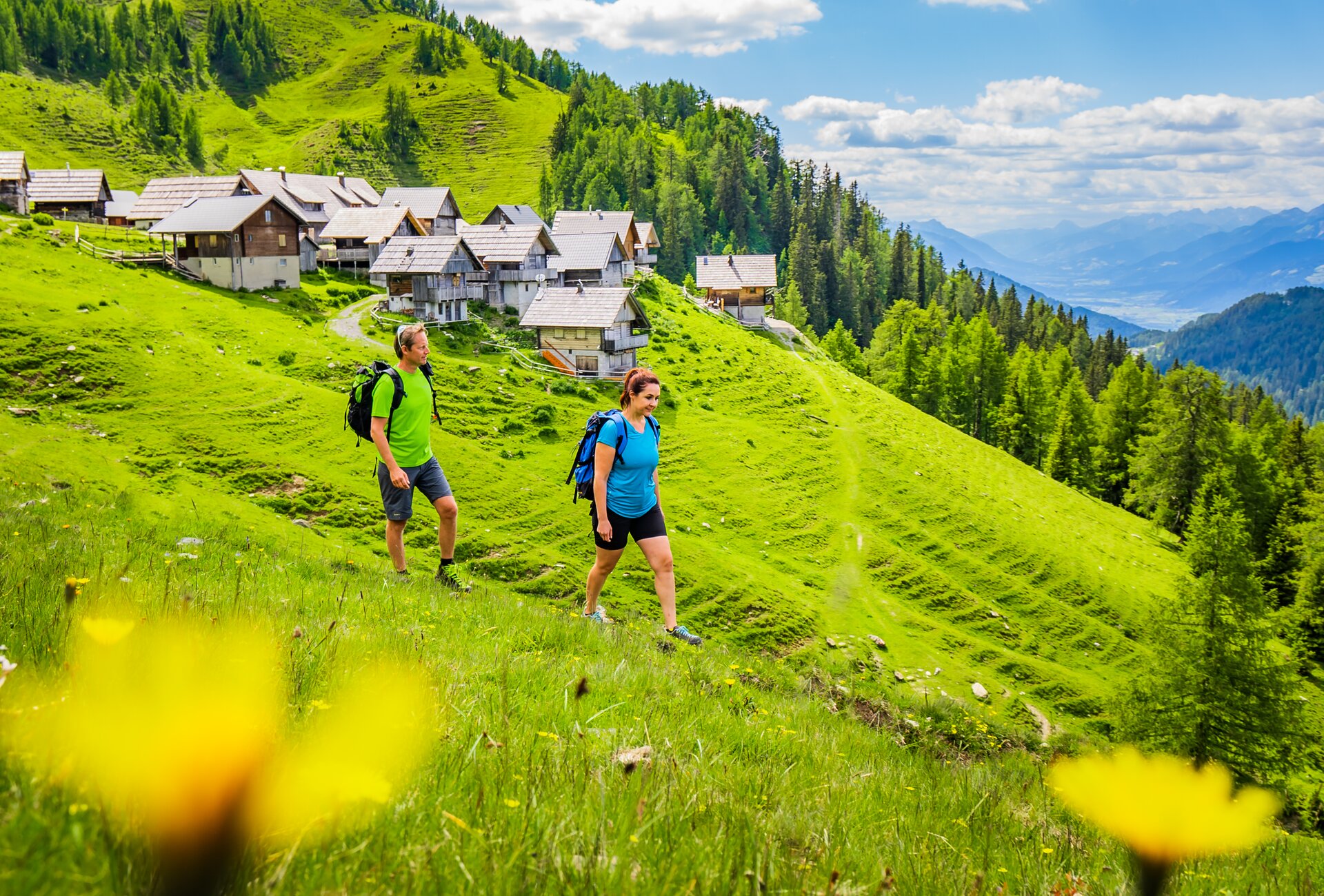 What do you want to discover?