Mittelkärntner Nebenstrassen
Level of difficulty:
Medium
286 km

Distance

6 h

Duration

391 vm

Lowest elevation

1571 vm

Highest elevation

5389 vm

5387 vm
Mittelkärntner Nebenstrassen
Diese Tour führt vom Wörthersee ausgehend auf vielen verkehrsarmen Nebenstrassen auf die Simonhöhe, quer durch die Wimitzer Berge in das Gurktal, via Althofen und Guttaring in die ehemalige Bergbauhochburg Hüttenberg, durch das Görtschitztal und mit einem Abstecher auf die Saualm, weiter nach Diex - den Sonnenparadies Kärntens - runter nach Völkermarkt wo die Drau beim Völkermarkter Stausee gequert wird und via Gösselsdorfer See, Abtei und Rosental zurück zum Ausgangspunkt nach Klagenfurt am Wörthersee.
A first glimpse
Some impressions of the tour
Wir starten bei Strandbad Klagenfurt am Wörthersee in der Nähe des Europaparks und biegen auf die B83 nach Krumpendorf ab. Dort wird im Zentrum rechts abgebogen Richtung Moosburg. Unter dem Schloss Moosburg vorbei nehmen wir beim Kreisverkehr die Ausfahrt Richtung Tigring. Nach ca. 3 km erreicht man den Strussnig Teich und bald darauf Klein St. Veit. Auf diesem Hochplateau fahren wir Richtung Norden und folgen der Straße runter in das Glantal, wo wir die B 94 erreichen. Wir biegen rechts ab um nach wenigen Metern die Ausfahrt "Simonhöhe" zu nehmen. Nun geht es rund 10 km bergauf, vorbei an der kleinen Ortschaft St. Urban mit dem idyllischen St. Urbaner See, auf die im Winter als Familienschigebiet geführte Simonhöhe. Nach einer kurzen Rast kehren wir um und gleich nach der ersten Kehre geht es links weg Richtung St. Paul. Wir befinden uns nun mitten in den Wimitzer Bergen und hanteln uns über kleine Ortschaften wie Hart und Sörg (Tipp: Sörger Wasserfall beim Abenteuer Wasserweg) immer leicht abwärts weiter nach St. Veit an der Glan. Dort bietet sich ein kurzer Zwischenstopp für eine Kaffepause an. Es geht weiter Richtung Nord-West hinauf zur zweiten größeren Erhebung, der Wallfahrtskirche Hl. Dreifaltigkeit am Gray. Sie liegt in 1180 Meter Höhe unter der bewaldeten Anhöhe des Sonntagsberges in der Gemeinde Frauenstein. Das dortige Gasthaus Jägerwirt bietet regionale Speisen, verfeinert mit den herrlichen Kräutern aus dem eigenen Schau-Kräutergarten. Nach dieser Stärkung geht es wieder bergab, teilweise auf gut ausgebautem Schotterbelag, in das Innere Wimitztal. Wir folgen dem Flusslauf der Wimitz Richtung Äußere Wimitz und biegen dort scharf links ab auf die Wimitzer Landesstraße hinauf nach Pisweg, der dritten nennenswerten Erhebung dieser Tour. Dort nehmen wir nicht den direkten Weg nach Gurk, sondern fahren in westliche Richtung entlang kleiner Bauernhofsiedlungen via Weitensfeld in das Gurktal. Diese rund 11 km von Pisweg nach Weitensfeld sind durgehend asphaltiert und die Straße ist sehr gut beschaffen.
In Weitensfeld angekommen biegen wir rechts ab und folgen der Gurk durch das beschauliche Gurktal mit den weiteren Hauptorten Gurk (Tipp: Dom zu Gurk) und Strassburg (Tipp: Burg Strassburg), ehe wir bei Böckstein auf die B317 einbiegen. Dieser folgen wir nur rund 3km Richtung Süden und bei Mölbling folgt die Abzweigung zur Kurstand Althofen mit seiner sehenswerten Altstadt. Weiter geht es nach Guttaring wo wir nach Norden in den Urtlgraben einbiegen und uns hinauf schlängeln zur Wallfahrtskirche Maria Waitschach, einer der vielen Wehrkirchen in diesem Gebiet, die als Schutz vor der Türkenbelagerung im 15. Jahrhundert errichtet wurden. Es folgt eine kurze Abfahrt hinunter in das Görtschitztal nach Hüttenberg einer ehemaligen Bergbauhochburg. Dort empfiehlt es sich, die ehemaligen Bergbauorte und historischen Hochöfen in Heft und Knappenberg anzufahren, auch ein Besuch des Heinrich-Harrer Museums, dem berühmtestens Sohnes dieser Gemeinde, ist sehr zu empfehlen. Viele dieser Sehenswürdigkeiten wurden 1995 im Rahmen der Kärntner Landesausstellung "Grubenhunt & Ofensau" saniert und revitalisiert.
Die Fahrt geht weiter durch das Görtschitztal Richtung Süden und in Eberstein empfiehlt sich ein Abstecher auf die Saualm, genauer gesagt nach St. Oswald und weiter bis zum Endausbau der Straße zur Steinerhütte. Hier auf 1560 m Seehöhe ist auch der höchste Punkt dieser Tour erreicht. Retour nach Eberstein geht es den gleichen Weg, wir biegen nach links ab Richtung Brückl um kurz vor dem Zentrum von Brückl wiederum links abzubiegen hinauf nach Diex, dem sonnenreichsten Ort Kärntens. Wir genießen den herrlichen Panoramablick auf das Kärntner Unterland und fahren dann weiter bergab nach Haimburg. Weiter geht es in südlicher Richtung nach in die Bezirkshauptstadt Völkermarkt wo kurz danach auch die Drau, der längste Fluss Kärntens, beim Völkermarkter Stausee überquert wird. Wir folgen nun der B82 und erreichen via Kühnsdorf und Eberndorf das Jauntal, passieren den Gösseldorfer See und bei Miklauzhof biegen wir auf die B85 ab. Es geht nun in westliche Richtung (Tipp: Wildensteiner Wasserfall) und mit der Abtei erwartet uns die letzte nennenswerte Erhebung dieser Tour. Es geht runter in das Rosental, wir erreichen den Hauptort Ferlach und bei Kirschentheuer wird wiederum die Drau überquert, diesmal beim Ferlacher Stausee. Vorbei an der Hollenburg geht es zurück nach Klagenfurt am Wörthersee, dem Ausgangs- und Endpunkte dieser Motorradtour.
Location and how to find us
The Nassfeld-Pressegger See holiday region lies in the Austrian province of Carinthia, directly next to the Italian border.
Plan your journey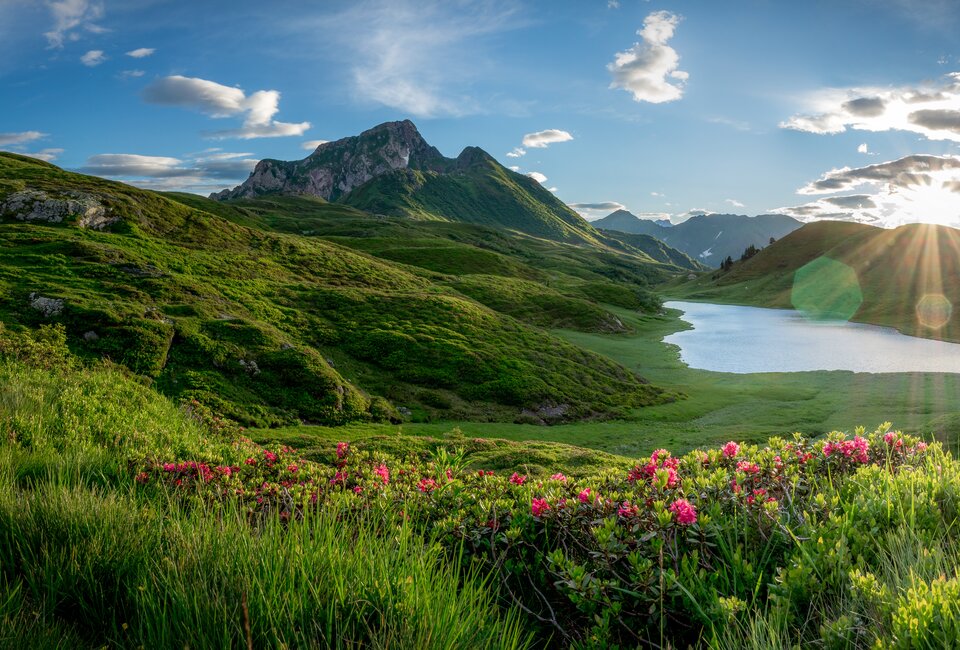 What do you want to discover?