Naggler Alm Runde Weissensee
Level of difficulty:
Medium
15.8 km

Distance

1.8 h

Duration

930 vm

Lowest elevation

1330 vm

Highest elevation

429 vm

429 vm
Naggler Alm Runde Weissensee
Unterwegs gibt es eine Vielzahl an schönen Aussichtspunkten auf den Weissensee, die man unbedingt mit der Kamera festhalten sollte.
A first glimpse
Some impressions of the tour
Ausgangspunkt: "Weissensee Haus" in Techendorf. Von dort aus fährt man rechts auf der asphaltierten Süduferstraße bis nach Unternaggl. Kurz nach den Tennisplätzen der "Pension Sonnenhof" biegt man rechts auf eine Forststraße, die sehr kurvenreich bis zu einer Kreuzung (Kohlröslhütte - Naggler Alm) führt. Dieser Teil der Strecke zeichnet sich durch einen gleichmäßigen Anstieg und glatten Untergrund aus. An der Kreuzung wird die Tour rechts Richtung Naggler Alm (bewirtschaftet) fortgesetzt. Kurz danach biegt man nochmals rechts ab und radelt über einen kurzen aber anspruchsvollen Anstieg bis zum Almgebiet. Tipp: Ein kurzer Abstecher zum EU-Monument "Wegweiser für Morgen" oder in den Mountainbike-Technikparcours (MW 9; Naggler Alm) lohnt sich. Vorbei an "Ritschats Bründl" und Aussichtspunkten mit beeindruckendem Blick auf den See wird die Tour bis zum Ausgangspunkt, dem Weissensee Haus, fortgesetzt.
Location and how to find us
The Nassfeld-Pressegger See holiday region lies in the Austrian province of Carinthia, directly next to the Italian border.
Plan your journey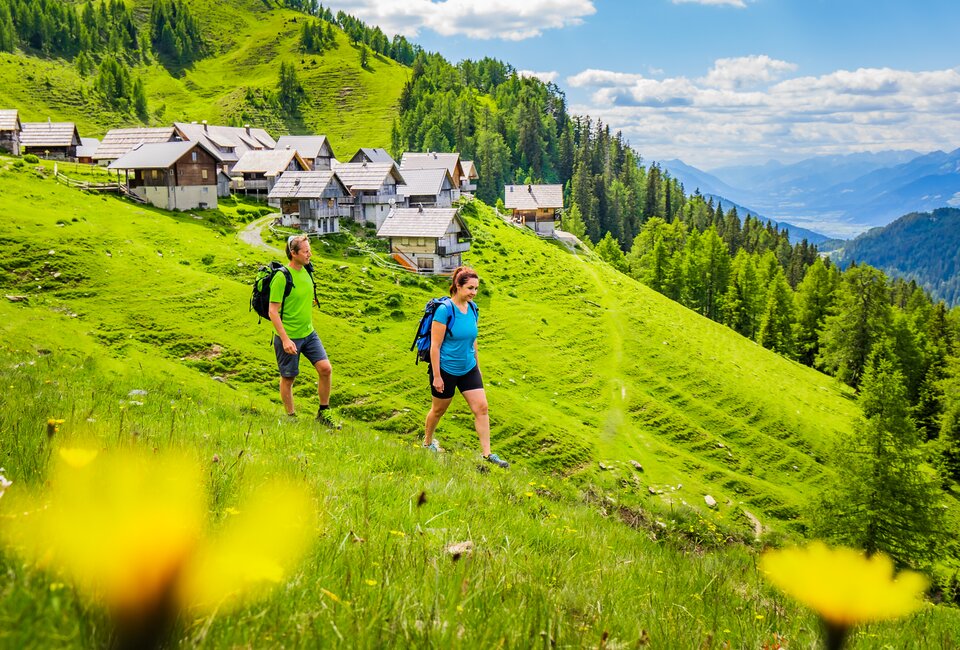 What do you want to discover?