San Daniele prosciutto heaven
Level of difficulty:
Easy
274.9 km

Distance

4.5 h

Duration

147 vm

Lowest elevation

1732 vm

Highest elevation

4321 vm

4321 vm
San Daniele prosciutto heaven
Hermagor – Nötsch – Tarvisio – Pontebba – Moggio– Venzone – Osoppo – San Daniele – SellaChianzutan – Ovaro – Monte Zoncolan – Paluzza –Plöcken Pass – Kötschach-Mauthen – Hermagor
A first glimpse
Some impressions of the tour
Starting in Hermagor, travel about 20 km in an easterly direction on the B 111 to Nötsch in the Gail Valley. There, take the turnoff to the old main road to Feistritz and Thörl-Maglern and continue to Italy. Tarvisio, which is famous for its market, is worth a stop along the way to enjoy a Cappuccino or a Tiramisu. Then the route runs though the 23 km long Val Canale, a valley that separates the Carnic Alps from the Julian Alps and Karawanken Mountains, where the three big European language families –German, Romance and Slavonic – come together and have lived side by side for centuries; a constellation that cannot be found anywhere else in Europe. Via Pontebba (the Italian-Austrian border was here until1919), Dogna (a detour to the Dogna Valley is worth the effort) and Moggio Udinese (severely affected byan earthquake in 1976), the route continues to Venzone, the town of lavender. Via Osoppo and a stretch along the River Tagliamento you will reach San Daniele del Friuli, where the world-famous air-dried San Daniele ham (Prosciutto di San Daniele originates. Every year, ca. 25 manufacturers produce morethan 2.6 million legs of prosciutto, each weighing at least 11 kg. After this stop, head to the north again and, crossing the quiet Sella Chianzutan (954 m altitude, a former mountain race track), you will reach Verzegnis (famous for its red marble) and the scenic Lago di Verzegnis reservoir. At Tolmezzo the route continues westwards to Villa Santina; at Ovaro turn right to Monte Zoncolan. Then in the valley to Paluzza and over the 1,357 m high Plöckenpass (where you will find the interesting Plöcken Pass Geotrail) to Carinthia again. Via Kötschach-Mauthen through the Upper Gail Valley back to Hermagor.
Location and how to find us
The Nassfeld-Pressegger See holiday region lies in the Austrian province of Carinthia, directly next to the Italian border.
Plan your journey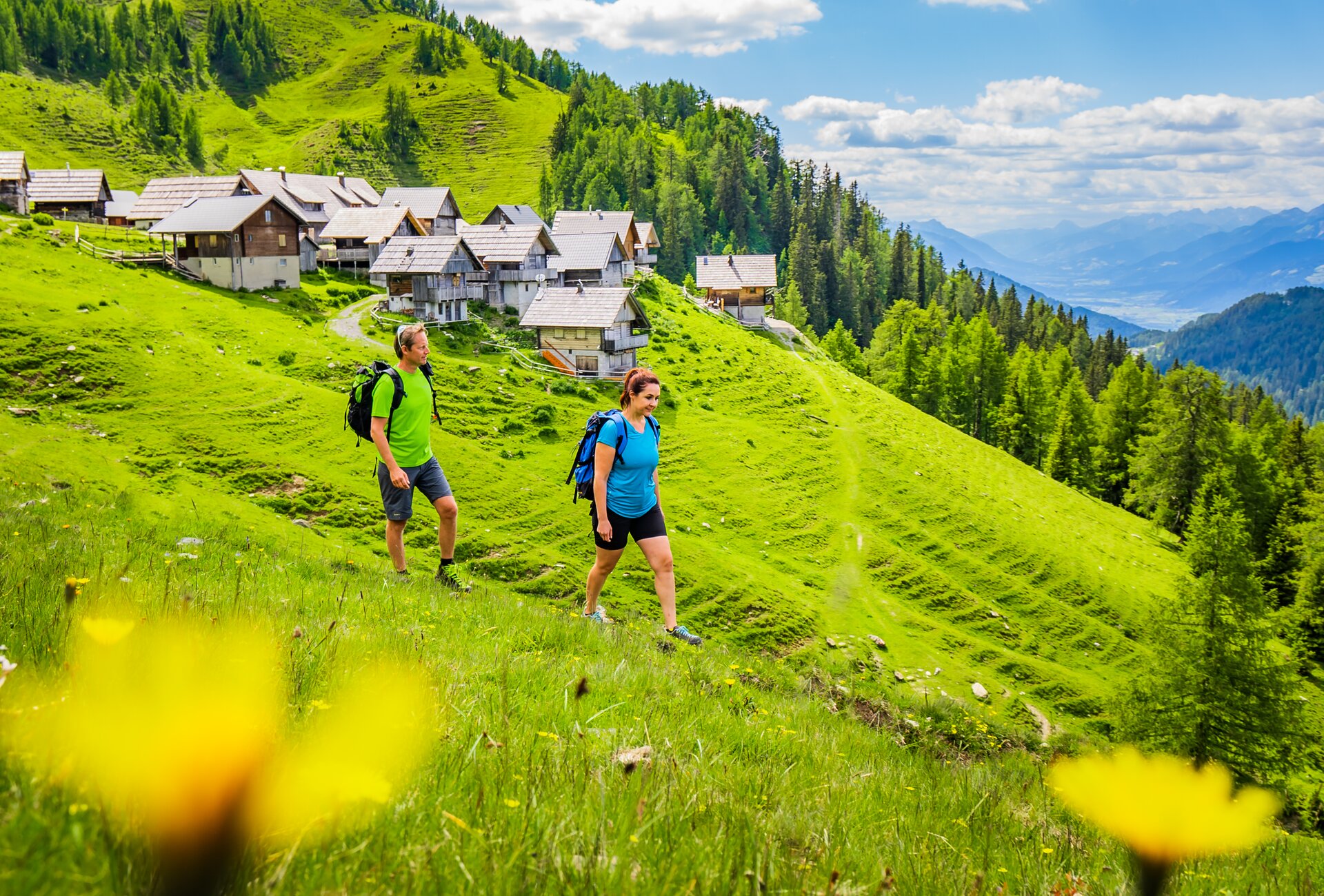 What do you want to discover?