Zankelgrotte - Muttergottesfelsen - Ruine Khünburg
Level of difficulty:
Medium
7.3 km

Distance

3.1 h

Duration

574 vm

Lowest elevation

969 vm

Highest elevation

395 vm

395 vm
Zankelgrotte - Muttergottesfelsen - Ruine Khünburg
Die Zankel Grotte ist ein recht tiefer Felsspalt, aus dem auch die im Sommer nicht versiegende Quelle sprudelt. Das Wasser dieser Qelle wird teilweise mittels eines Schlauches bis zum "Duller Brunnen" geführt, der sich an der unterhalb befindlichen Forststrasse liegt.
Der Muttergottesfelsen ist ein recht hoher Felsturm direkt neben dem Weg. Aus einer bestimmten Sicht aus dem Tal sieht er aus wie eine Muttergottes Statue.
Die Ruine Khünburg steht auf einer Felskuppe in 839 m Höhe unterhalb des Spitzegels. Erste Erwähnung 1189 als Besitz des Grafen Pero de Kinburch. Ab dem 13. Jahrhundert im Besitz des Bistums Bamberg wurde sie 1311 an Herzog Heinrich von Kärnten verpfändet. Nach einem Brand 1540 verfiel die Burg.
Gut erhalten sind der Bergfried, der in den Sommermonaten bestiegen werden kann und von dem man eine tolle Aussicht hat, grosse Teile der bis zu 8 m hohen Ringmauer sowie die Erdeschossmauer eines Wohngebäudes.
A first glimpse
Some impressions of the tour
Vom ÖBB-Haltepunkt Pressegger See bzw. vom Parkplatz durch die Strassenunterführung und geradeaus weiter auf der Strasse hinauf (links gelbes Hinweisschild: "Zuchen Wasserfall, Weg Nr. 16/53"). Nach ca. 60 m rechts halten und weiter an den Häusern vorbei, die Strasse geht als Weg weiter durch den Wald, an gelben Hinweisschild ("Zuchen, Weg Nr. 16") rechts abbiegen und auf dem Pfad entlang des Zaunes vom Seecampingplatz Schluga weiter. Nach einem Zaundurchgang links halten (gelbes Schild: "Zuchen, Weg Nr. 16"), am Ende des Pfades nach links weiter ( gelbes Schild: "Zuchen, Weg Nr. 16") und jetzt den weiß-rot-weissen Markierungen mit der Nr. 16 folgen, nach ca. 60 m links abbiegen (Achtung: die nächste weiß-rot-weiße Markierung ist erst ca. 20 m nach der Abbiegung). Auf dem Weg bleiben bis zu einem Pfosten mit mehreren gelben Hinweisschildern. Hier nach links abbiegen und nach ca. 50 Metern wieder nach rechts. Jetzt ist die Markierung für den Steig zu sehen. Der Steig steigt stetig steil am Hang entlang bis zu einer Forststrasse. Etwa 150 m unterhalb dieser Forststrasse gibt links eine unmarkierte Abzweigung (Fußspuren) zum Aussichtspunkt "Seeblickfelsen" mit schöner Aussicht auf den Pressegger See.
Achtung am Aussichtspunkt fällt der Fels fast 60 m senkrecht ab!
Zurück auf den Steig und nach etwa 5 Minuten wird ein Forststrasse erreicht. Hier nach links gehen und nach ca. 50 Metern nach rechts abbiegen (gelbes Hinweischild) auf den Pfad zur Zankelgrotte. diesem folgend erreicht man nach ca. 10 Minuten die Zankelgrotte.
Von der Zankelgrotte nach links weiter bis auf eine kleine Anhöhe, dort nach recht und kurz darauf in einem Bogen nach links weiter bis man auf den Pfad zum Vellacher Egel und Spitzegel (Hinweisschild) trifft. Ab hier geht der Pfad nach links abwärts, überquert nach kurzer Zeit einen Forststrasse und kommt nach einigen Kurven und Kehren auf einen breiten Forststrasse. Diesem in westlicher Richtung folgen vorbei an einer Felswand auf der rechten Seite und mit tollen Ausblicken auf der linken Seite auf die Karnischen Alpen mit Oisternig, Starhand, Poludnig, Gartnerkofel, Trogkofel um nur einige zu nennen.
Nach etwa 10 Minuten ist auf der rechten Seite der "Muttergottesfelsen" zu sehen, ein hoch aufragender Felsturm, der aus dem Tal wie eine Muttergottes Statue aussieht. Auf der Forststrasse weiter ist nach kurzer Zeit der Bergfried der Ruine Khünburg zu erkennen. Die Forststrasse geht jetzt etwas steiler abwärts bis zu einem Trockenbachgraben und direkt danach geht es recht wieder auswärts auf einer Forststrasse bis es nach links zur Ruine Khünburg geht.
Von der Burg zurück auf den Forststrasse und diesen abwärts bis nach ca. 250 m kurz nach einer Schranke ein Pfad rechts abbiegt. Dieser überquert im Verlauf die Forststrasse und endet etwas später an einer Biegung dieser Strasse. Hier befindet sich gegenüber der Einmündung das sogen. Brusnbründl. Der Pfad führt links weiter, nach ca 80 Metern biegt er nach rechts ab auf eine ehemalige, in diesem Bereich durch eine Mure verschütteten Forststrasse. Die Überquerung der Mure ist problemlos und es geht auf der alten Forststrasse weiter, zuerst geradeaus, später in einem Bogen nach rechts bis zu einem großen angeschütteten Schotterhügel. Kurz vor diesem geht ein Pfad links ab (auf Markierung achten), auf diesem immer weiter abwärts, es wird eine Forststrasse überquert und weiter bis zu einer Pfad- Weggabelung. Hier links halten und auf dem Pfad weiter bis zu der Einmündung in eine Forststrasse, die parallel zu Bundestsrasse 111 verläuft. Auf diesem nach links weiter und nach kurzer Zeit wird die Unterführung erreicht, durch die man zum Ausgangspunkt Parkplatz bzw. ÖBB Haltestelle kommt.
Location and how to find us
The Nassfeld-Pressegger See holiday region lies in the Austrian province of Carinthia, directly next to the Italian border.
Plan your journey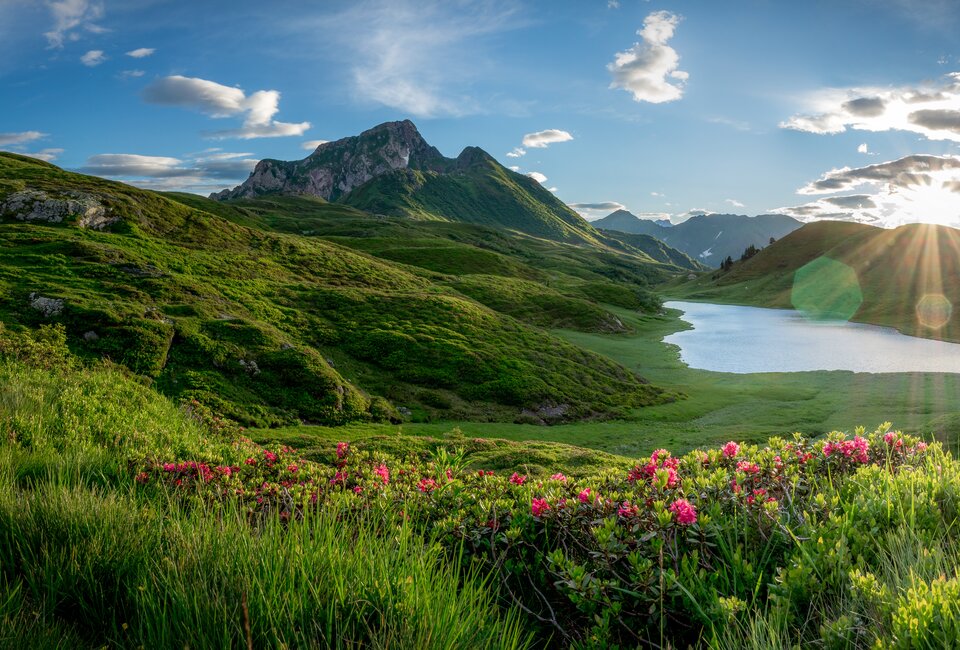 What do you want to discover?