A whole season of sun and snow in Carinthia
Season tickets for nassfeld ski resort
Nassfeld ski resort and the family ski resorts of Weissbriach and Kötschach-Mauthen: three ski resorts, one season ticket! Savour the sunniest slopes of Carinthia throughout the whole winter season – simple, fast and flexible.
Season ticket (Nassfeld incl. Weissbriach+Kötschach-Mauthen)**
Presale
(October 2022 - 08 Dec 2022)
Standard

Season adult (born 1958 - 2003)
518,-
560,-
Saison U25 (born 1997)
467,-
504,-
Season youth (born 2004-2007)
389,-
420,-
Season senior citizens (1957 and older)
467,-
504,-
Season children (born 2008 - 2016)
259,-
280,-
Bambini (born 2017
70,-
70,-
Senior citizen (born 1948)
210,-
210,-
** incl. night skiing and ski service voucher
TOPSKIPASS" FOR 31 SKI RESORTS IN CARINTHIA AND EAST TYROL
Swooshing down the slopes of 31 great ski resorts, throughout the whole winter season – that's easy with the "Topskipass" ticket! The season ticket encompasses 24 ski resorts in Carinthia and seven ski resorts in East Tyrol – and it's available at a great price!
| Single ticket TOPSKIPASS - SEASON | Presale (until 08.12.2022) | Standard |
| --- | --- | --- |
| Season adult (born 1958 - 2003) | 665,- | 699,- |
| Season youth (born 2004-2007) | 499,- | 525,- |
| Season children (born 2008 - 2016) | 333,- | 350,- |
All prices are subject to change. Guests must appear in person at the lift office and present a valid photo ID in order to receive a discounted lift pass. Adults: born 1958-2003; youths: 2004-2007; children: 2008-2016; seniors: born 1957 and before. Bambini: born 2017 and after. OAPs: born 1948 and before. Disabled persons with at least 60% disability will receive the children's rate upon presentation of a valid diability card. A deposit of €5.00 is charged for the electronic lift pass. This deposit will be refunded to the holder if the card is returned in working order.
Information about "Photocompare" in accordance with § 24, DSG 2000 (Data Protection Act): Please note that for the purpose of access control an initial reference photo of the lift ticket holder is taken when passing the camera installed at the turnstile for the first time. The staff at the lifts will check this reference photo with the photos taken every time you pass a turnstile equipped with a camera. The reference photo will be deleted immediately at the time the validity of the lift ticket expires. All other photos taken will be deleted 30 minutes after passing through the respective turnstile. Please note that it is possible to purchase technically configured lift tickets so that no photo will be taken when passing through a turnstile. However, spot checks will be carried out by the staff at the lifts.
Location and how to find us
The Nassfeld-Pressegger See holiday region lies in the Austrian province of Carinthia, directly next to the Italian border.
Plan your journey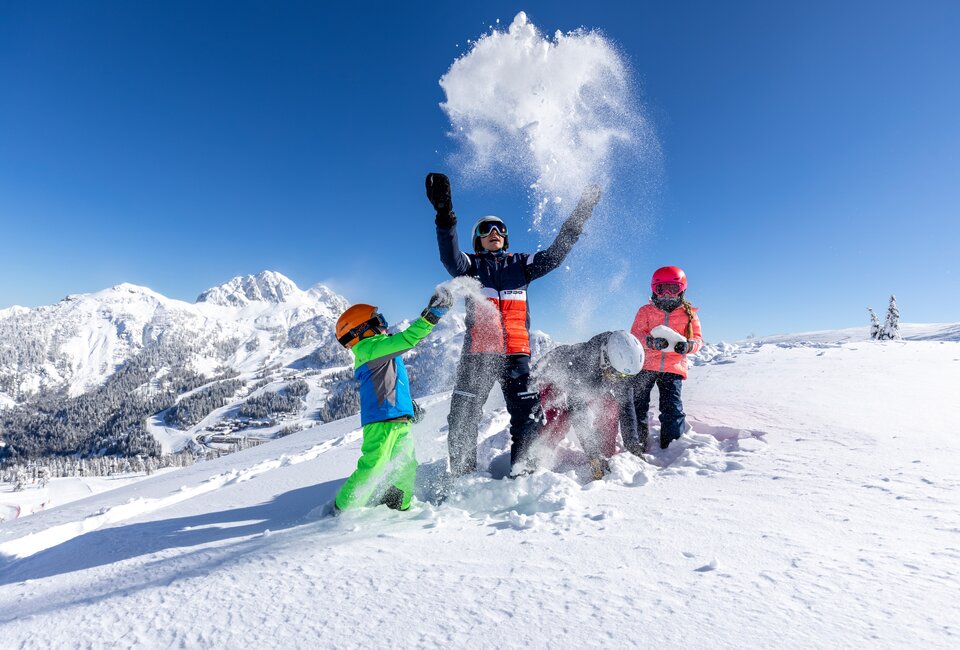 What do you want to discover?