Cellon - Oberst Gressel Gedenkweg
Level of difficulty:
Medium
3.2 km

Distance

2.7 h

Duration

1347 vm

Lowest elevation

1740 vm

Highest elevation

400 vm

400 vm
Cellon - Oberst Gressel Gedenkweg
Ein fantastischer Klettersteig der sich vor allem durch die sehr schöne Felsqualität auszeichnet, da er fast immer über kompakte Platten bis zur Cellonschulter führt und somit einen guten Einstieg in den "Weg ohne Grenzen" bietet.
Informationen zum "Weg ohne Grenzen - Senza Confini" finden Sie hier.
Sehr gutes Schuhwerk, Handschuhe und eine gute Portion Kraft und Ausdauer ist Grundvoraussetzung für diesen Klettersteig.
Vorsicht bei Nässe! Man kommt immer wieder bei Graspölster vorbei – und danach geht's dann sofort wieder auf sehr glatte Platten.
Das kann dann sehr rutschig werden und die Oberarme müssen noch mehr Leistung bringen!
A first glimpse
Some impressions of the tour
Am Plöckenpass Richtung Kärnten bis zum Beginn des Wanderweges 427-4 gehen. Den Hinweisschildern folgen und in einen lichten Wald aufsteigen. Bei der ersten Weggabelung geht es links zum Einstieg in den Klettersteig. Es gibt ein durchgehendes Stahlseil, allerings mit wenigen Klammern.
Zuerst geht es über Platten (Schwierigkeitsgrad C und B) aufwärts zu einem Absatz. Weiter geht es über Plattenpassage (C) zu zwei kleinen, kurzen, aber steileren Stufen (C). Über eine Plattenrampe (B/C) und einen Riss (B/C) erreicht man leicht (A/B) ein kurzes Gehgelände. Erneut steil (C) geht es weiter, gefolgt von einer plattigen Kante die zum Absatz unter der kuzen aber steilen Schlüsselstelle führt. Nach einer Querung (B/C) folgt man den Platten (B/C) hinauf zum Buschwerk und zu Fuß zu den letzten Felsaufschwüngen. Den Ausstieg erreicht man über schöne Wasserrillenplatten (B). Weiter geht es den Markierungen entlang zur Cellonschulter.
Abstieg:
Den Absteig am besten über die italienische Seite (Normalweg) bewältigen. Gehzeit ca. zwei Stunden.
Location and how to find us
The Nassfeld-Pressegger See holiday region lies in the Austrian province of Carinthia, directly next to the Italian border.
Plan your journey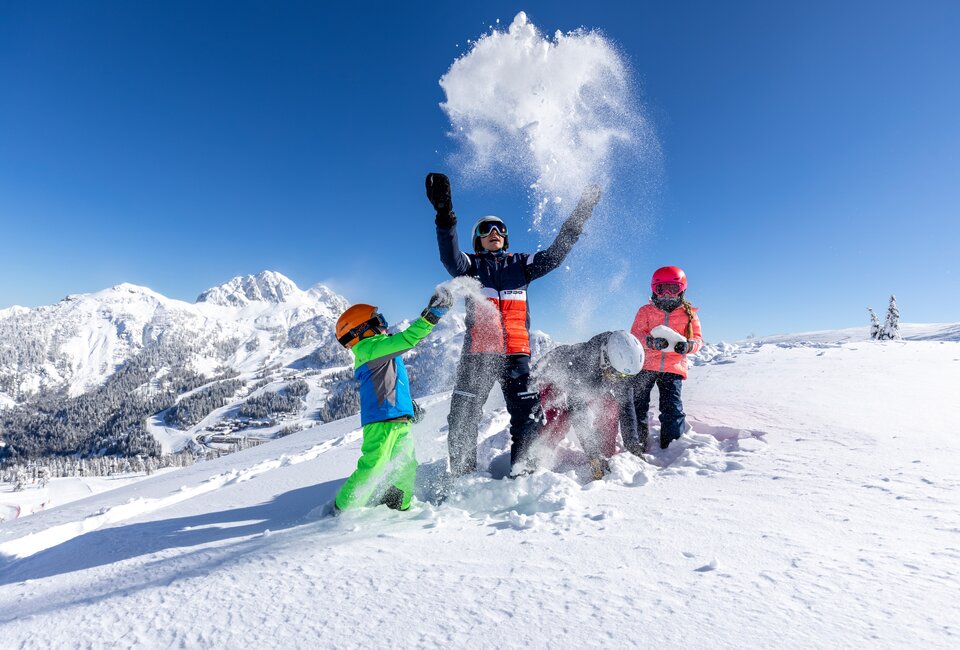 What do you want to discover?