Dellach-Rüben-Gurina-Runde über Pflegerweg
Level of difficulty:
Medium
6.7 km

Distance

1.8 h

Duration

688 vm

Lowest elevation

924 vm

Highest elevation

366 vm

366 vm
Dellach-Rüben-Gurina-Runde über Pflegerweg
Vom Dellacher Graben aus über den Forstweg und die Bergstraße nach Rüben - retour durch den Mittergraben auf die Gurina - zu den hallstattzeitlichen Hügelgräbern am Schmeißer Boden - anschließend zum Soldatenfriedhof und zurück zum Ausgangspunkt. Abwechslungsreicher Wegverlauf durch Waldgebiet mit wundervollem Panoramablick von der Gurina.


Einkehrmöglichkeiten entlang der Strecke:
Gasthof Lenzhofer - Dellach (500 m Entfernung von der Sport- und Freizeitanlage)Dellacher Dorfwirt - Dellach (700 m Entfernung von der Sport- und Freizeitanlage)Jausenstation Stefan - Dellach (800 m Entfernung von der Sport- und Freizeitanlage)
A first glimpse
Some impressions of the tour
Startpunkt Dellacher Graben: Dem Wegverlauf des Forstweges bis kurz vor dem Schranken folgen - immer geradeaus in Richtung St. Daniel weitergehen. Am Ende des Forstweges in Richtung Rüben abzweigen und dem Bergstraßenverlauf folgen. Der Weg führt direkt am Bergbauernhof "Rübenstöffel" vorbei, weiter über einen Waldweg durch den Mittergraben (steiles Gelände, jedoch mit Aufstiegshilfen versehen) bis auf die Gurina.
Beim Herkulestempel können Sie den wundervollen Panoramablick genießen und sich gemütlich zum Jausnen hinsetzen.Gehen Sie den Feldweg entlang bis zum Gurinabauern und anschließend über die Forststraße talwärts. Nach wenigen Wegminuten haben Sie die Möglichkeit, die Rekonstruktionen der hallstattzeitlichen Hügelgräber zu betrachten, die sich rechter Hand im Wald befinden. Wenn Sie der Bergstraße abwärts folgen, gelangen Sie zum Soldatenfriedhof. Von dort aus geht es weiter dem Waldrand entlang zurück zum Ausgangspunkt der Tour.
Den selben Weg zurück gehen, bis zur Abzweigung Wieserberg - erkennbar durch einen Handlauf aus Holz (siehe Fotos). Nach dem Waldweg bei der Abzweigung Lenzhof/Welzberg, Panoramaweg rechts halten - in Richtung Dellach gehen. Vom Wieserbauer ausgehend die Bergstraße zurück - bis zur Ausgangsstelle.
Location and how to find us
The Nassfeld-Pressegger See holiday region lies in the Austrian province of Carinthia, directly next to the Italian border.
Plan your journey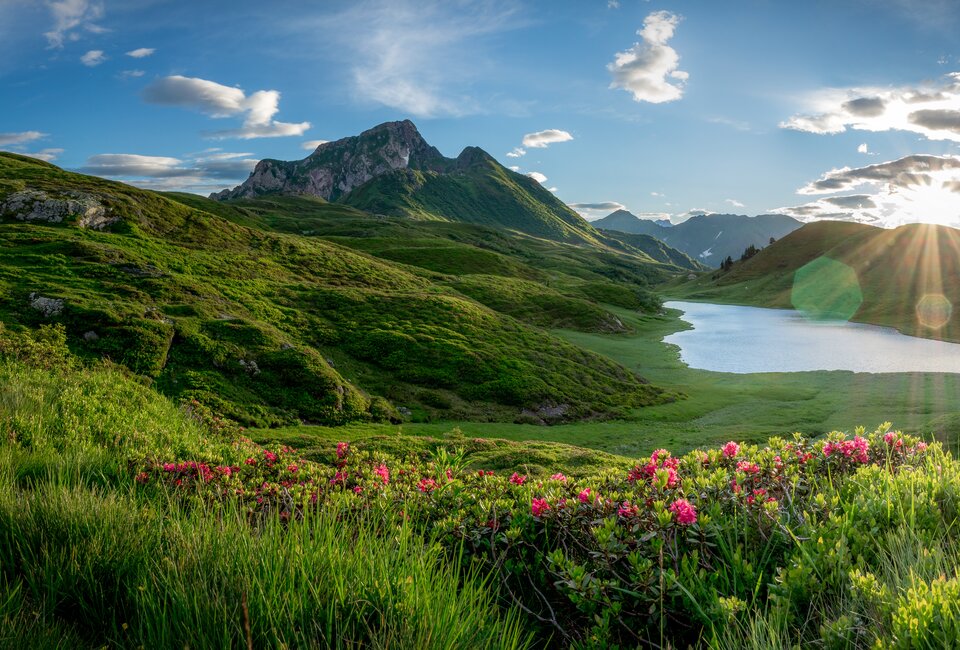 What do you want to discover?