Gartnerkofel
Level of difficulty:
Medium
3.9 km

Distance

1.7 h

Duration

1531 vm

Lowest elevation

2188 vm

Highest elevation

657 vm

10 vm
Unmittelbar neben dem Hotel Berghof beginnt eine präparierte 1) Straße (grüner Straßenwegweiser, u. a. "Watschiger Alm"), die nach 5 min an einer Soldatenkapelle (1552 m) aus dem Ersten Weltkrieg vorbeiführt. Unmittelbar darauf kommt man am " Moro-Hüttl " vorbei. (Wenige m danach mündet bei zwei gelben Wegweisern [bei viel Schnee nicht sichtbar] von links eine weitere präparierte Straße hinzu - rechts bzw. geradeaus gehen.) Nach knapp 400 m zweigt rechts eine unpräparierte Straße ab (Kehre, Schranken mit Fahrverbotstafel, Holzwegweiser"Garnitzen Alm" [evtl. unter Schnee]), ca. 1590 m.
Nach weiteren drei Kehren beginnt eine lange (steigende) Linksquerung (bei einem gelben Wegweiser wird die Abzweigung eines markierten Steiges nach rechts ignoriert), die bis in den Gartner Sattel (1856 m) führt (auch Garnitzentörl oder Garnitzenhöhe genannt). Bei einem schönen Marterl im Sattel erreicht man die Pisten (hier auch gelber Wegweiser). Abzweigung von
Von dort in 3 min auf einer Piste zur Bergstation der 6er-Sesselbahn "Garnitzen I" (auch "La Prima" genannt) empor (ca. 1870 m) und weiter zur nur unweit dahinter befindlichen Bergstation der 4er-Sesselbahn "Gartnerkofel" (ca. 1885 m), wo sich die Bar "Zur Berghex" befindet.
Leider kann man auch von hier nur auf einer (vielbefahrenen) Piste bis zur Bergstation der 4er- Sesselbahn "FIS" weiter aufsteigen, ca. 1960 m. Ab hier hat man dann aber wieder reines Skitourengelände vor sich!
Vom kleinen Plateau der Bergstation folgt man dem gelben "Gartnerkofel"-Wegweiser (evtl. unter Schnee) und quert so nach rechts ansteigend (über einen kurzen Steilhang) in den zur Gartnerkofelscharte hinaufziehenden Graben. In diesem - zunächst relativ eng, dann etwas breiter- hinauf zur Scharte (ca. 2090 m) - rechts steht der Südostgipfel, links der Hauptgipfel (Nordwestgipfel).
Man steigt zunächst in Spitzkehren die steile Südflanke empor. Dann (am zumeist klar erkennbaren Sommerweg nach links queren in eine winzige (aber markante) Einschartung unmittelbar linkerhand des Gipfels . Von hier leitet nordseitig eine steile, enge Rinne in die"Sandgrube" hinab . Am Grat erreicht man von der Scharte in 3 min den Gartnerkofel-Hauptgipfel (Nordwestgipfel) , wo ein Kreuz auf einem großen Sockel an beide Weltkriege erinnert.
Location and how to find us
The Nassfeld-Pressegger See holiday region lies in the Austrian province of Carinthia, directly next to the Italian border.
Plan your journey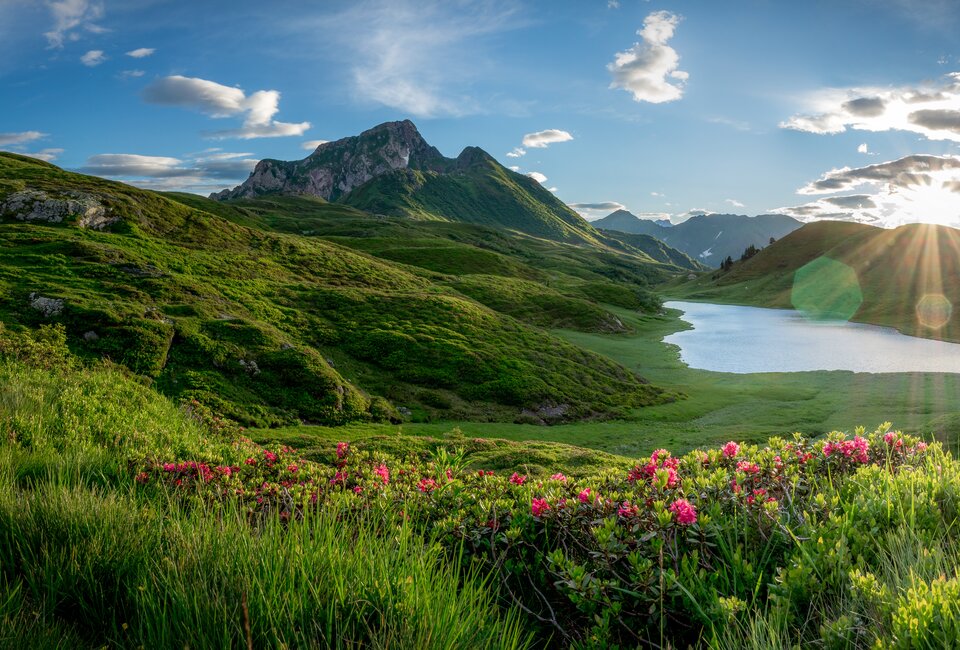 What do you want to discover?