Nationalpark Hohe Tauern mit Tauernschleuse
Level of difficulty:
Medium
246.1 km

Distance

4.5 h

Duration

660 vm

Lowest elevation

2411 vm

Highest elevation

4585 vm

4582 vm
Nationalpark Hohe Tauern mit Tauernschleuse
A first glimpse
Some impressions of the tour
Von Obervellach in Kärnten geht es durch das beschauliche Mölltal immer entlang der B 106 bis nach Winklern. Man fährt entgegen der Flussrichtung, die Möll ist immer wieder links oder rechts der Straße gut zu sehen. In Winklern biegt man links ab auf die B 107, die hinauf führt zum 1.209 m hohen Iselsbergpass. Nun befindet man sich bereits in Osttirol und rund einen Kilometer weiter liegt der Ort Iselsberg. Es geht rasant bergab auf den Lienzer Talboden und nach wenigen Kilometern ist der Osttiroler Hauptort Lienz erreicht, mit rund 12.000 Einwohnern der wirtschaftliche, kulturelle und soziale Mittelpunkt Osttirols.
Nach Lienz biegen wir auf die B 108 und folgen der Isel flussaufwärts in Richtung Matrei. Wenige Kilometer vor Matrei, bei der Ortschaft Huben, lohnt ein Abstecher hinauf nach Kals und dort im Ortsteil Kals / Burg sollte man unbedingt die mautpflichtige Kalser Glocknerstraße in Angriff nehmen. Sie führt 7 km durch das malerische Ködnitztal bis zum Parkplatz Glocknerwinkel auf 1.920 m Höhe, wo auch der Alpengasthof Lucknerhaus liegt. Dort genießt man einen der schönsten Blicke auf den Großglockner. Nach einem der Highlights dieser Tour geht es wieder retour hinunter in das Iseltal und nach Matrei steuern wir auf die nächste Passstraße zu, den Felbertauern. Eben noch war der Großglockner die dominierende Bergerscheinung, nun ist es der ebenso imposante 3.666 m hohe Großvenediger westlicher der Felbertauernstraße. Die Südrampe führt 14,5 km hinauf zum 5,3 km langen Tunnel, der Scheitelpunkt liegt auf 1.650 m Seehöhe und die Nordrampe führt dann 16,5 km hinunter nach Mittersill im Bundesland Salzburger. Die Stadtgemeinde Mittersill ist mit rund 6.000 Einwohnern der größte Ort im Oberpinzgau und bezeichnet sich auch als Nationalparkwanderdorf. Das Nationalparkzentrum "Nationalparkwelten" bringt die einzigartige alpine Erlebniswelt rund um den höchsten Gipfel Österreichs (Großglockner, 3.798m) und weitere 266 Dreitausender, über 342 Gletscher und einen der mächtigsten Wasserfälle der Welt unter ein Dach und ist einen Besuch wert. Man kann acht faszinierende Naturräume nacheinander durchwandern und dabei die außergewöhnliche Vielfalt des Nationalpark Hohe Tauern, dem mit über 1.800 km² größten Schutzgebiete der Alpen, kennen und verstehen lernen.
Weiter führt die Fahrt auf der B 168 via Uttendorf, Niedernsill und Piesendorf Richtung Zell am See, ebenfalls ein weiterer lohnender Abstecher und Zwischenstopp. Wir lassen aber Zell am See "links liegen", biegen auf die B 311 und fahren immer der Salzach entlang bis nach Lend und biegen dort in das Gasteiner Tal. Es geht durch den Klammtunnel und bald danach erreichen wir den ersten der drei Hauptorte im Gasteinertal, Dorfgastein. Es folgen Bad Hofgastein und Bad Gastein, der einer der bekanntesten österreichischen Kur- und Wintersportorte ist. Bad Gastein ist für die Hotels und Villen aus der Belle Époque bekannt, die an den bewaldeten Steilhängen des Tals gebaut wurden. Wenige Minuten nach Bad Gastein geht es in Böckstein auf die Auto- und Motorradverladestation Tauernschleuse. Der Zug fährt durch den Tauerntunnel und verbindet das Gasteiner Tal mit Mallnitz im Kärntner Mölltal. Die Abfahrtszeiten in Böckstein beginnen ab 06:20 Uhr in der Früh und enden um 23:20. Dazwischen fährt zu jeder 20. Minute einer Stunde ein Zug. Der Beförderungspreis für ein Motorrad beträgt € 17,50 (Stand 2021). In Mallnitz wird beim Bahnhof das Motorrad wieder abgeladen (empfehlenswert ein Abstecher ins Seebachtal zum Stappitzer See) und es sind dann nur mehr wenige Kilometer hinunter nach Obervellach (Tipp: Groppensteinschlucht) zum Ausgang dieser Tour.
Location and how to find us
The Nassfeld-Pressegger See holiday region lies in the Austrian province of Carinthia, directly next to the Italian border.
Plan your journey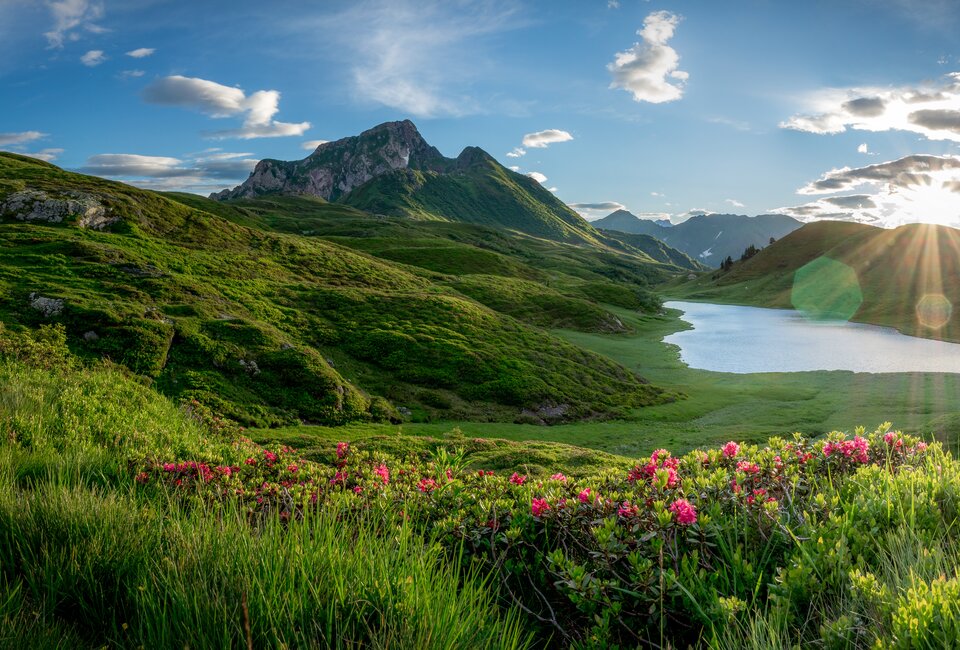 What do you want to discover?